Happy Sunday! I hope you had a chance to go over my previous post, and it gave you an idea of how easy the donation process can be for donors.
In this post, I will give an overview of how Small Business Owners (SBOs), Charities and NGOs can leverage the BeTheHope admin portal to create campaigns, and share the short URLs and QR codes with the public.
So, what is a campaign?
The dictionary definition of campaign is, "work in an organized and active way toward a particular goal". Now, let me walk you through what a campaign means in this application. A campaign is a customized donation link. For instance, any organization can create a campaign for the education of underprivileged children in Canada. Simply put, the cause is the campaign.
The screenshot below gives us an overview of the campaigns created by the organization 'Care Canada'. The selected campaign has the campaign code 'summer', and it shows the URL and QR code which can easily be shared by the organization. This provides a convenient way for users to donate as we saw in the short video demo in the last post. Next to the campaign code, we see more information about the campaign such as the description, date of creation, and most importantly the donations collected to date.
It's fairly easy to create a new campaign by clicking the 'Create' button on the top-right corner and filling out a couple of fields (which I'll cover in a walkthrough video soon).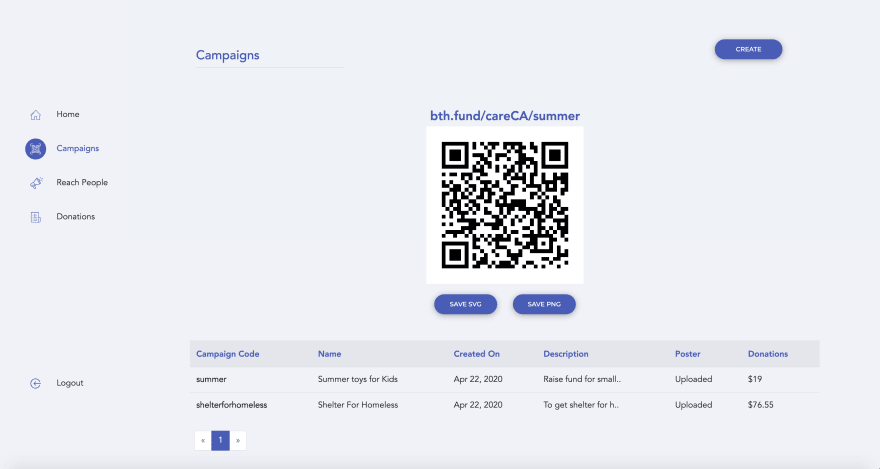 ---
Sweet, how can I share it?
*drumroll*.. *drumroll*..
Answer is Twilio.
The dashboard has a 'Reach People' page which provides users the ability to add any campaign code they created before, list out phone numbers or emails and add a custom message. They can share it with others via text messages, emails or WhatsApp (or even better: all of them 😁).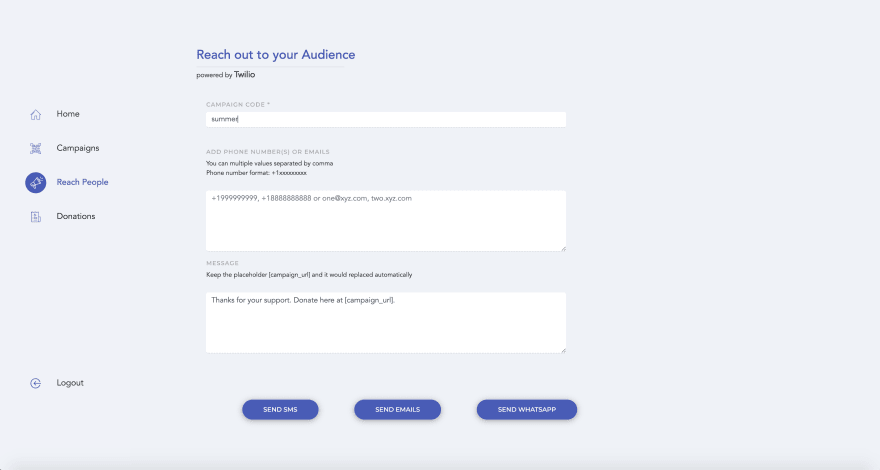 And here's a sample of the text, email and WhatsApp message you will receive respectively. The URL will take you to the same convenient donation page that you saw in the demo.
---
... and what should I do with the QR Code?
Share it via social media or add it to pamphlets, business cards and t-shirts! Leave no stones unturned to make your campaign as noticeable as possible!
---
My aim with this project is to make the donation process easier for both the donor and the donee. I'm glad that my vision is finally translating into reality and I will keep you posted on new updates. Till then, stay home and stay safe!