Google Analytics 4 is the new default option for Google Analytics. The analytics community has been waiting for this version for a long time. However, as with every new product, it has some internal and external problems.
I will start with a quick intro - but feel free to jump into the steps below if you want to go to act immediately!
Update (01.04.2022) We have improved the solution and now you will be able to set up Google Analytics 4 including the product view e-commerce event. We have also added product-level data into the purchase event. See the details below on Introducing Shopify GA4 Kit section.
GA4 is using a different approach to data collection compared to Universal Analytics (UA), the old version. UA's core function was page views and events would come on top of that. We would use event tracking for specific actions such as form submission, registers, video interaction, button clicks, and so on. In GA4, even a page view is an event! It might not sound like revolutionary change but it actually is. We plan to write another in-depth post on the main differences between GA4 and UA.
One of the core problems of GA4 is the integrations. The platforms (such as Shopify, Squarespace, Weebly, and so on) are not ready for Google Analytics 4 yet. While GA4 has great features for e-commerce stores; it is very hard to implement it at the moment - especially the ecommerce features. And you can already imagine it makes no sense to use Google Analytics 4 without the sales data for a Shopify (or any kind of) store. There are several apps in the Shopify App store that helps with the setup. However, there was no free, working solution or tutorial as of last week. The tutorials and articles didn't include a way to track e-commerce data.
That's where we came up with the idea of making a free tool that will allow people to set up Google Analytics 4 on Shopify stores - and also send the e-commerce data.
I wanted to create content also on dev.to for this wonderful community.
Introducing GA4 Kit [2022 Update]
We have created a completely new GA4 implementation solution for Shopify merchants. We call it: Shopify GA4 Kit.
It includes data layers, pre-built and ready-to-go GTM container and in-depth tutorials. Visit the following link to get most up-to-date information: GA4 Setup on Shopify
You can also follow the step-by-step tutorial through the following video:
Should you use GA4 and how?
Google suggests using the old one (UA) and the new one (GA4) together. While you start collecting data and taking advantage of GA4, you still have the UA's known interface and advantages. A quick guide to how to do that:
For the new accounts:
You will see Google Analytics 4 as a default option if you want to create an account now. However, there is an Advanced Setting that allows you to create both GA4 and Universal Analytics. Go to the "Create Google Analytics Account" screen and find the "Advanced" setting - kindly check the GIF below:

For the existing accounts:
Upgrade your current account. It won't make you lose any data, don't worry about it. It is actually not "an upgrade"; it will just create a new GA4 account attached to your existing UA account.


After you do this, you will find your new GA4 account; under your properties at the top menu.
Step 1: Get the GA4 Global Tag
As you have the account now, it is time to get the new global tag and insert it into your Shopify store.
Find your new GA account in your Google Analytics, and then > Click Admin > Data Streams > Click the Tag > And then find Global Tag and copy the full code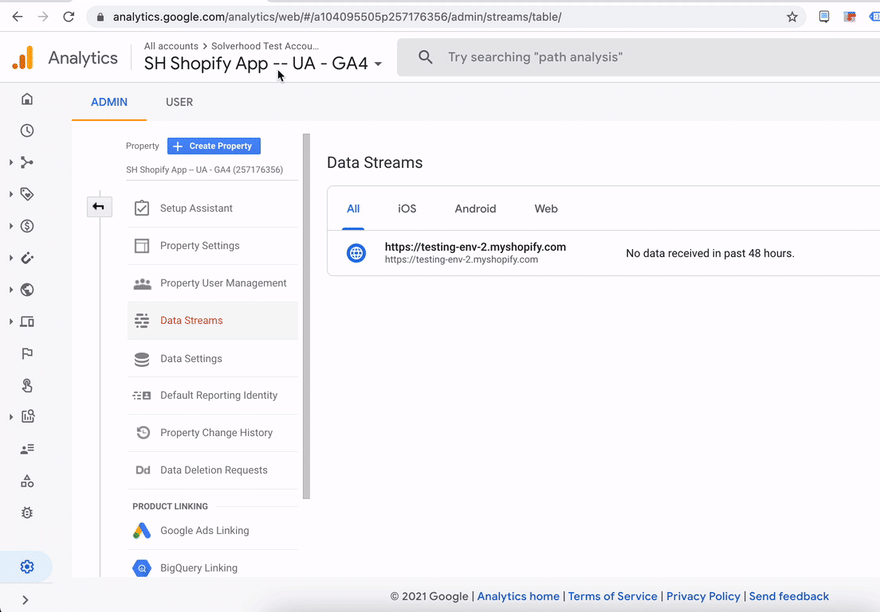 Step 2: Insert the tag into Shopify's main theme file
The global tag should be on every page. You should insert that into the Shopify theme's main file: theme.liquid - right below
.
Shopify Admin > (left bar) Online Store > Themes > Actions (near your active theme) > Edit Code --- And then find theme.liquid. It should look like this >
Step 3: Get your checkout tag from Analyzify GA4 Wizard
Everything was standard until now. Now we have come to the existing part. Our team has prepared a special code block to be inserted and rendered in your Checkout/thank you page. It includes Shopify's shortcode for order confirmation details such as order ID, revenue, etc - and also GA4's Purchase Event tag including your measurement ID.
Go to our free tool > Analyzify GA4 Wizard for Shopify, fill the simple form, and get your code. It should look like this >

Copy the code and move to the next step.
Step 4: Paste the code into Shopify's Checkout screen
As this is an e-commerce purchase code, it should be rendered when someone makes a purchase. Shopify allows us to add additional scripts into "Order Processing" and "Thank you" pages. Go to Shopify Admin > Settings > General > Checkout and then find Order Processing > Additional Scripts - and paste it there.
Step 5: Verify - Make Sure!
All good! It should be working perfectly now if you followed the steps properly. You can wait for some purchases to happen in your online store so that you can check if data flows into your new GA4 account. You can also follow this video tutorial to make a test purchase and see if the related events are being triggered and shown in Google Analytics 4.
I hope you find it useful and feel free to let us know if you have any questions or face any issues.