Cybersecurity is an overwhelming subject. There are hundreds of paths one can take in order to get to one of the various jobs in the area. Pentester, DevSecOps Engineer, Blue Team Specialist are just some of the titles in the Cybersecurity microcosmos, and sometimes it can be really difficult to find the right way into it. This post isn't suppose to write the Ultimate Truth about CyberSec, but rather evaluate my experience breaking the first waves into this really gigantic ocean, and maybe serve as one of many other guidelines a prospect professional in this field should research and consider before making their own choices.
First, let's take a look into the technical or hard skills. These are the techniques and knowledge you gotta learn to stand out in most situations. I like to think that one should always be prepared for the opportunities that might appear, and getting proper knowledge and certifications in these three particular subjects is how you gonna build a strong foundation in Cybersecurity.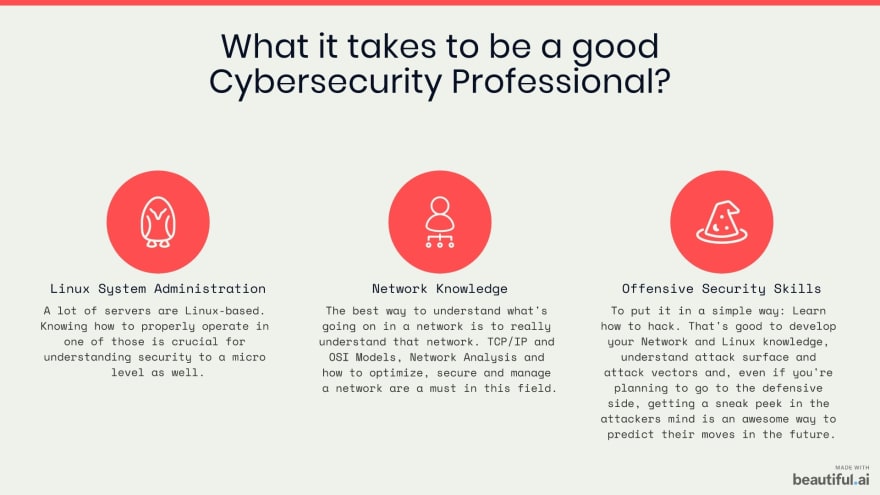 But something important to note is that hard skills can be learned at any time. Better than that, it's really good to develop your own soft skills! These are not as common to see in the regular script kid, but they are outstandingly necessary nevertheless. So it's good to learn how to clearly communicate your ideas, how to deal and lead people and how to be ready to develop and evolve everyday.
Okay, but how do I get started with all of this?
Right, right. Without further ado, let's jump into practical stuff here.
Some additional resources.