I love live-coding on Twitch. On Sundays, I work on my open-source Rails app HuntersKeepers. On Thursdays, I play programming-adjacent games. Getting all of this to work effectively is an ongoing process. Existing setup blogs focus on the current setup, but I want a changelog to track how the purchase improved my stream and whether it was worth it.
Known Issues
🐛 Application audio must be set to 1-2 in Windows Mixer unless audience tinnitus is desired.
🐛 Cannot see level of computer audio in Streamlabs.
4.0 Camera Update
This camera is so nice!! I bought it for Ken and borrowed it for the Kinesis stream, and it looked so nice that I kept it! My face is clearer, and the soft out of focus effect helps pull me out from the background. The lens drastically reduces the amount of room visible, but the trade-off is worth it. I use Canon's EOS webcam utility to get video out of it. It's a little buggy. I have to deactivate the video input in streamlabs, turn off the camera, turn the camera back on, and turn the video input back on, and then we're good to record! On mac, you can't output to desktop zoom, unless you're going through an intermediary like Streamlabs virtual cam. I've been enjoying looking extra fabulous on zoom calls!

3.0.1 (released Sep.14.2020)
Kinesis gave me a free split ergonomic keyboard! Look how beautiful it is! It has the softest wrist cushions, my favorite brown switches, and if I have two halves of a keyboard, I have to learn to touch type. The brown switches are great for streams. My typing has a feel and sound to it, but it doesn't overwhelm my voice.
3.0 (Released Aug.20.2020)
DESK UPGRADE! My company gave us a one-time work from home budget to spend on office setup. I love this desk! I like how the acoustic panels reduce echo + room noise, my Stream Tank has more airflow, and the precision desk height is fun to adjust on stream!

I knew the Streamdeck would make my life easier, but I had no idea how much it would help! My credits are so much smoother, now that I'm not navigating menus, and I can update my twitter name when I go live and stop being live. I can't wait to add raid commands into this! I'm still figuring out how to disable follower alerts when I'm follow botted, and make cat snuggle time easy on the Streamdeck, but so far, it's great! I wish I'd upgraded sooner. Even the phone app helped.

UpLift Vert Desk Chair
This is not a comfortable chair. It's better than nothing, but it's got no lumbar support and very few adjustable points. You can adjust the height, armrest height, and back tilt, but that's it! The seat pan is less comfortable than rocks I've sat on. I swiped it from Ken, who's not eager to have it back.
$7 Floor Lamp once purchased from Wal-Mart
My husband bought this lamp when he was in college. It's a floor lamp, with a plastic shade, and it directs light at the ceiling. I put it in front of my desk, and turned off the ring light on the Kiyo and all my over-exposure/glare problems are fixed.
🦋 Glare from the Razer Kiyo ring light on my glasses is gone!
🦋 Uneven lighting and overexposure from the window has been balanced out.
1.2.2 (Released)
This lets me output my volume to two different headsets, and to Streamlabs!


🐛 Computer audio volume is no longer accurately reported in Streamlabs.
🦋 Disconnecting bose headphones no longer impacts audio.
1.2.1 (Patch to Support Goat Stream!)
We rented goats to eat our underbrush! I did a 12-hour stream to share my beautiful goats with the world.
Yi Cam
I saw the goats the goats on day 1, and immediately decided I needed to stream them. Webcams are designed to focus on a person in front of a desk, but security cams are designed to capture a whole yard! I connected the USB cam to a charging block that lasted 12 hours. The mobile nature of the Yi Cam + charging block made it easy to move the cam to wherever the goats were. There was a significant delay, as seen in this clip where I realize the goats have destroyed my chiminea. Sometimes the video would stutter which I think was related to WiFi on the deck. I didn't do anything fancy for capturing video. I opened the Yi live watch application, and captured that application through OBS, and covered the chrome with videos. Not bad for a makeshift setup!

Laptop Webcam used
♻️ Old streaming laptop used.
♻️ Lapel Mics reused.
1.2 (Released)
I saw podcaststage try out this mic on YouTube and it made his voice silky smooth! Then I really wanted a mic upgrade. I thought it would really help improve my audio and deal with a persistent hiss I was hearing. All I've learned is that soundproofing > mic upgrades. Turning off the A/C and fan helps with noise floors way more than the mic upgrade did. This microphone upgrade came with a shock mount and a pop-filter upgrade.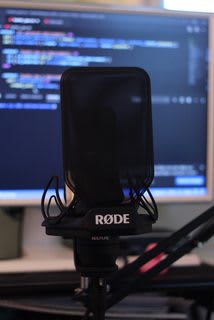 1.1.2 (Released)
Pretzel Rocks!
This is amazing! I listen to Chill/No Vocals/No Mature and it is bopping! I regularly get questions about what's playing, and the answer is already reported to chat by Pretzel!
🦋 No more muted VODs!
1.1.1 (Patch to Support Mobile Recording)
IlluminatedSpace had an incredible project that I wanted to be part of! Recording videos for coding tutorials to encourage and explain why concepts were important! I took my setup to work to get a cool backdrop. It didn't work. None of my framing attempts worked without compromising company security or co-worker privacy.
💥 Razer Kiyo hinge breaks in bookbag.
♻️ Lapel mics
♻️ Old streaming laptop
1.1 (Released xxx.xx.2019)
Window Seat! I really like looking outside, and so do the cats! The cat tower moves next to me in stream after this.
🐛 Uneven lighting and overexposure.
1.0.1 (Patch to Support Mobile Stream)
I went to Florida! It was my Grandma's 94th birthday, so I streamed from the hotel.
Lapel mics are supposed to be really good for capturing one audio source, on the move, and filtering out external noise that's far from the microphone. Mine were crisper and clearer than the condenser mic I was using, which allowed me to identify that the rushing noise was partially due to the highway a mile from my house.
In practice, I've yet to use both transmitters at the same time. Also, it's very difficult to tell if they're paired or not. I had some trouble setting them up, because I had to use the correct microphone cable on the laptop port, and the input type to use was confusing. The range on this is great though! They last about two hours, but I almost always have the receiver plugged into a charger, and I often charge the transmitter during use.


♻️ Razer Kiyo
♻️ Old Streaming Laptop
1.0 (Released)
Stream Tank
My laptop was dropping frames when trying to run 7 Billion Humans on 12x speed! It was time to upgrade to a dedicated machine. Ken built me this beautiful Stream Tank.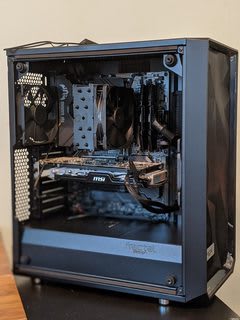 Asus x570 Tuf Gaming + WiFi, AMD Ryzen 7 3700x, Ripjaws 32GB DDR4 3600, Fractal Design Meshify C TG, EVGA SuperNova G3 650, Nvidia GTX 670
0.1 (Released Oct.06.2019)
Windows Subsystem for Linux
I use Ruby on Rails professionally, and I play Monster of the Week recreationally. When Hacktober came around, building a new open-source RoR app to make managing games of Monster of the Week easier seemed like an obvious choice. One problem, neither Ruby nor Rails like Windows, and I have no intention of streaming on my work macbook. Getting WSL set up was significantly easier than I thought it would be. File permissions aren't a big deal if you put your files in mnt/c.
0.0 (Released Aug.03.2019) ✨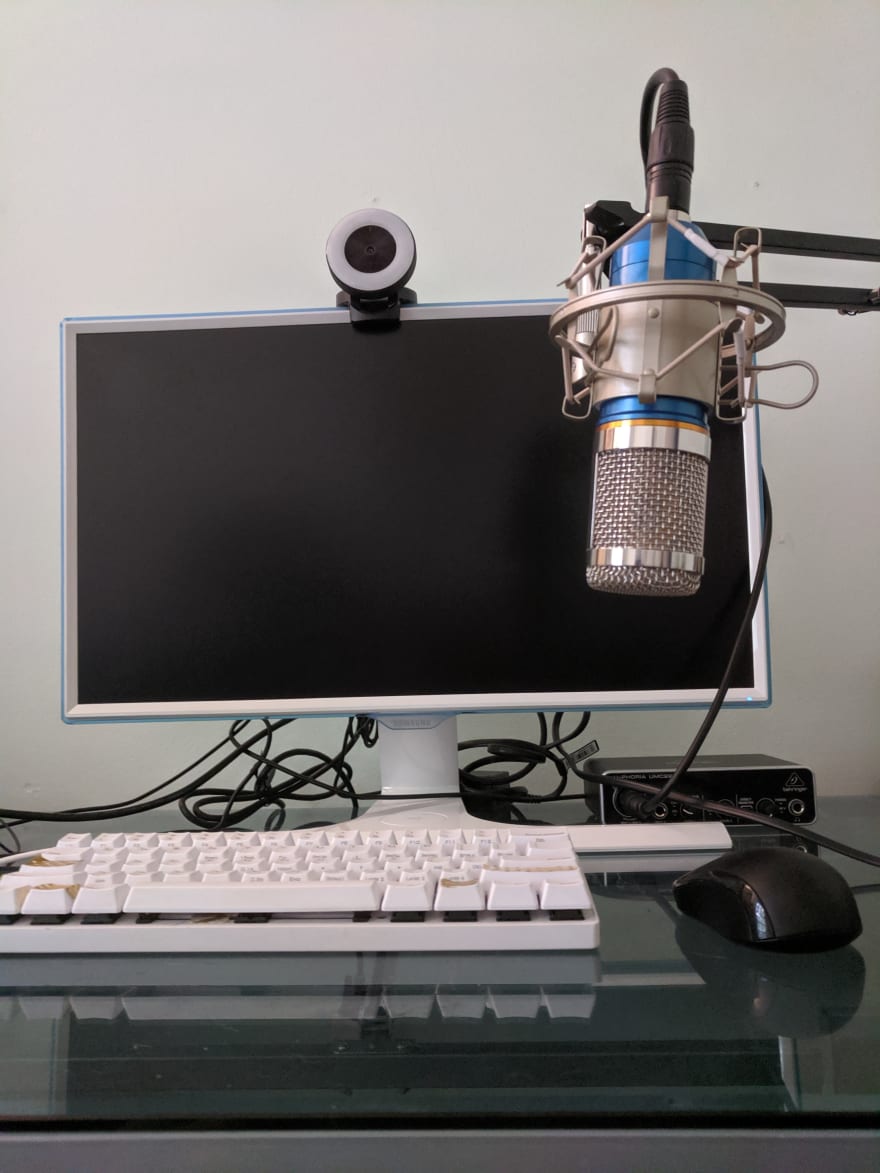 I get follow alerts, commands, and recording software in one free tool! Streamlabs is significantly easier to use than OBS, and has the same power, because it's built on OBS.
Yes! They have playlists on Spotify based on mood, Cradles is amazing, and all I have to do is include their logo in my panel. Plus they're copyright-free on YouTube too, (as long as you credit them in the description), so I can upload my VODs! they change out which songs are in their spotify playlists on a regular basis, so there's often fresh music.

🐛 Occasionally, my VODs were muted?!
Microphone
Ken bought this microphone over a year ago on sale on amazon. It was $5 on Prime day. A lot of my initial issues with this microphone were related to misuse. I had it the wrong way around, and it took me a while to figure out how to correctly set the gain.
🐛 Weird water rushing sound at the bottom of the microphone's range.
I bought a cheap microphone arm from amazon for $23. This microphone arm worked great! It held the mic up, came with a shock mount and pop filter, and was perfect. The shock mount is key in reducing noise from bumping the desk or even typing on the keyboard. The pop filter helps with plosives, which are 'p' and 'b' sounds. Microphones pick up noise through vibrations, and if you blow on your mic, it'll pick up air movement and sound movement, making your 'p's pop a little too much. The pop filter helps diffuse that air.

Audio Interfaces provide phantom power to microphones, and connect to the PC via USB. I have never had a problem with this audio interface.

This is some nice crisp video, but the ring light is too small to be helpful. My screen with a light mode application and fully brightness does more than the ring light. This webcam just works, so I don't have much to say about it. 1080p is very nice, but Twitch is going to throttle my face down to 720p, so I'm not sure who's benefitting from it.


🐛 Ring light produces glare on glasses.
🐛 Auto focus issues in low-light scenarios.
I bought this for my sister for Christmas when she went to college, but she said it was too heavy and she couldn't carry it around. I bought her a used Surface Pro from a friend, and I was supposed to return this laptop, but between Christmas and laziness, it went past the return period. I started using it as a personal computer, and when I wanted to stream, it was there waiting for me!


🐛 This laptop once decided to defrag during a stream, resulting a lot of dropped frames.
Monitor
This was just a monitor I had laying around the house. Having two monitors when you're streaming is incredibly helpful. I put chat and my recording software on one side, and the application I'm recording on the other. It's important that chat is always easy to see and respond to, but also, it's important to have an easy way to check your video and audio levels.
When I bought this, you could customize the switches, and it was made by gofreetech. I love brown switches, because they have the same tactile feeling as blues, but a little quieter. Any mechanical keyboard feels nicer to type on than a standard laptop keyboard with stubby, mashy keys. I deliberately chose an audible switch for my stream. I wanted the lines of code to have an impact as they were being written, and to be more prominent in the stream. If I were playing an FPS or any game using WASD to travel, I'd choose clears.

Surprise! I'm including my work keyboard too! The Pok3r 60% keyboard feels amazing. I got it in white with brown switches. The metal casing, sleek design, and keys look, sound, and feel great. You know what doesn't feel great? The claw hand I go into every time I need the arrow keys. I don't even think about the motion, or my future arthritis, when I traverse the code using arrow keys. Honestly, this keyboard may have caused me to use the mouse more. Gorgeous though. Best feeling keyboard I own.

The mouse so nice, I bought it twice! I had one for work and one for home. I love this mouse. It's completely silent on stream. It feels nice in my hand. It even looks nice!

These are just used as headphones, not mic. You need headphones to prevent the mic from picking up your computer audio. I like to move around and bob a little, so I can't be tied down with a wire; the bluetooth is mandatory! The in-ear headphones hurt my ears, so I need the over-ear cans.


🐛 These are a little frustrating, because when they disconnect or connect to another device, the audio on the stream dramatically increases in volume.
🐛 Audio levels will sporadically change over time because headphones are connected/disconnected.
🐛 Application audio on Windows must be set to 1-5 volume to not be overwhelming.
Thank you for reading! If you have questions or suggestions, let me know in the comments!
I've included links to Amazon for product details and easy purchasing. I receive a 2% commission on purchases using these links. #disclosed #ftc_safe If you discover a link to amazon, and you cannot purchase the product, that is intentional. I want you see what I bought.