Material design is a designing language developed by Google. The main thing googles achieve via material design concept is to unify their product interface. Originally, google announce the material design concept in 2014 to create an analytic app. A ton of development resources available for material development resources and unlimited No. of. Possibility to utilize resources effectively which makes the development process very fast. A material design concept merge with various platform easily such as Bootstrap, React, etc. A combination of both technology we achieve stunning User Interface.
When we built any website, a dashboard is the most important part of it. Your website dashboard plays an important role in tracking key performance indicator matrix and other data relevant to your website. Material design is responsive and provides better services.
If you are looking for a material design concept dashboard template or just a simple dashboard material design, we have a stunning collection of material design template which is perfect for every type of website.
BERRY - React admin dashboard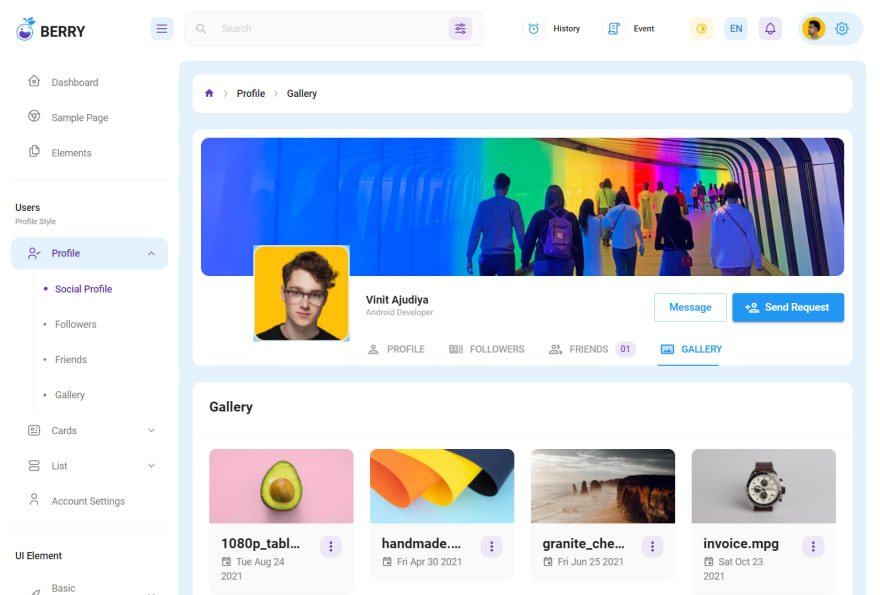 Codedtemes launches new react material-based Admin dashboard which is -BERRY. Using the Material-UI library to build faster, beautiful, and more accessible React applications. Berry is SEO Optimized and compatible with all major browsers(such as Mozilla, Chrome) and devices(Tablet, laptop). The template comes with a Light dark version which is easy to access. 
Feature
• Build on Material-UI
• Rich design
• Based on React-hook
• Fast loading
• Light dark version
Materially React admin template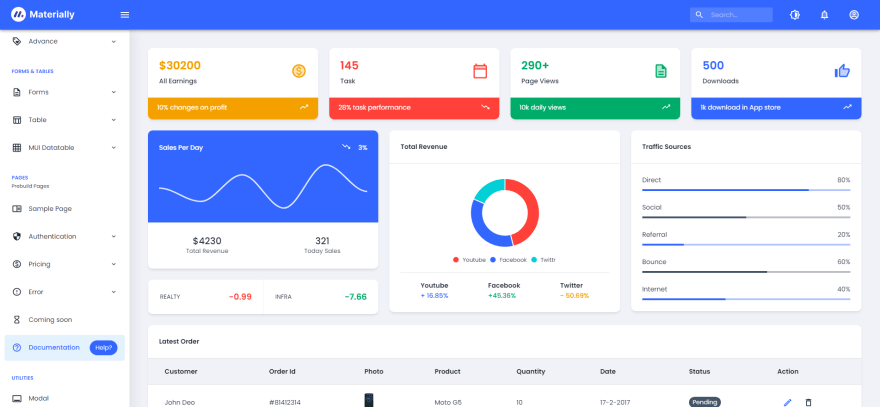 Materially is the most developer-friendly & highly customizable React Hooks + Redux with Material UI. It is the most convenient react hooks admin dashboard template for developers as it's made with React Hooks, Components, Create React App, Redux, clean code, and fully documented which allows you to build eye-catching, high-quality, high-performance responsive single-page applications.
It comes with a performance-centric code for easy understanding. The template uses 3rd party authentication such as JWT, Auth0, and firebase.
Features
• Dashboard, 50+ Widget Cards
• JSS Powered
• 75+ Pages
• 6 months of free technical support
• Easy to customize
Softbox is a responsive bootstrap 4 admin dashboard template that comes with a sleek, clean and powerful SaaS, web app, software admin template. It has a modern and stunning UI/UX element. There are multiple reasons to use softbox such as it has a cleanest and robust development base.
For new decades business dynamic front end capability. Another standard feature is that every page is fully responsive and retina ready, so whenever you open your website or app in any device or browser it looks great.
Basic feature
10+ home page layout
Clean code
Hover effect
Google map integration
Fully responsive
Able Pro is a stunning and fully responsive bootstrap admin template. It contains a ready-to-use feature package and provides a flexible solution to every problem.
Able pro comes with a light-dark layout and set of components for the unlimited creativity of the user.
Basic feature
11+ menu option
100+ external plug-in
Live customizer
Easy navigation
Useful animation
Proxima is a clean, professional, and modern template built in Angular 9 using Typescript CLI.
The template design according to modern trend and technique in mind. It built without using jQuery and comes with rich and powerful multi-purpose applications.
Basic feature
High-resolution design
Drop zone file upload
Live customization
Widget pages
Vex is a creative multipurpose design admin template built in angular 9 and angular CLI. It is a perfect framework for build large enterprise application which allows for a modular component setup.
Vex crafted as simple as possible to customize. a navigation menu items can be added dynamically according to your needs. It comes with the light-dark mode layout.
Basic feature
Fast and lightweight
Clean and smooth design
4000+ icons
Nested routing
Advance google map integration
Stexo is a bootstrap 4 based fully responsive admin template. It is based on a modular design that allows you to be easy customization.
Stexo comes with a lot of reusable components, features, widget, and more. It's compatible with all major browsers (such as Mozilla, chrome) and device (such as a tablet, smartphone).
Basic feature
HTML and CSS3 support
LTR and RTL support
SaaS support
Google map integration
Drop zone file upload
Roe is a super flexible, powerful, clean design with a responsive and modern layout template built-in various frameworks such as react.js, bootstrap with unlimited possibility.
Roe provides easy theme configuration and developer-friendly layout. The template is fully responsive and clean or compatible with all modern browsers.
Basic feature
Easy customization
Multi-language support
Color option
Dark-light
Magilla is a web app template for the admin dashboard and control panel. It is a responsive HTML template based on the CSS SaaS framework.
Magilla admin is based on a modular design, which allows it to easily customize and built.
Basic feature
90+ HTML page
2000+ icon
RTL support
Responsive layout
Vector and google map
Annular is a powerful and creative material design admin template based on angular and angular CLI. The template is fully responsive and clean. It is compatible with all major browsers such as Mozilla and chrome and all devices such as tablets and mobile. It contains many examples and read to use the template.
Basic feature
LTR – RTL support
Nested routing
Forms
Responsive design
AOT compilation
Roxa is a modern dashboard admin template built in bootstrap 4. Roxa uses SaaS to make your life editing the style easier.
It is a responsive bootstrap admin dashboard theme compatible with all major browsers and devices. It comes with bower and npm for package management in your project.
Basic feature
W3C validate code
Clean and well-commented code
Multi-color option
Built code with a gulp
Light-Dark theme
Materialize is a material design dashboard template design inspired multipurpose admin template. It has a huge collection of material design animation and widget, user interface, jQuery plug-in that work effectively all major browser and device.
It is perfect for desktop-based application custom admin panel, CMS, CRM, SaaS, and suitable for personal business, e-commerce, social platform, etc.
Basic feature
5 pre-built templates
RTL and multilingual support
Well structure code
Chat and mail application
Egret is a material design admin template built with angular and angular CLI. It implements all necessary features to start CRM, CMS, and dashboard-based projects.
It involves standard features like multiple layouts, lazy loading, dynamic breadcrumb, and page title. By default, it comes with 4 pre-built themes.
Basic feature
Lazy loading
Model-driven navigation
Dynamic breadcrumb
Rich text editor
RTL support
Elastic is a creative material design template built with angular and angular CLI. It is an offer you everything you required to start a new CRM. It is as easy as possible to customize according to your needs.
A navigation menu items can be added dynamically from anywhere.
Basic feature
Fast and lightweight
300+ material icon
Angular flex layout
Clean and smooth design
Nested routing
Material art is a CSS based framework, that helps you easy to customize the admin template.
Material art comes with a 4-dashboard variation, 1600+ pages, unlimited color scheme, and multiple file uploads.
Basic feature
Megamenu
Range slider
Light dark layout
Easy to customize
Multiple file uploads
Espire is the most pixel-perfect stylish design template built with angular 7. It has a marvellous and uncomplicated design for you to have a clear overview of your web app.
The template is well structure design and well organize coding. The good structure website skin for nifty admin panel.
Basic Feature
HTML and CSS support
Responsive
Compatible with all major browser
Material able is a free and most stylist bootstrap 4 admin template. It comes with the developer-centric code. The dashboard has four different variants such as E-commerce, CRM, Analytics, Project layout, etc.
Basic feature
14+ page layout
Faster loading speed
Live customization
Social media integration
Multi-browser compatible
Conclusion
Above all the mention template built using a combination of various platforms using google material design concept. Choose the theme/template which is perfect for your business and customize it according to your requirements. Before buying the premium version of any think may check the demo version to easily understand.