In a previous post, I laid out a basic no code solution to track Dev.to total pageviews and reaction counts using Integromat and Airtable.
This post is going to build upon the Integromat scenario that you created previously, as well as add a new scenario that connects with Plotly to provide some simple visualizations of the data.
As before, the prerequisites are the same, with one addition:
I'd suggest completing the previous post before starting here. If not, that's fine, just be sure to have your accounts set up. Some familiarity with Integromat will also be beneficial.
Create A New Table
You'll be collecting the same data from your Dev.to profile, but storing it in a different way inside Airtable.
Open up the Airtable base from the previous post(mine is called "Dev.to metrics"), and add a new table to it:
Name the table something to distinguish it from the previous table, such as "Dev.to timeseries".
You'll need to set the new table up as follows:
Change the first field(column) type from "Single Line Text" to "Formula".
For the formula, enter CREATED_TIME(). Change the formatting to not include a time field.
Change the 2nd field to a "Number" type. Set it as an integer(instead of decimal), and title the field "Total Post Views".
Change the 3rd field to a "Number" type. Set it as an integer, and title the field "Total Reaction Count".
Add a 4th field with a "Formula" type, enter RECORD_ID() in the formula, and title the field "Record ID".
The fields should look as follows when complete:
Next, you're going to update the scenario from the previous post to update this new table.
Update Your Scenario With The New Module
NOTE: If you haven't yet worked through the previous post, I'd recommend doing so now. If you want only finish the bare minimum needed to proceed here, you can stop after creating the HTTP module to pull from Dev.to.
In the Integromat scenario you created to pull metrics from the Dev.to API, you'll be adding a new Airtable module to update the newly created table.
Click the "+" symbol in the "Router" module to create a 3rd module.
Add a new Airtable module and choose "Create a record" from the popup menu:
You'll be configuring the module to update your newly created table with total page views and total reaction count. It will be using the same functions from the modules in the previous post. The fully configured module should look similar to this:
Rather than updating the same records(rows), this module will create a new record each time it runs. Since you added a formula field for "created time", Airtable will automatically populate the date that the record was created.
Choose a meaningful name for the new module. It should look similar to this:
Go ahead and perform a manual run of the scenario to test it. Once it completes, verify that a new record was created in your timeseries table:
This represents a basic data model for what is needed to plot timeseries data. A data point, as well as a fixed time at which the data was sampled.
Next, you'll create a new Integromat scenario poll and visualize this data using Plotly.
Visualize Your Data
If you haven't yet, you'll need to go ahead and set up your free account on Plotly Chart Studio. You'll need to grab your API key from (here)[https://chart-studio.plotly.com/settings/api#/].
Next, create a new scenario in Integromat. You'll be using the "Airtable" and "Plotly" modules, as well as a router module.
Create a new Airtable module as the first module in the scenario. In the popup menu, you now have access to a trigger called "Watch records", go ahead and choose it.
Configure the module to utilize the "Dev.to metrics" base, and the table created earlier in the post. The "Trigger field" will be the "Date" field from the table. The configured module should look similar to this: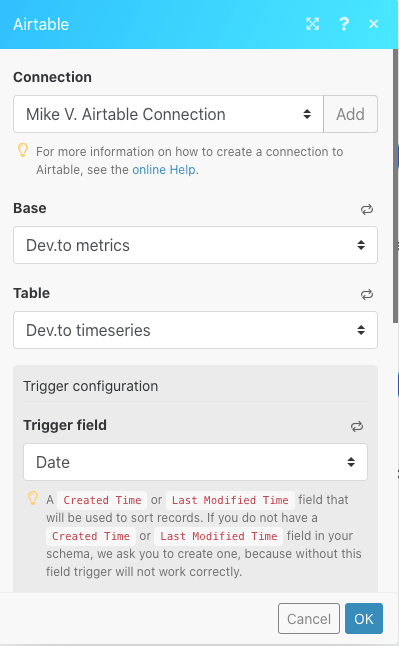 Next, add a "Router" module. As in the previous post, the Router will send identical data streams to separate modules for processing. Click the "+" in the module to create two flows with blank modules. On the top-most blank module, set up a Plotly module and choose "Create a graph":
As in previous modules, you'll need to set up a connection. Integromat needs your Plotly username and API key, so go ahead and enter them.
There a few more configuration options compared to previous modules, so here's a high-level walk-through of what these modules are meant to accomplish:
Creating a "file" in Chart Studio, which will be the data and graph.
Updating the same file continuously with additional data points.
The X-axis will show dates, and the Y-axis will show the metric count being tracked.
The graph type will be an extended scatterplot.
Start with graphing the metric for total views.
First, choose a file name that is meaningful, such as "total_post_views".
"Graph type" will be "Scatterplot".
"X Values" and "Y Values" will be populated with the data from the Airtable module that you created for this scenario. Choose "Created time" for the X Value and "Total Post Views" for the Y Value:
Enter "Date" for the "X axis title" , and "X axis type" will be "Linear".
Enter "Total Post Views" for the "Y axis title", and "Linear" for the "Y axis type".
When completed, it should look similar to this:
For the second module, it will be almost identical to the first, except it will be creating a separate graph to track total reaction count.
Configure the module, choosing a different file name and specifying the reaction count metric for the Y axis.
When completed, it should look similar to this:
You're almost done!
Go ahead and manually run the scenario. After a moment, each Plotly module should have a little white bubble to the upper right. Click on it. You should see a URL for a Plotly chart in the output:
Go ahead and copy that URL into a new browser tab and hit enter.
You should see a Plotly graph with a single data point. Congratulations, you've just graphed your Dev.to metrics!
Go ahead and confirm that the total reaction count module generated a similar URL with Plotly.
One last thing you'll want to do is create a dashboard in Chart Studio.
Create a Data Dashboard
Obviously, it's not super convenient to click through each module in an Integromat scenario every time you want to view these metrics. Fortunately, Plotly provides a dashboarding functionality that's easy to set up.
Go ahead and click "My files" at the top of the Chart Studio UI:
You should see an interface containing all of your graphs and grids. On the left, click the blue "New" button and choose "Dashboard":
You should be greeted with an empty dashboard:
Click "Plot" and choose "Your Files":
Then choose one of the files created by the Airtable scenario:
Enter a title at the top. Click the "+Plot" button at the bottom of the UI to add the other metric to the dashboard, giving it an appropriate title.
Click the blue "Save" button at the bottom of the UI, giving your dashboard an appropriate name.
Now if you go back to "My Files", you'll see your new dashboard there, with a shareable link that can be bookmarked for further viewing.
All done! You've now got an automated system that will help you visualize your Dev.to metrics. Down the road, you could add additional functionality like a Slack notification or email, to alert you when the graph has been updated.
A Note Regarding scheduling in Integromat: Choosing a scheduling interval depends on how granular you want the data to be. Free accounts limit to two active scenarios, and 15 min intervals. However, running the Dev.to polling scenario and this one every 15 minutes will quickly consume your allotted actions before the free counter is reset.
Obviously, it doesn't make sense to run the graphing scenario any more frequently than the polling scenario runs. For my own scenarios, I chose once every 24 hours, with the graphing scenario running 30-60min after the polling scenario.
Like What You Read?
I'll be launching a site dedicated to "No Code" workflows, automation, tools, and news at nocodeautomation.io
It's not live yet, but if you're interested in this kind of content, please subscribe for updates and additional content.
Thanks for reading, stay healthy and safe!