Preparations for the holiday season are on the peak, and Black Friday is here again with incredible deals. It's probably one of the most awaited time of the year to make new purchases. We, as a developer, also look for these sales to purchase new tools, courses, hosting, and whatnot! 🙈
This time, we have curated a list of Black Friday deals, which we either found on our feed or came across on other platforms. Let's jump in!
#1. VSCode.pro 70% OFF by Ahmad Awais
This is one of the courses that I have taken and can't recommend you enough. In this course, Ahmad Awais literally helps you become a pro in using VSCode. This course contains tons of developer workflows, handpicked extensions for different languages, and moaarrr. 💯
It's currently on sale, offering 70% OFF, plus it provides purchasing power parity! 🤯
🔥 My https://t.co/YEAoj4vm4g course is 70% off now!

🎯 230+ Power Dev Workflows
⚛️ JavaScript/PHP/Py/Go Setup
👍 50+ Extensions setup review
🗃 Git #OpenSource automation

→ Become a https://t.co/YEAoj4vm4g

#BlackFriday #CyberMonday #CodeNewbie @Code #100DaysOfCode #Code

— Awais (@MrAhmadAwais) November 27, 2019
#2. $100 OFF on All Courses by Flavio Copes
Flavio has a great range of courses focussed around JavaScript. He offers amazing courses on:
JavaScript Fundamentals
React.js
Node.js
Vue.js
Web Platform
Next.js
He's currently offering 77% OFF on his courses, which means you can get his courses at $29, which are priced at $129 otherwise. 🙊
I am running a big Black Friday sale for all my courses.

😱 77% off single courses
🗓Until Cyber Monday

Which courses? React, Node, Vue, JavaScript, Web Platform, Next.js.

Never been this low. Probably will never be as low again.https://t.co/DfaXkwrMcP

— Ŧʟᴀᴠɪᴏ (@flaviocopes) November 26, 2019
#3. 50% OFF on All Courses by Wes Bos
⚡️ Wes Bos is currently offering 50% OFF on all of his courses. He does this only once a year. So, if you are looking to learn something by Wes Bos, it's about time to make an investment. He has courses on:
Beginner JavaScript
React For Beginners
ES6+ For Everyone
Learn Node
Advanced React and GraphQL
#4. 50% OFF on Laracasts
Love Laracasts? Grab a subscription at as low as 50% of the original price. Laracasts contains some of the best courses on Laravel, PHP, and Vue. If you are looking forward to one of those skills, it's a good investment.💯
#5. 40% OFF on Pluralsight
Yes, you heard it right! Pluralsight is currently offering 40% OFF. So, if you are looking get a membership to learn some great courses from some of the best in the industry, it's the time.
#6. Save to $5000 — Sale on 50+ Remote Work Tools
Folks at standuply.com curated an amazing list of 55 remote work tools on sale. Below is an excerpt from their ProductHunt page, describing how they made this list. 🎯
Only great tools made it to the list. Here's how we picked them:

✔️ we asked 3000 remote workers what they're using;
✔️ we read all the Quora topics on remote works to find more;
✔️ we asked HN users and went through older topics as well;
✔️ tools with low Alexa rank were removed from the list;
✔️ only tools with 4 and 5 stars on Capterra made it to the list;
#7. Up to 60% OFF — WordPress Black Friday & Cyber Monday Deals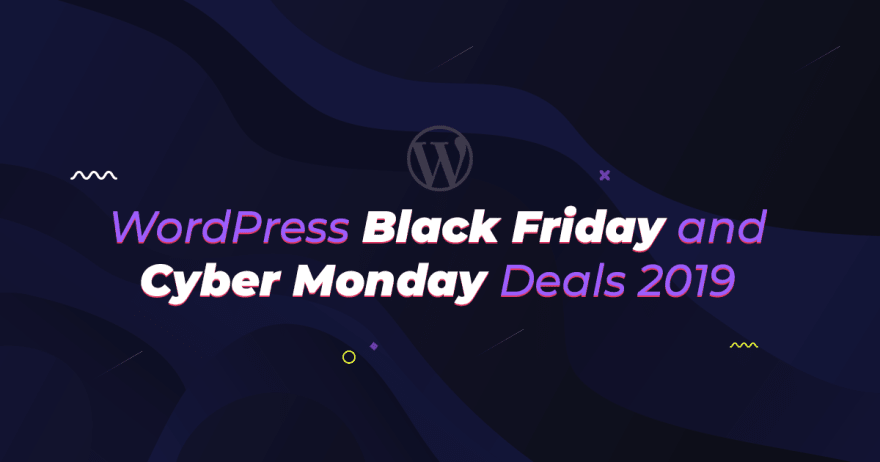 Are you a WordPress fanboy? This great list curated by the team at WP Beaver Add Ons is all you need to get you covered for this Black Friday and Cyber Monday. The list contains 25+ products offering Black Friday or Cyber Monday deals.
#8. 12+ Black Friday deals for Developers and Designers - 2019
It's an amazing list of handpicked deals for developers and designers by Creative Tim. Some of the deals on the list as high as 95% OFF. So, if you are looking to grab some great resources, you should definitely check this one out. 🎩
#9. Up to 50% OFF on newline Books
newline (\n) has some great collection of books on JavaScript, algorithms, deep learning, and Rust. Their sale philosophy is simple, the more books you buy, the more discount you get. And it goes up to 50% OFF. 💯
With a complete bundle of 12 books, you get 50% OFF. They are also offering a 10% OFF on their Fullstack React Masterclass. So, if you are looking to grab some books, that's the place to go!
#10. 35% OFF on Brain.fm
Brain.fm produces music to help you improve focus. They have been featured on Forbes, NBC News, Engadget, and Vice. You can try their free 5 sessions to check it out and maybe grab this Black Friday deal to save big!
🙌 Wrap Up
These are some of the amazing deals that you can grab on this Black Friday. If you are offering an incredible deal or know of one, feel free to drop in the comments below.
Peace! ✌️
---
👋 Follow us on Twitter to stay up-to-date!
Thanks to Daily developers can focus on code instead of searching for news. Get immediate access to all these posts and much more just by opening a new tab.