We are excited to announce the release of version 0.6.2 of the Appwrite open-source backend server for Web, Mobile, Flutter apps. This is the 12 version of Appwrite since we first launched the project.
If you haven't heard about Appwrite before, It's an open-source BAAS (backend-as-a-service) that abstracts a lot of the complexity and repetitiveness required when building an API from scratch. The server comes packaged as a set of Docker containers you can host anywhere really quickly, and it has tons of built-in security features. You can learn more at https://appwrite.io
The new version introduces new beta support for Apple OAuth authentication, better known as "Sign in with Apple" This new feature will allow you to authenticate your users with Apple private sign up service easily. Many thanks should be going to Christy Jacob for his contribution to making this feature available.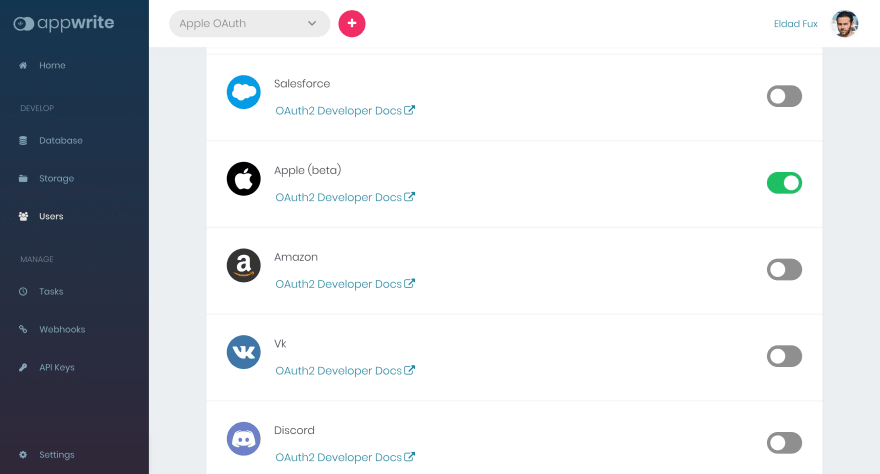 The new version also introduces multiple bug fixes and improvement reported by our community members both on Discord and GitHub. Many thanks should also go to our community members Torsten Dittmann, Pedro Cisneros Santana, Mehmet Hakan Yazkan, Taweechai Maklay, Jansen Arruda, Punit Diwan, and FathiQ, who took an active part in making this version better by reporting issues, sending pull-requests, and generally being so supportive.
The full change-log for version 0.6.2 is available on our GitHub release page. You can also check our public roadmap if you're curious about what new features and improvements are lined up next for Appwrite.
You can install the new Appwrite server now, or upgrade from a previous release. Feel free to reach out to our community or team members on Discord or Twitter if you seek any help, advice, or want to share your feedback with us.