8 days, 5 countries, 2 conferences - Dealing with anxiety and networking.
Hello beautiful people, in this article I'll describe my last 8 days traveling in Europe and attending as a speaker 2 tech conferences. While we progress I'll share what I learned during these days (tech and non-tech news/advice) as well as some tips about networking and being comfortable around new people (which is something I always struggle with, but I am making my best to improve it).
Notes:
1. I used to travel a lot in conferences all over the world, but then covid happened and I stopped! Maybe the old followers/readers, already know that, but as I usually say, I have 2 passions: my job and traveling. So when these 2 things can be combined you can bet I am a happy girl 😊
2. Also, I am fully vaccinated and I take seriously all the health regulations. It's not only about my well-being but also about the people around me. I would never jeopardize their health.
Let the journey begin...
P.S. If you are bored to read, watch the vlog 😉.
Day 1 - Monday
✈ Greece, Germany and Croatia
I woke up so excited for my journey, everything was ready and planned. I had made my preparation through the weekend (airplane check-in, suitcases, and even some of Monday's work), my flight wasn't until midday so I had some time to work and be productive.
The socializing part started as soon as I arrived at the airport. There was an issue with the online check-in so I had to actually speak to a human for my tickets 😳. I know, I know, for some of you that wouldn't be an issue, or it could even be your pleasure, but I have some anxiety issues even on the smallest things...
I asked the man in the check-in "do you need to see my vaccine ce ce cert certif certification?" I was rumbling so hard, I couldn't prefer the word certification in my own language (certification = πιστοποιητικό), the man laugh but he started to chat with me about other things and that actually made me feel better... Maybe we were chatting for about 7-10' until a huge waiting line had created... (oops, sorry travelers 😊).
The next stop was Munich (Germany 🇩🇪) and right after there Zadar (Croatia 🇭🇷). From Zadar, a taxi driver picked me up and drove me to the hotel. The taxi driver didn't know English so we couldn't communicate... As you can probably understand that was not an issue for me😏.
The hotel was located in an area outside of Zadar and it was one of the best luxurious hotels I have ever been to (more about that later). It was about 7 pm when I took a shower and went alone for a dinner at the hotel's restaurant. As I started to eat a young smiley man approached me, "hi, are you also a speaker? are you this girl?" (pointing at my photo on the conference's website) as I knot my head positively the young man showed his photo on the website too, introduced himself and asked me if he could join me. My heart started to beat faster, not because I didn't like the man, but because, you know, I had to speak with another human😳.
I actually spent the next few hours with this person. He was just one year older than me, a CEO of a company, and a creator of a js framework (let's keep some anonymity, and not get into more details, at least for now). 😁
After dinner, I went to my room, worked for a few more hours, and went for sleeping. 😴
1st day's thoughts💭 : Could humans be actually pleasant?! The guy from the airport check-in made me feel comfortable and the guy from the dinner kept me company and actually became my companion for the next days!!
Day 2: Tuesday
Conference: Infobip Shift - Day 1 of 2 - The day of my talk
The next day started with a nice breakfast near the hotel's pool 🏊 🥐 (I'm telling you dear readers, the hotel was amazing!).
I stayed in my room working until midday when it was time to call an uber and reach the conference's location.
I attended several people's talks and gained some valuable knowledge of tech and coding.
I also gave my talk which was about UX and UI. Everything went great and according to the plan. Weirdly enough when I'm presenting I'm not nervous (I have a trick for that, maybe I could share it on another article... 😊, let me know if you are interested in how to speak to an audience/giving a presentation and not getting a panic attack!! 😁 )
At the venue, I met the dinner-guy who introduced me to his friends/speakers and we became a nice "little" nerd 🤓 and IT gang!! How cool, right?!
At this point, I had checked the conference's website and I knew who were the people that I definitely wanted to meet. These were people like Gift, Ekene, Sébastien, Eduardo, Kent, Nikolas, and more.
Some of those people I was following on social media or I was familiar with their work. Other people seemed very interesting, I loved their talk so I definitely wanted to meet them. As I was surrounded with my cool IT gang it was easier to meet people, they could introduce me to others and if they also didn't know the "others", they were not as anxious as I was (hello extrovert people), so they would just go and speak and I would follow (that's a pretty good approach for meeting new people!)
2nd day's thoughts💭: Humans have started to seem less terrifying... They like to talk, they like to make jokes and they even want to help you!
After the conference, I went back to the hotel, worked for a few hours and at night I went for dinner 🍲 in a nice location with my nerd IT gang and we even went for an after-party (come on dear introvert friends, you have to applause me here 👏 👏, I went for both dinner + after party 🎉).
Day 3: Wednesday
Conference: Infobip Shift - Day 2 of 2 - Networking and meetings
The day started with a nice chilled breakfast ☕ near the pool and continued with work. I only went to the conference venue in the afternoon when I was done with work.
It was time for meetings and networking once again😔.
1.The Porche experience 🚙
Let's start with something cool.
Porche was one of the sponsors and they wanted a woman in tech to represent them. They liked my talk and my presence and they asked me for some possible collaborations. They took some professional photos with the cars and me (I am waiting for the official photos too... As soon as I get them I'll share them on Instagram 📸), and they had a professional driver who took me on a fast ride (I can't even describe how insanely beautiful the car and the ride were). For those of you thinking "but where can you drive/run a fast car like Porche safely?", I have an answer: the event was held in Zadar's biggest sports arena. The arena had also a huge parking which was allocated by Porche. Each time only a handful of people could visit at the same time the parking due to safety reasons!
2. Being approached by attendees
A few people approached me as they had some questions and queries around my UX and UI talk or they would be interested in potential collaborations. That went well... I only messed up in the end with some emails and phone numbers🤣. See, I m not good with names... And that resulted in sending some messages to the wrong people on WhatsApp!! But I guess these things happen, right?! Or is it only me? (Please say it is not only me, it will make me feel terrible, no kidding😕.)
3. The interview
It's not uncommon in a conference to be asked by the organizers to take part in a video that will be used mainly for promoting purposes in their current or upcoming events. Usually, there is someone who will make a few simple questions (hence I call this part "the interview") around the conference and will record the speaker's answers. On the 1st day of the conference the organizer asked me to take part in the video, I said "yes" but then..."hello darkness my old friend" I could not do it... My shyness had returned... So I said "no".
But...the 2nd day, as I was sitting with the cool nerd IT gang and I could watch them doing the interview I decided to give it a chance (that was a nice win 🏆 for my little introvert self), everything went fine!
4. The potential collaboration
Since this is work-related I won't get into details. The main point is that I had an online meeting with an "x company" and as we were discussing we realized that on of their developers and I would be at the same conference so now it would be a nice opportunity to meet in real life and discuss some business! That's how I met a fellow developer 😊
5. The other speaker, for the other conference
As I mentioned, in the upcoming days I was about to hit another conference in another country. The organizer from the other conference told me about this guy who would be in Croatia and then in Ukraine too (we would be in the same conferences), so I had to meet him! But you know, I'm introvert and shy... How would I do that... At first, I didn't even know who he was...
At the second day of dinner, I asked my cool yet nerdy IT gang if they knew him. Long story short, they found him for me and even the dinner-guy made the introduction as I was too scared for that...
But guess what, it went well! The other-conference-guy was super nice and friendly! And he's also a writer here at Hashnode! 😁
Moving on, I had a lovely night with good company 🍻 !
Day 4: Thursday
Croatia to Austria 🇦🇹
My day started in the same way. Breakfast 🥐 and work. Later that day I would catch my flight to Vienna, Austria. I reached Vienna and stayed one day there as there was no direct flight to Odesa, Ukraine which was the 2nd conference.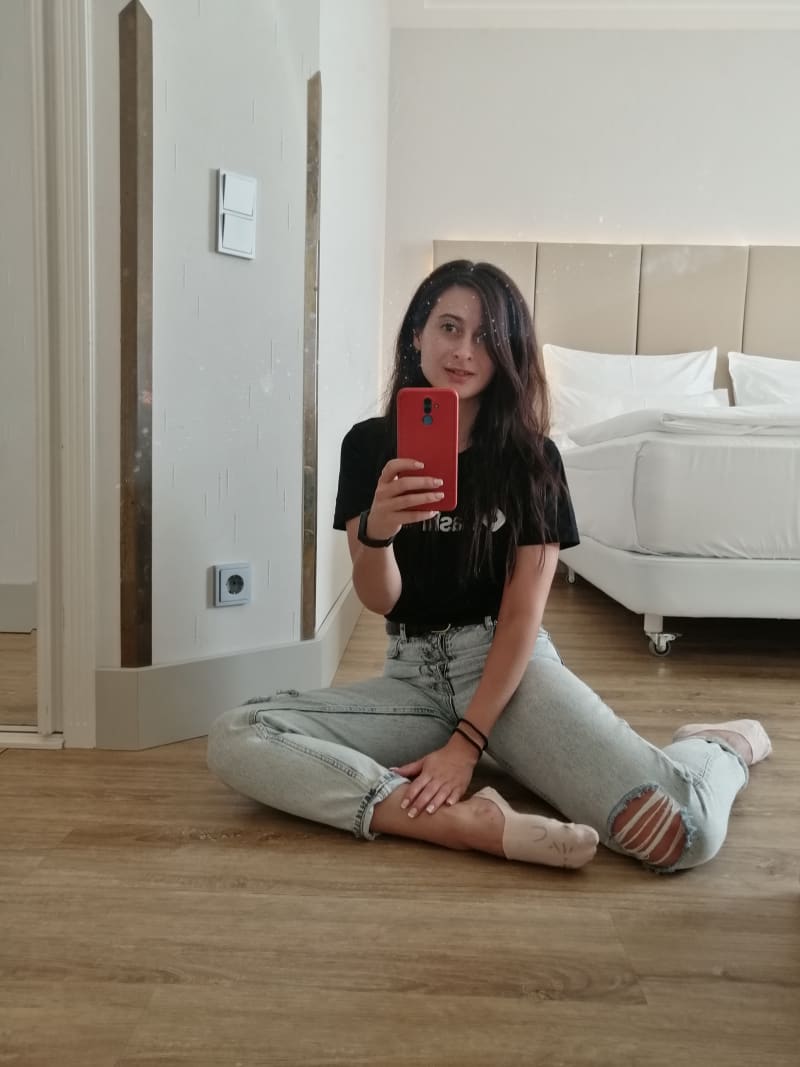 No networking stories this time. I quickly arrived at the hotel. There, I only talked with the hotel receptionist and the host of the hotel's restaurant.
My evening ended with working out and work.
Day 5: Friday
Austria to Ukraine 🇺🇦
Another day, another flight 🛬 !
Breakfast in the hotel, a few hours of work, and catching up on a flight!!
This time I landed in Odesa-Ukraine for the conference of PyCon Odesa.
The "German" organizer
Shall we move on with another networking story?!
Did you wonder how a girl from Greece, working occasionally with Javascript and Design, working full time as a community manager at Hashnode, would end up in a Python conference in a little city in Ukraine?
Well, there are 2 points connected to each other. The 1st one is that I simply applied to speak to the conference as I believe my talk is equally important for all kinds of developers... (and that's usually what all speakers do, they apply to conferences...). The 2nd one (and usually the hardest one) is to get an invitation... But... A beautiful sunny morning I received a Twitter DM from an organizer I met a few years ago in Munich, Germany telling me that he is a co-organizer for this conference too and he'd love to have me as a speaker. I specified to him once again that my talk is not related to Python but it would be my pleasure. And just like that, I was in!
Will I have an invitation from the organizer if he didn't know me? I honestly don't know... But I have a suspicion that our old meeting helped.
Let's go to the accommodation and the venue
The conference venue and the accommodation were in the same location. This is very convenient for the speakers... The only issue was that the location was a bit outside of Odesa and not many taxis were willing to drive you... Thankfully another organizer came and picked me up 😊, he drove me to the venue where I met once again the "German organizer". He introduced me to some lovely girls and fellow speakers (who later became my friends).
I took a few hours to relax and then it was time for dinner and drinks in the city center!
Day 6: Saturday
Conference: PyCon Odessa - Day 1 of 2
By now, I m sure you know the drill. Breakfast 🥐 and work! You may be thinking "But Elef, it was Saturday did you have to work?!" and the answer is no... But the thing is I hadn't finished Friday's work and I also wanted to prepare some stuff for Monday that I knew I would be traveling and I wouldn't be able to do.
This time my breakfast wasn't near a pool or at a fancy hotel restaurant but at a terrace with a view of the ocean and the city!
After work, I met my cool gang, a few new speakers and started to attending talks. In the evening, we had a lovely dinner with the crew and the attendees in an open space and we talked about tech and life.
Day 7: Sunday
Conference: PyCon Odessa - Day 2 of 2 - The day of my talk
This day started differently... It started with yoga! The speakers and the attendees got together on the building's terrace where we met the yoga instructor and had a lovely short session with her!
We continued with talks, and after lunchtime, it was my turn! I gave once again a talk about UX and UI. I was pleased with it as many people approached me asking for advice.
Since this was the second and last day people were more relaxed and the conference ended up earlier than the previous day.
As a closing party for the organizers and the speakers, we booked ourselves a yacht ⛵ for the afternoon/evening. It was my first time sailing and having so much fun with people that I literally met a couple of days before. Everyone was welcoming and chilled!
Last day's thoughts💭: Actually those humans who called them shelves developers and advocates are... quite fantastic!
Day 8: Monday - Back home 🏠
Ukraine to Germany to Greece 🇬🇷
As soon as I woke up ☀ , I found the organizers who helped me to find a taxi and get to the airport. At the airport's cafeteria, I did my daily stand-up meeting with the Hashnode team, worked for a few hours, and took my first flight to Berlin. That flight was 2h 30min so I started writing this article!
In Berlin, I had a long layover AND a delay on my flight which actually gave me the time to finish all my work, prepare for the next day, and of course attend Hashnode's Bootcamp!
On the last flight from Berlin to Greece I kept writing this article and I even managed to finish it.
(After writing an article I need some time to review and edit it... Plus in this case, add some photos and edit a video. So although the article was finished on Monday it was published on Thursday.)
General thoughts 💭
Could I have created more connections/opportunities?
Of course! You can find opportunities everywhere you just have to know where to look for and be willing to take your risks.
Could I have met more people? Yes.
But on the other hand, I'm glad that I managed to pull this trip of... As a shy, introvert person I'm glad with my progress!
Thank you... 🙏
At this point I'd like to thank:
Hashnode for giving me the opportunity to work in a flexible schedule.
The InfoBip organizers for creating an amazing event.
The PyCon organizers for creating a truly unique and memorable event.
All the speakers and the fantastic people who shared freely their knowledge with me (and kept me company).
Did you actually read the article? If not that's ok, watch the video here.
---
👋Hello, I'm Eleftheria, Community Manager at Hashnode, developer, public speaker, and chocolate lover.
🥰If you liked this post please share.
🍩Would you care about buying me a coffee? You can do it here but If you can't that's ok too!
---
🙏It would be nice to subscribe to my Youtube channel. It's free and it helps to create more content.
🌈Youtube | Codepen | GitHub | Twitter | Site | Instagram | LinkedIn