Last week, I visited my first developer conference, the Devconnect in Amsterdam. I didn't visit many conferences before, just business conferences and a few dev-centric unconferences, so this was something new.
Also, I was never abroad alone in a country where I didn't speak the native language, so this was new too!
This first article about my journey has a chronological focus, so this is just about what I did on which day and won't contain many insights. It will give a perspective on what Devconnect is about and my experience.
So, don't expect more then stream of consciousness here :D
The Devconnect
The conference was about Web3 and crypto in general. It was very dev centric, so you could actually talk for hours about technology without being bothered by investors or marketing/salespeople. (Some people told me this isn't the case at all conferences; often devs are just marginalia)
The whole conference was actually dozens of small events all spread around Amsterdam. But there were prominent events like the Eth Amsterdam hackathon and the giant coworking space.
I didn't get tickets for most prominent events, and I'm not a hackathon person. However, I got many tickets for last-minute events, so I still had plenty to do.
Sunday
I arrived on Sunday, one day before the actual conference started. This made everything pretty chill. I rode by train, searched for my hostel, and could take a look around the city before everything got more stressful.
I found out that my hotel room was more of a coffin hostel, and I bought a kebab because it was all I could read on the menu.
Monday
I got an excellent breakfast at the hotel and then went to the cowork right in the center of Amsterdam.
The venue consisted of three huge rooms.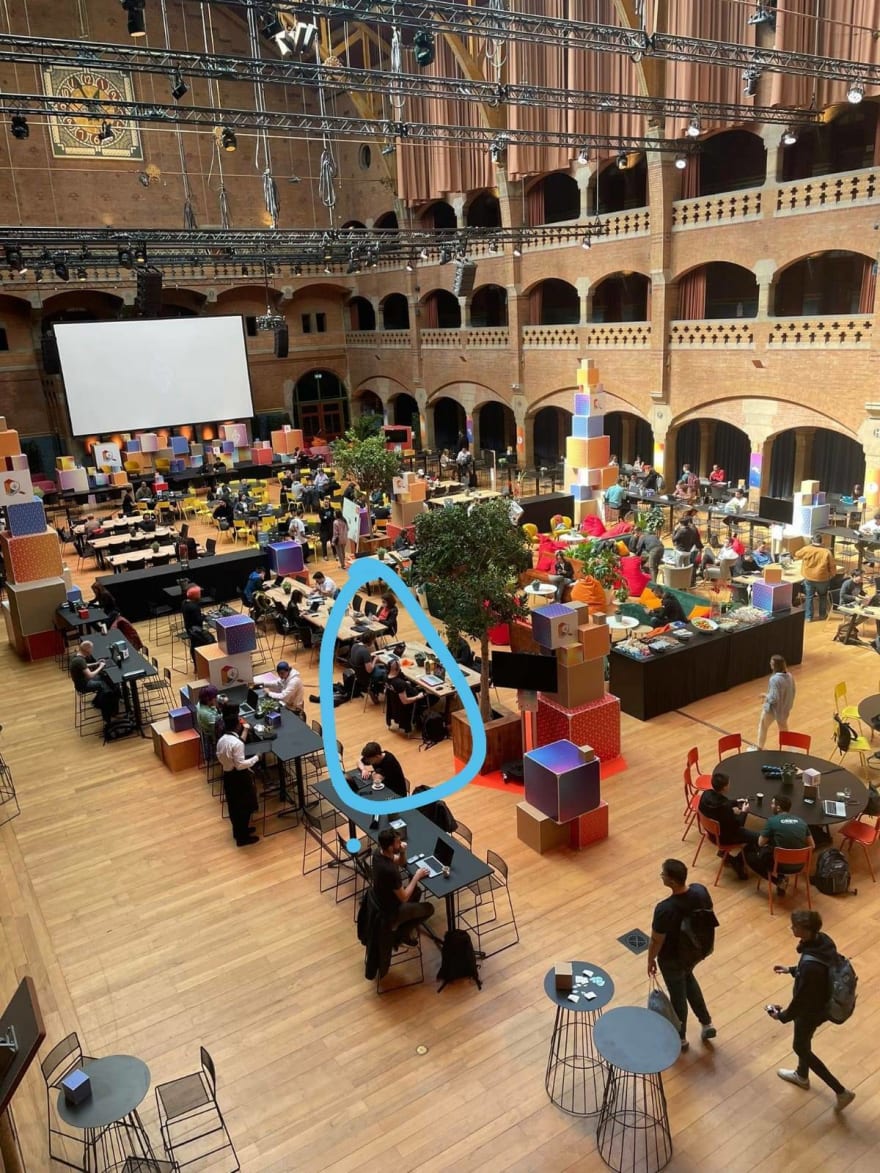 There was free food and drinks everywhere.
I was wearing my Developer DAO shirt, so many people talked to me about the DAO, which was quite lovely.
I talked to a guy from Witnet, a company that builds a decentralized oracle network. If I understood it correctly, they're like Chainlink but with less shitty contracts.
A marketing person from Data Union DAO. This is quite interesting; they let you own and sell your own analytics data. Think Facebook/Google data kraken, but your data gets encrypted, and you can sell it to the highest bidder later. This way, you can profit directly from your browsing.
Serg is a fresh Developer DAO member from Munich who is a product manager at Huddle01, a company that builds a Web3 powered Zoom alternative made on IPFS and LivePeer. I will try it for my next meeting tomorrow :D
I also met Alex and Nico, two devs from Germany. Pretty chill dudes who know pretty much about Web3.
When I was in the DAO, I didn't interact with Germans often, so it was cool to meet people from my country who are active in that space.
Later that day, we met Ryan, one of the full-time employees of Developer DAO and Tony, who is a very active member too and works for Coordinape. We got something to eat and then returned to cowork to chill.
In the evening, I went to the launch party of Legendary DAO, which advertised itself as the unofficial LGBTQI+ party of the Devconnect.
Before that party, I met Jonan, who had just joined Parity. He didn't have anything planned for the evening, so I took him with me!
It was a fabulous party, with very intense performance art. Again, it highlighted that it's essential to use this IT revolution to ensure the next iteration of the industry is more inclusive. Everyone should be welcome and be able to contribute different perspectives on the problems we face; otherwise, there won't be innovation.
Tuesday
This day started in cowork again. I did some work, and later I went to an IPFS meetup and the Filecoin and Friends Happy Hour.
I think I finally understood IPFS and Filecoin. :D
But it seemed that, while used all over Web3, IPFS is frowned upon. I heard their docs suck, and the Filecoin deals aren't flexible enough. Well, at least you can run your own node quite effortlessly, and the pinning services seem to be a reasonable middle ground.
I also met a few engineers from Chainsafe, who explained Polkadot and bridges. They build multi-chain tools for the ecosystem; you should check them out!
At the end of the day, I chilled in the cowork. I met many Developer DAO members before heading back to my coffin.
Wednesday
I was coworking again, but later I went to the Radicle Happy Hour. Free drinks again, and finally, a clear explanation of how Radicle works. It's basically a decentralized GitHub. A bit like IPFS for repositories, built on Git's network protocol. Not being bound to a blockchain makes running your own Radicle node really easy.
After that, I visited the Nervos Happy Hour. Free booze and tiny burgers are pretty awesome.
I talked about their layer-1 and layer-2 solutions, the latter of which is gas-free, so it could be interesting.
I also met a node engineer who works at Polygon. Polygon is the side-chain of Ethereum with proof-of-stake. The engineer explained to me the zero-knowledge layer-2 they're currently building. Very complex topic, but it could be worth the effort because it brings x100 performance improvements.
It was also enjoyable listening to the Nervos and Polygon node devs talking about their different tradeoffs when building their layer-2 solutions. It shifted my view on the ecosystem, especially when it comes to long-term viability.
Somehow, I felt pretty KO after that and went straight to bed.
Thursday
The first event was the Developer DAO lunch, which was pretty fancy. Coinbase sponsored it, so food was free again, yay.
I finally met a few other members of the DAO. It's nice to get some faces to the chat I did online.
I learned more about the DAO's partnership companies and how they sponsor stuff for the DAO.
I also did a photoshoot with Ryan!
Later, I went to the Art and the Blockchain Exhibit to look at a real-life gallery of NFTs.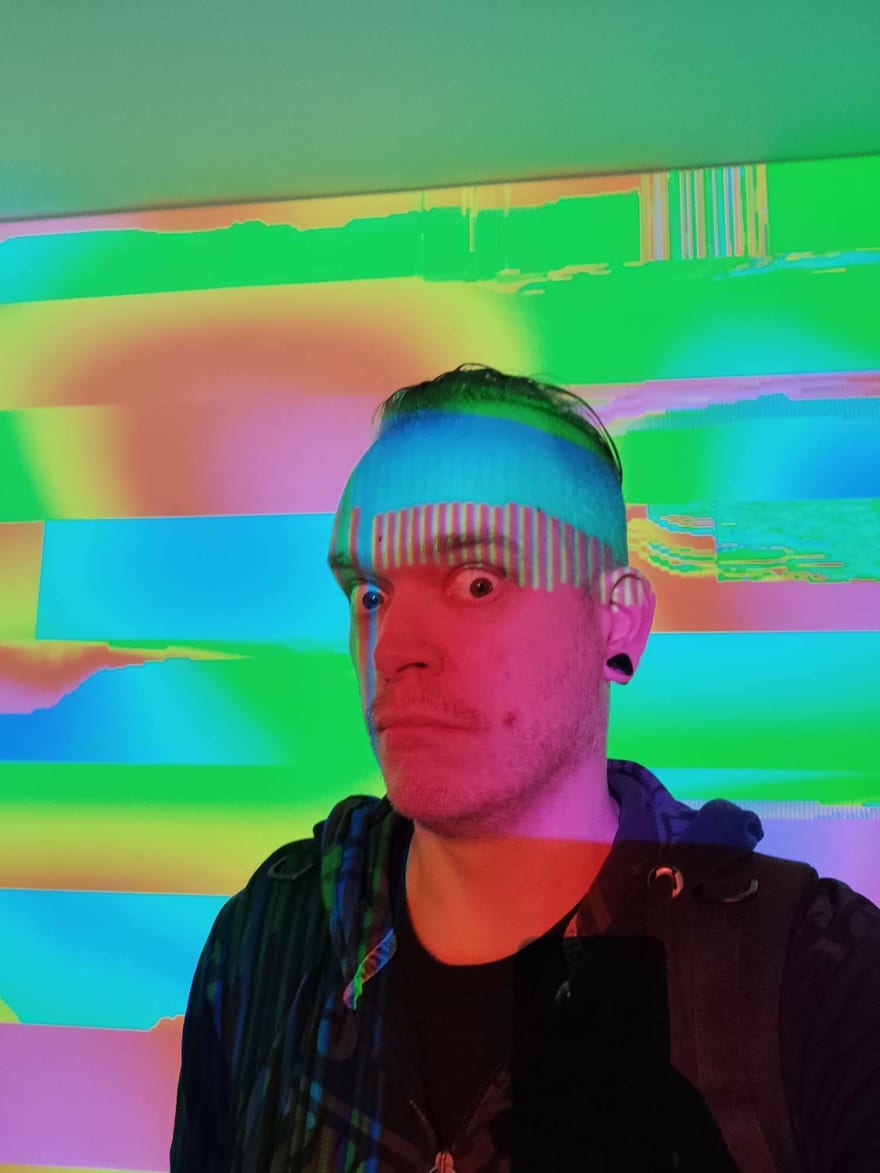 To be honest, I'm not that much into NFTs as collectibles; the whole craze feels like a bubble to me. But I'm always up to see how artists use tech for. They give you a new perspective on things and contribute so much creativity to our lives.
I went to the Ankr/Polygon Party in the evening. Which was much too hot and tight. The house was charming, but the space was crowded at times.
After the third person tried to shill me their new layer 1, I left and went to sleep.
Also, there seems to be a striptease performance at the event. I didn't see it, but I think it's pretty distasteful, if true. We want to build more inclusive spaces, and I believe such things move Web3 more into the bro-culture direction. If you do parties in the future, please refrain from sexual "content."
Friday
On Friday, I didn't have planned anything besides doing some sightseeing.
I went to the Holocaust Memorial, and it was really intense.
They wrote the name and age of every person killed on the bricks.
I thought about visiting other places, but my mood took quite a hit after being there, so I stopped sightseeing.
After I recovered, I went back to the cowork and met some people from Talisman, a Polkadot wallet. They were pretty fun people who explained Polkadot to me, and I went to the Polkadot party.
I met someone from Zeitgeist, a company that builds a para-chain in the Polkadot ecosystem for prediction markets.
Then there was a guy from Moonbeam. They built an EVM-compatible para-chain on Polkadot.
It was nice to see all these companies that actually create apps on Polkadot. This way, I learned pretty much about the potential of their approach to blockchain.
I even met some other people from ChainSafe again and the DevRel guy from Parity I met on Monday. So overall, it was a lovely evening.
Saturday
Nothing much planned on this day. I got a massive crate of swag from Polygon and then went off to the Developer DAO cowork.
I talked with Sylvia, another DAO member and fiction writer; you should check out her stuff!
Manuel is a guy from the Netherlands who is moving to Peru to help people get into Web3. Charming dude with many plans and ideas for the future of Web3 outside of "the west." I'm curious what he will do when he moves!
I went to take a nap, and then the Developer DAO VIBES IRL party started!
This was THE party of the week. Superb location, fantastic people, and good music. All sponsored by Coinbase again, so free drinks and snacks!
I talked about art, NFTs, and the future of Developer DAO with many cool folks from all over the world and even danced a bit!
Summary
I went to Devconnect to meet my fellow developer DAO members, and it was so much more.
I learned about Web3 technology, that everyone needs writers, and that there are bags of money waiting to be spent on innovative ideas.
It's a bit like the Dotcom boom of the 90s. I missed it because I was too young, but Web3 and crypto finally gave me a bit of that sweet bubble feeling. It might go on forever or burst any day, but right now, it's a great space to be in and much more exciting than the pre-crypto world I came from.