Hello guys! Today I was studying something that I've confused me a lot VPCs.
Basically, this topic was very difficult for me because it's related to network, IPs and connectivity, and to be honest I'm pretty bad on these things.
Today I didn't finish the topic because I needed to watch the videos twice, took a lot of notes, and read the officials docs, but let me share with you what I've learned.
1. Overview of the network services that AWS provides and Global infrastructure: Here I read about what is an availability zone? what is an AWS region? and what is a data centre?
AWS region: A group of AWS resources located in a specific geographical location. The main Idea is that every customer or user can select a location closest to them, preventing latency.
Availability zone (Az): It's a geographically isolated zone within a region that house AWS resources. Basically, those are different datacenter. Multiples Az in each region provides redundancy for AWS resources in that region.
Datacenter: It's physical hardware.
2. VPC Basics: from the Amazon Docs "Amazon Virtual Private Cloud (Amazon VPC) enables you to launch AWS resources into a virtual network that you've defined. This virtual network closely resembles a traditional network that you'd operate in your own datacenter, with the benefits of using the scalable infrastructure of AWS." If you wanna read more about press here.
Here in the course provides one example that let me clarify a lot, the VPC structure first let's see this diagram.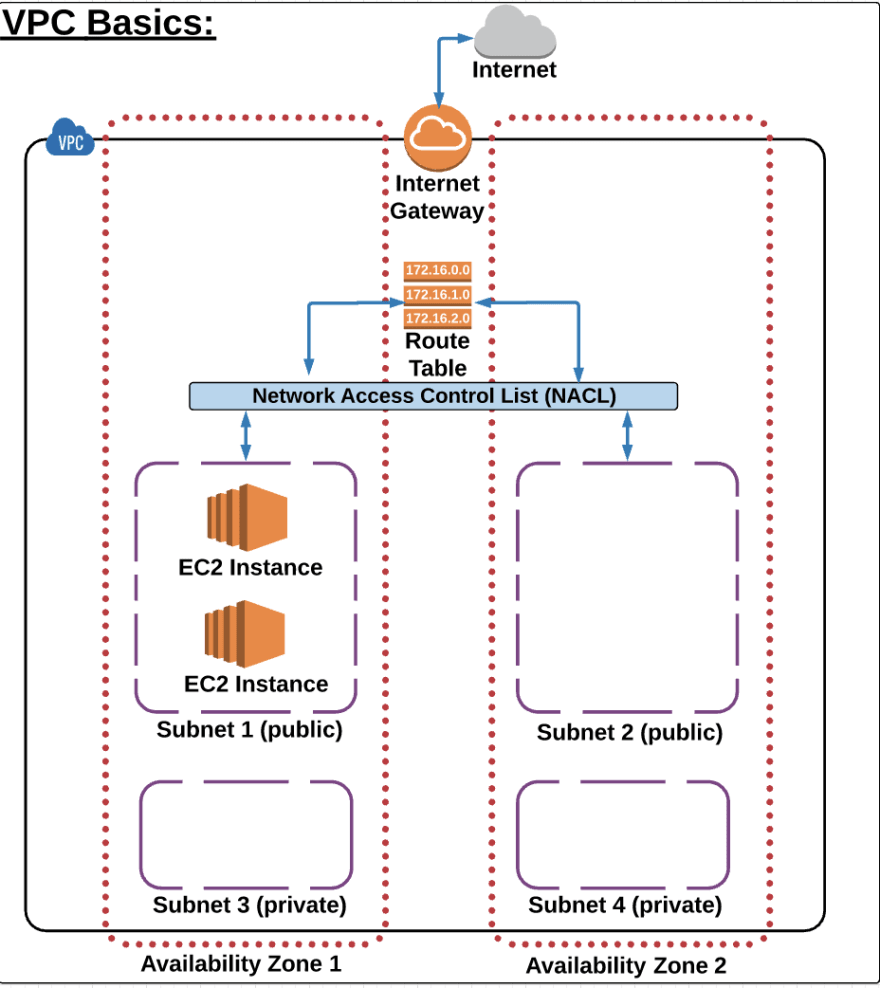 They say that a VPC is like the internet connection that we have at home something that it's true and I didn't see before, see the image below:
So if you see, our laptops or mobile phones are like EC2 instances. The firewall is like Network Access Control List (NACL). The router or switch is like AWS Table Route. And our modem is like the Internet Gateway (IGW). This comparison is pretty good because if you disconnect one part you won't have internet also you'll be disconnected from the world, the same thing will happen to your app if you will switch off one piece described above.
Ok, so today my progress was slow but I don't care because I'm learning a lot. Tomorrow I will continue studying about VPC World.
Thanks for reading.