The total value of the crypto market is expected to reach $23.3 Billion by 2023, according to TechJury. Crypto launchpads play a crucial role in this fast industry development.
Most of today's decentralized launchpads have a high entry and have become private member clubs after their token decreased. BullPerks stands out from them offering low entry for retail investors and access to early-stage crypto projects.
What is BullPerks and what are the BLP tokens? Where and how to buy it? Keep on reading this step-by-step guide to know more about it!
What is BullPerks?
BullPerks is the fairest and most community-oriented decentralized launchpad that helps impactful crypto projects raise funds and offer safety for retail investors.
BullPerks offers two types of deals: Venture Capital (VC) and Initial DEX Offerings (IDO). The company works with startups from various industries, such as decentralized finance (DeFi), NFT, gaming, metaverse, and much more.
Unique features
The problem with Traditional VCs (and a lot of other decentralized VCs in the market today), is that getting access to seed or private sales is quite challenging. In fact, you should have an exclusive membership (that costs fortunes) or be in close connection with the members of the platform to participate in the deals.
Unlike the majority of crypto launchpads, BullPerks offers low-entry and access to early-stage deals for retail investors. These are other features that make BullPerks stand out in the market.
BullPerks is the most community-focused platform
Incredibly high ROI rates from the projects
Completely transparent and fully decentralized system
Fair tier-based system and FCFS model in place
User-friendly platform
Affordable options even for users with lower investment plans.
How and where to buy BLP tokens
Buying BLP on Bitmart
1. Register on BitMart
First, register on BitMart. Write down your email address or phone number and press the button "Get Started." Next, you will be asked to provide a password and verify the account through email or phone.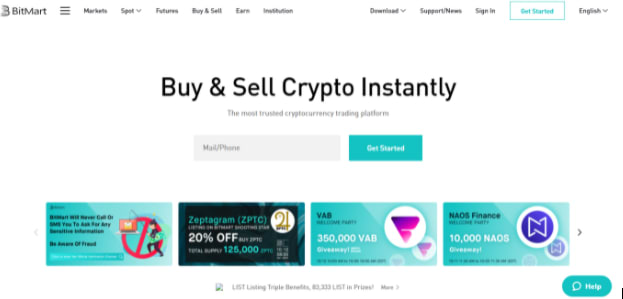 2. Buy USDT with fiat money on BitMart
Before you can go on and trade BLPs, you will need to make sure you have enough USDT for the transaction. In case you don't, you can buy crypto with fiat directly on the Bitmart exchange.

First, you will need to click on Buy & Sell.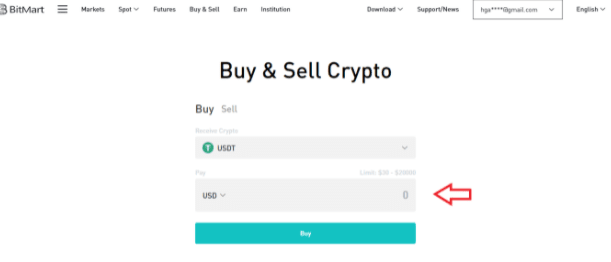 Next, write down the amount of USDT you want to purchase and click on Buy.
After you click Buy, choose the payment method.
If you have read and agreed to the terms of use, press Continue. Next, you will be redirected to your MoonPay or Simplex account. You will have to complete the payment there.
3. Buy BLPs
Once you purchase USDTs, you can buy BLPs on BitMart. To do so, simply go to the homepage and click Trade.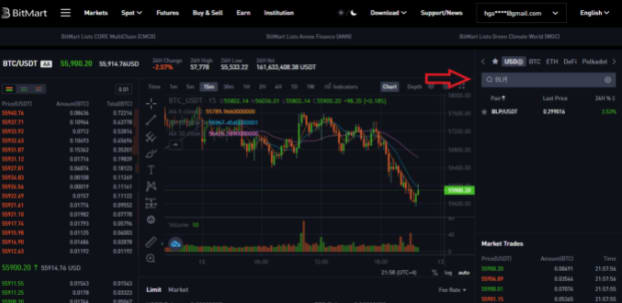 Next, head over to the top-right corner and search for BLP in the search bar.
Type the number of BLPs you want to buy and confirm your transaction. You just bought your BullPerks (BLP) tokens!
Buying BLP on Pancakeswap
Another way you can buy BLPs is through PancakeSwap, a decentralized exchange (DEX) based on Binance Smart Chain (BSC) Network. It is a fast and inexpensive alternative to Ethereum. Similar to the well-known UniSwap DeFi protocol, PancakeSwap allows users to trade between crypto-assets through user-generated liquidity pools.
To purchase BLPs, go to the PancakeSwap website.
Next, write down the number of BLP tokens you want to buy and choose the crypto asset you want to pay with. Click Swap.
Check your details once again and press "Confirm Swap."
Now, confirm the transaction in your MetaMask wallet.
Once your transaction is complete, make sure to add BLP tokens to your MetaMask. You can do it by clicking "Add BLP to MetaMask." And you will have the BLP on your Metamask wallet!
Conclusion
The crypto world is on a bullish run. Crypto launchpads have become even more popular in recent times since they offer people the chance to make high returns from private or public sales.
BullPerks has brought the concept of decentralized VCs and launchpads to a new level. The transparency and dedication to their community say a lot about what the future may hold for this project in the crypto world.