If you've ever struggled with working in multiple VS Code windows, there's a really neat solution that can help you distinguish, which window are you currently working on. You've might have seen this solution on some of Wes Bos tutorials (React+Node).
Let's say, you work on both React and Node repository at the same time, and you want to make it easier for your eyes to understand which window is currently active.
With a few lines of code, you can change the color of the Title Bar and attach this setting to the project. You can even push it to a repository, so other developers can use it too (you don't have to do it though).
Let's get to work!
Creating a file with settings
Manual
Create .vscode folder and settings.json file inside of the folder in your repository.
---
Automated
1) Open VS Code with the project that you want to style.
2) Click ⌘ + ⇧ + P, which opens commands list (ctrl+shift+p on Windows).
3) Search for Preferences: Open Workspace Settings. This will open a new Settings tab in your VS Code.
4) In the sidebar choose Workbench > Appearance.
5) Under Color Customizations click Edit in settings.json. This will create a new .vscode folder with settings.json file, inside of the repository.
Setting color of your window
Inside of your settings.json file, you have a few different options that you can set.
titleBar.activeBackground - color window Title Bar when the window is active.
titleBar.inactiveBackground - color window Title Bar when another window is active.
titleBar.activeForeground - color text of Title Bar.
Protip: set inactiveBackground to just slightly darker color from activeBackground to identify which window are you currently using.
---
There's a lot of different options that you can set to customize the whole window: https://code.visualstudio.com/api/references/theme-color

{


  

// rest of your settings,


  

"

workbench.colorCustomizations

"

:

 

{


    

"

titleBar.activeBackground

"

 

:

 

"

#f2c216

"

,


    

"

titleBar.inactiveBackground

"

:

 

"

#ac8b12

"

,


    

"

titleBar.activeForeground

"

:

"

#000

"

,


  

}




}

 

Result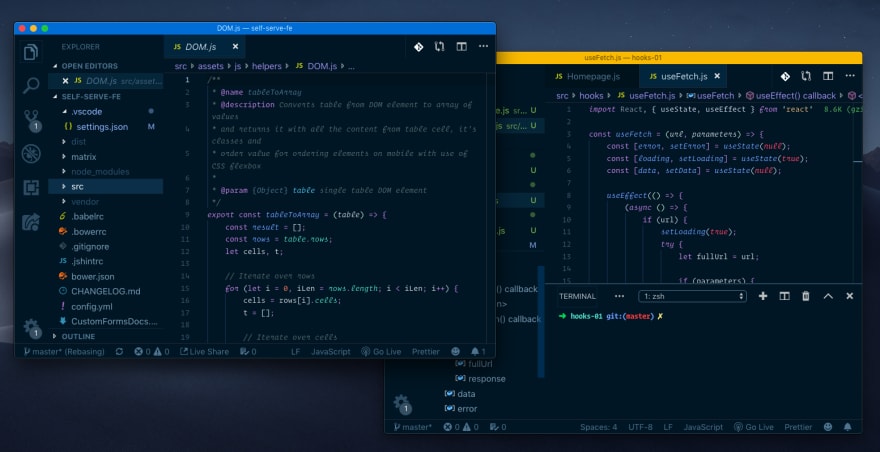 Other VS Code Tips & Tricks