Pry, IRB, and RIPL are popular Ruby REPLs, but, just for funsies, lets see what it takes to build our own! Code snippets are here.
---
Simple beginnings
A REPL must "Read" input from the user, "Eval"uate that input as code, "Print" the result, and "Loop" back to the first step to do it all over again. So, lets start with those four steps.
---
Persist local variables
The problem with our REPL at present is it forgets local variables 😝 That's because local variables are stored in "bindings" on the callstack. When we call eval, it makes a new binding to evaluate the code in, and when eval is finished, it pops that binding off the callstack discarding our variables. To retain the variables between invocations, we need to evaluate them in the same binding every time.
---
Readline input
Our input is... not good 😜 But, Ruby ships with Readline, which is like gets, but adds a prompt, kill ring, fancy movement/editing, cycling through previous inputs, etc.
---
Highlight output
Looks good, lets syntax highlight our output. Rouge is the way to go these days, but CodeRay has a simpler interface. We just pass it through CodeRay between inspecting and printing.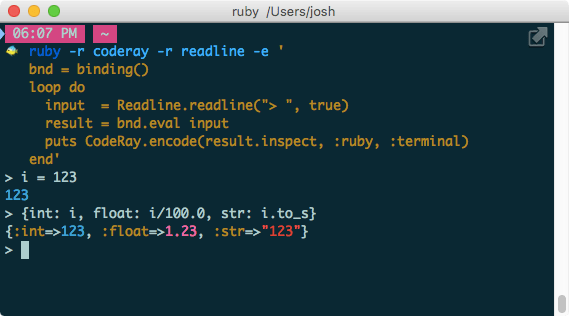 ---
Handle EOF
Currently, if we hit the end of the input stream (eg user presses control-d), we explode in eval. This is because input is nil. Lets stop the loop in this situation.
---
Handle Errors
It would also be nice to handle errors in the input, so lets rescue and display them! The \e[31m is the ANSI escape code to turn the foreground red and the \e[0m will turn off the red. Note that,
while common, these codes aren't portable.
---
Where to go from here?
So, in 10 lines of code, we've constructed a fairly respectable REPL! If you found that fun, try adding some additional functionality:
Save the previous result in _ (probably Binding#local_variable_set)
Handle large objects better, eg {foo: 42, bar: {baz: 1, buz: 2, fuz: 3}, wibble: {magic_word: "sha"+"z"*20+"am"}}} could get formatted very nicely if, you replace inspect with pretty_inspect from pp.rb, in the standard library.
Remember history across invocations (check the Readline docs)
Syntax highlight the input (there's probably a Readline method to let you swap it out after it's been entered)
Add some commands like pry's ls (search around for a list of reflection methods in order to get the information) and show-source (check these humans' gems: bannister, ConradIrwin, ryanf, kyrylo)
Separate the REPL's variables from the user's. Enter local_variables, and you'll see you're sharing them with the program. You'll have to get a binding that doesn't come from that context. Possibly useful: TOPLEVEL_BINDING, eval on a string, define a method on the singleton class then remove it, Kernel#load, and that JavaScript idiom of defining a lambda you immediately call.
What would it take to make this testable? You'd probably want to be able to pass it the binding and IO streams. Readline looks plainful, IDK how it's storing its state, but it's going to be fragile or broken. You'll want to segregate it from the rest of your program as much as possible, and if you want 100% coverage, you may need PTYs