Microsoft Teams, launched in 2017, bundled in with Office 365, is a collaboration tool that gained popularity during the pandemic times. Since its release, Microsoft Teams has quickly grown to become one of the fastest successful workplace collaboration tools with more than 145 million daily active users. Best Microsoft Teams apps can be integrated into teams and channels to leverage the immense capabilities offered by the platform.
Microsoft Teams is majorly used for workplace conversations, team collaboration, file sharing, video chats, and calls aiding workplace productivity. It also acts as a bridge to connect workers and different apps. It is available on all major operating systems like Windows, Android, iOS, and macOS.
Test now on Windows 7 online on 3000+ browsers, start with your free testing now!!!
Best Microsoft Teams apps and plug-ins can be integrated to enhance productivity and gain business benefits. Along with Microsoft apps, third-party apps can also be integrated into Microsoft Teams, which can be accessed via the app directory. Internal Apps, bots, and tabs created using Teams' developer platform can be integrated into Team's App Directory. Developers can integrate their app and software into a Teams meeting before, after, and during a Teams call.
In this blog, we look at the best Microsoft Teams apps that every developer should have to sync their work and team collaborations.
Let's begin with the best Microsoft Teams apps available!
1. GitHub For Teams
In the list of the best Microsoft Teams apps for developers, GitHub for Teams ranks amongst the highest. GitHub is a platform used by developers for code hosting, distributed version control, source code management, and collaboration. It offers collaboration functions like Continuous Integration (CI), task management, feature requests, bug tracking, etc.
Developers have to constantly communicate with their team members for various reasons, including issue monitoring, pull requests, deployment statuses, etc. This calls for constant context switching between GitHub and Teams. GitHub and Teams integration lets the user keep a tab on GitHub projects through Teams, where new ideas are saved, the order of implementation decided and most importantly, improve collaboration with other team members.
GitHub app in Teams has built-in capabilities like tab, messaging extension, bot, and personal app. This enables developers to close/reopen issues, comment on issues, and pull issues through Teams itself.
2. Trello Connector
Another best Microsoft Teams Apps on our list is Trello Connector. Trello is a visual, flexible and free tool to organize projects and plans. Every task of a project can be managed, allotted, tracked, and shared with the team members on boards.
A glance on the Trello board will give any team member insights into which part of the project is being worked on, which team member is working on what task, and the overall status of the project. You can think of it as a whiteboard with multiple sticky notes that contains details of every team member's tasks.
Trello Connector for Microsoft Teams allows team members to collaboratively create and manage to-do lists and tasks for a project. When a Trello card is changed, the team is notified, keeping everyone abreast without leaving the Teams app to check Trello boards manually. Trello sends notifications to the team members in the following scenarios:
A new card has been created.
An existing card is moved.
A card has been assigned to a team member.
A team member has commented on a card.
An attachment has been attached to a card.
3. Polly
Polly is also one of the best Microsoft Teams apps due to its intuitive and easy to use interface. It is used to gather feedback from team members to make data-driven decisions without interrupting the team's workflow.
Using Polly will make them part of how and when to ask questions easier as well. Creating a poll in Polly takes only a few minutes largely due to its extensive template ecosystem. These polls can either be a direct message or sent to a group of people. There are eight different question choices: multiple-choice, rating scale, open-ended questions, anonymous kinds, and more.
With features like recurring polls scheduled to go out on a specific date and time, integrations with favourite tools make using Polly a breeze. The results of the polls do not require any downloads or mulling over spreadsheets, as it's available as clean data visualization.
To enhance collaboration and productivity, you should add Polly for Microsoft Teams. Gather feedback in Teams itself, so attention remains focused on the critical matters. The results will be visible in Microsoft Teams itself. The data gathered by Polly will analyse trends and give a visualization to improve team meetings, workflow and team management. Using Polly with Teams transforms one-way presentations into interactive meetings irrespective of whether the attendees are in the same room or another continent. Queue up the questions to be asked during a presentation or ask them on the spot as the meeting progresses.
4. LambdaTest
LambdaTest app is one of the best Microsoft Teams apps for performing cross browser testing of websites and web applications across 2000+ real browsers, devices, and operating systems. It helps ensure web app elements like CSS, HTML5, video, JavaScript are rendered seamlessly across multiple browser environments.
With LambdaTest App, you can initiate your Real-time testing and Screenshot testing right from inside the teams channel, group, or direct conversations in a single click. Therefore you can easily collaborate over UI issues, integrated web debugging, streamline your feedback loops, and much more. It allows you to launch your test or personal chats from any channel and helps save time with reusable test cards to launch the test with the same configurations. You can even pin-up your test cards to launch the tests on a frequent basis.
The LambdaTest app also lets you share UI issues directly with team channels or groups while performing automated browser testing. You can view your test build name, number of test runs, test summary, number of failed tests all at once. You can even collaborate with other team members on website issues. Reusable test cards allow you to view all your tests and the failed tests with super ease.
5. Mural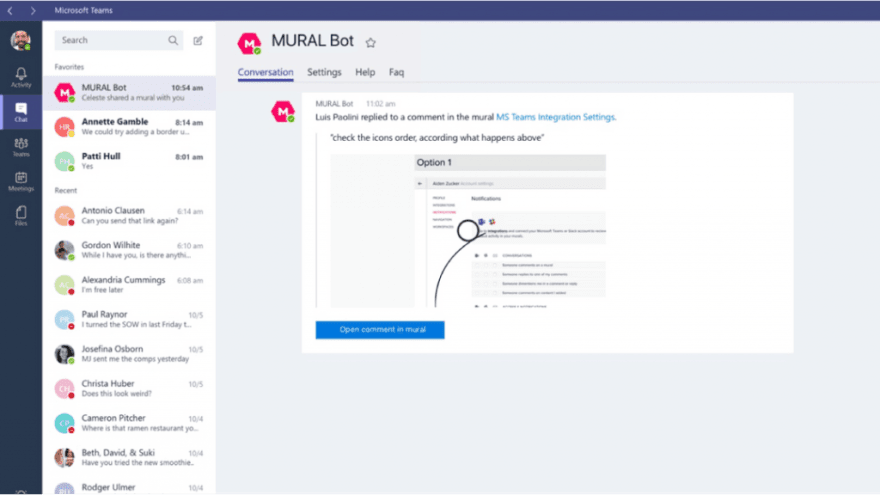 Mural is considered to be one of the best Microsoft Teams apps with a digitized workspace for visual collaborations. It is a digital whiteboard where the team members can communicate with each other using visual-centric tools like sticky notes, drawings, flowcharts, mind mapping, and more. It comes equipped with ready-to-use design thinking and agile templates and remote facilitation features. It also provides easy access to shared workspaces, interactive icebreakers, and more.
The Mural integration for Microsoft Teams adds a new dimension and fun element to Team's meetings. During the session, Mural integration for Microsoft Teams enables team members to collaborate inside Teams Channels in a visual way. The templates accelerate collaboration with 150+ Mural templates.
Real-time notifications ensure team members never miss an update. When a team member comments, invites, or mentions a team member to a Mural, the particular team member receives an instant notification. All conversations, files and murals can be streamlined by keeping all the related information together in the same place for quick reference.
6. MailClark
MailClark is a Smart Messaging Assistant enhanced with AI to optimize teamwork by managing external communication. It is a productive tool to assist in Customer Support, IT, Project Management, Marketing, Recruitment, Sales, or Management teams of an organization. It helps to consolidate and keep communication centralized for all the communication tools. Its AI-fuelled feature called Reply Score for messages is an indicator about the messages that have to be responded to at a high priority.
MailClark integration with Microsoft Teams directly helps organizations deliver extraordinary customer service by managing and responding to emails, Facebook, and Twitter messages through Microsoft Teams. MailClark within Microsoft Teams also does the job of a smart shared inbox. Team members can send and receive external messages into Teams ensuring continuity in conversation with regards to leads, customers, suppliers, or any external contacts.
7. Google Analytics
To collect website data, there are a multitude of web analytics apps available in the market. Google Analytics is by-far one of the best Microsoft Teams apps that helps track, understand, and analyse customer behaviour for improving user experience to drive sales. You can track the performance of marketing content, product, etc., of the user's site and app in one place to make smarter and faster decisions. Google Analytics platform gives unique insights, and machine learning capabilities that helps organizations make the most of the data. The insights gained through Google Analytics can be used in sync with Google's advertising and publisher products to deliver better results.
The Google Analytics connector for Teams monitors traffic to the user's website, blog, YouTube channel or any other internet property with ease. It gives details about page views, user demographics, etc., by sending the updates directly to Microsoft Teams. The data can then be used to collaborate in a single application.
8. Adobe Creative Cloud
Adobe Creative Cloud is one of the best productivity apps for Microsoft Teams. It is a collection of Adobe's creative suite of 20+ desktop and mobile applications and services for photography, design, web, video, UX, etc. Photoshop, Illustrator, InDesign, Premiere Rush, DreamWeaver, etc., are some of the apps that are a part of Adobe's Creative Cloud. It also gives the user access to thousands of fonts within the apps.
To showcase and find creative work, the Creative Cloud has a social media platform called Behance. The Creative Cloud Library lets the user save, browse, and share assets straight from the library inside Creative Cloud. That's not all, it also lets you create and customize portfolio websites and provides access to collaboration tools for multiple people to share, review and comment. You also get 100 GB of cloud storage to keep your work safe in the cloud.
The Creative Cloud and Microsoft teams integration allows the user to share files, create interactive prototypes stored in Creative Cloud with team members in Microsoft Teams, seek feedback across platforms, and take relevant actions on the assets. A user can pin assets in Creative Cloud to a channel and get instant feedback. It can also be shared in Team's chat. When a team member leaves a comment, a notification in Teams will alert the user about the changes.
9. Wiki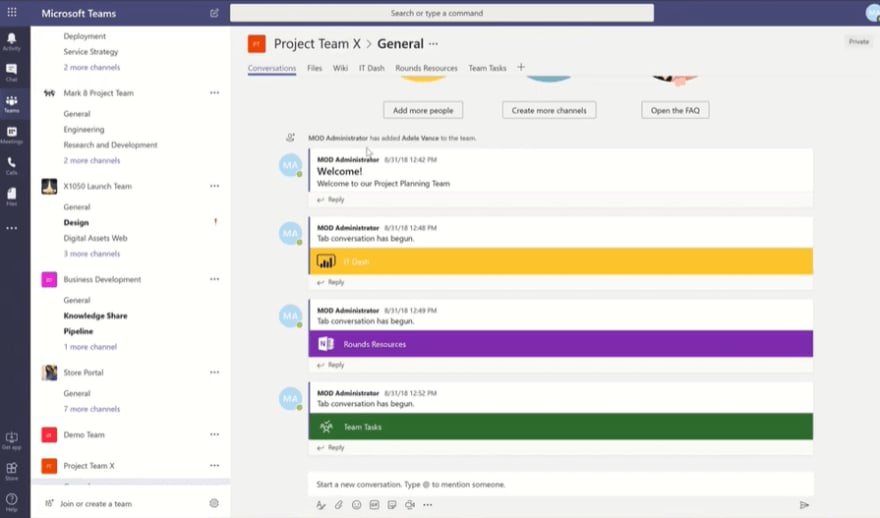 Wiki is a collaborative software where users can create and edit pages via a web browser. It is a web content management system that runs on one or multiple web servers, where content including all the previous revisions, can be stored in a file system or a database. Enterprise Wiki is another best app for Microsoft Teams used by organizations to enhance internal knowledge sharing. Wiki can also be used for project management, enterprise resource planning, document management, and more.
Wiki app is included by default in Microsoft Teams. Organizations can use it as a central knowledge repository and has a dedicated workspace for team members to save notes within Microsoft Teams. It plays a dual role of smart-text editor and communications machine where a user can draft, edit, and chat in the same place.
10. Power BI
Power BI is considered to be one of the best productivity apps for Microsoft Teams. Power BI, from the stables of Microsoft, is a tool that turns an unrelated source of data into lucid, visually engaging, and interactive insights. The data can be stored in an Excel sheet, or in a cloud-based or on-premise hybrid data warehouse. The connectors connect to the data source, create a visualization of reports or dashboards that help discover the essential aspects of data. Every team member can perform the minutest analytics to come up with sure-footed decisions.
Having a BI tool within Microsoft Teams reduces the cost and complexity of having multiple apps and solutions with a different analytics platform. Power BI gives visually immersive insights due to the connection with Adobe Analytics Cloud to Power BI. Power BI helps fast-track iteration and implementation, automate reporting, make data-driven decisions, and create robust, scalable solutions across industry verticals.
11. App Studio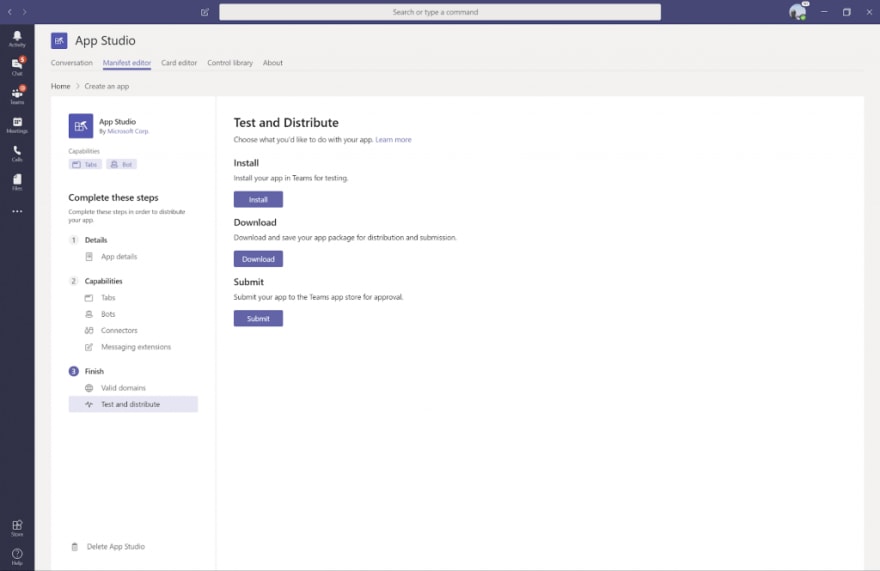 App Studio is among the best apps for Microsoft Teams. App Studio is a cloud-based solution that enables users to create, distribute, or integrate their app with a simplified user experience and workflow. It involves a shallow learning curve.
App Studio increases efficiency in the development process by eliminating the necessity of using numerous tools. Its rapid deployment feature enables simple installation and accelerated setup. App Studio supports the creation of apps for a range of platforms and devices including iPhone, iPad, Android devices, Kindle Fire, and more. It allows the distribution of apps to leading app stores without the need to reconfigure content.
App Studio can be integrated with Microsoft Teams App and can be used to create or integrate apps for Microsoft Teams. Manifest Editor simplifies the process of creating a manifest.
12. Scrum Genius
Scrum Genius is yet another productivity app for Microsoft teams. It is referred to as a digital assistant that helps managers with asynchronous stand-ups with the team spread across time zones and physical locations. It helps to communicate and schedule meetings, thereby establishing effective communication between the team members. It can also be used for organizing day-to-day meetings and automating recurring communications such as daily stand-up meetings, weekly status meetings or bi-weekly sprint planning.
Scrum Genius can be integrated with Microsoft Teams. The Scrum Genius bot can be programmed to ask team members the same set of questions at a set time. For example, questions like tasks accomplished the previous day, blockers, the plan for the day, etc. asked in a daily stand-up meeting. can be automatically asked by the bot. The bot will collate the answers and email the summary of the team members in order to record the accomplishments. It's seamless integration with GitHub helps to keep a tab on the commits in the repositories. The same information will also be available in Microsoft Teams for improved collaboration.
13. Health Hero
With the current pandemic situation worldwide, most people are working remotely, making it necessary for organizations to take care of their employees' physical and emotional well-being. Health Hero app is considered as one of the best apps for Microsoft Teams aiming to spread the awareness about overall well-being at workplaces.Several fitness apps are integrated with Health Hero that allows linking of health tracking devices to keep track of activity levels throughout the day.
Health Hero integrated with Microsoft Teams can be used to create fitness challenges and competitions among team members. These challenges can also be created to have inter-team competitions. The health tracking devices of the team members can be linked, thereby helping create a more competitive environment even when employees are working from home.
Wrapping Up!
Microsoft Teams' ability to integrate third-party apps through their integration feature is a thing that makes it a super-dynamic app. LambdaTest easily integrates with Microsoft Teams app to help you perform cross browser compatibility testing across 2000+ browsers and operating systems online. It helps discover browser compatibility issues early that in turn boosts the overall productivity.
In this article, we have covered the best Microsoft Teams Apps for developers, but there are many more that could have made it to this list. The complete list of integrations and applications for Microsoft Teams is available on the Microsoft Teams website. These apps should be used to take full advantage of Teams and to optimize workflows & enhance productivity.