*Jogos em inglês.
HTML
Super markup world
Pixel e Pixella vivem no Super Markup World que foi criado pelo grande arquiteto Markup Polo.
Em um lindo dia de sol, quando Pixel e Pixella visitaram a região montanhosa de Divland ...
... o arquiteto malvado Mosiac destruiu todas as montanhas!
Pixella de alguma forma evitou o desastre usando uma tag de hiperlink.
Mas agora Pixel e Pixella estão separados!
Cabe a você, Pixel, encontrar Pixella e salvar Divland.
CSS
CSS Diner (seletores)
É um jogo divertido para aprender e praticar seletores CSS.


Flexbox Froggy (flexbox)
Um jogo onde você ajuda Froggy e seus amigos escrevendo código CSS!


Flexbox Defense
Seu trabalho é impedir que os inimigos que se aproximam ultrapassem suas defesas. Ao contrário de outros jogos de defesa de torre, você deve posicionar suas torres usando CSS!


Grid Garden
Bem-vindo ao Grid Garden, onde você escreve código CSS para cultivar seu jardim de cenouras!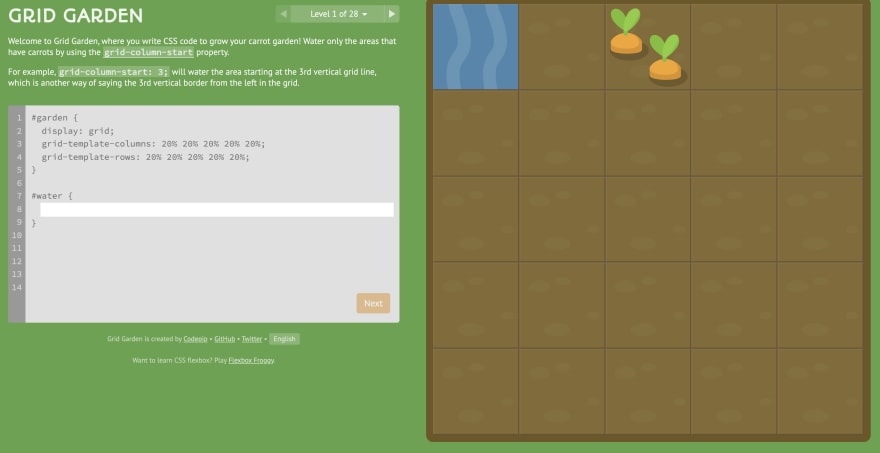 HEX Code (RGB)
O mundo precisa da sua habilidade de conhecimento de hex code para evitar uma invasão!
Javascript
Elevator Saga
Sua tarefa é programar o movimento dos elevadores, escrevendo um programa em JavaScript.
🕹 Jogar Elevator Saga - the elevator programming game


Untrusted —or— the Continuing Adventures of Dr. Eval
O jogo apresenta um ambiente de jogo semelhante ao de um roguelike e uma janela de console com o código JavaScript gerando cada nível. Quando carregado, cada nível é imbatível e a maior parte do JavaScript não pode ser editada. O desafio é abrir um caminho para o próximo nível usando apenas as ferramentas limitadas deixadas abertas para você.
🕹 Jogar Untrusted - a user javascript adventure game
Typescript
js.CheckiO
Desafios em TypeScript e exercícios com soluções para iniciantes e avançados.

Regex
Regex Crossword é um jogo semelhante ao sudoku ou o quebra-cabeça de palavras cruzadas tradicional, onde você deve adivinhar as letras corretas nas linhas horizontais e verticais de uma grade.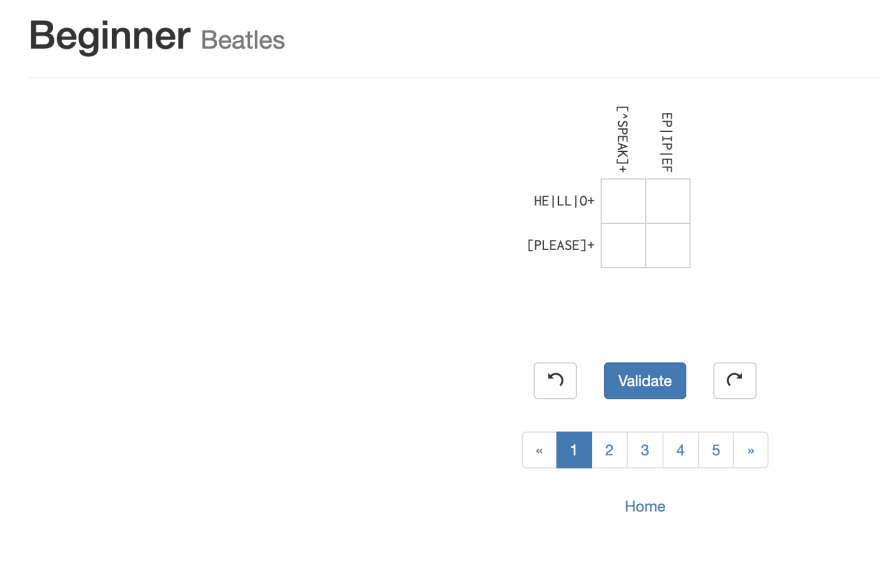 Web Development
Ao longo dos cantos escuros da web, as portas estão sempre se abrindo para novos desafios que irão testar a coragem até mesmo do desenvolvedor mais robusto. Deixe que esses poços de água forneçam uma breve pausa e uma oportunidade para você e outros heróis se unirem.
Design
Can't Unsee
Veja se suas habilidades de design estão afiadas, escolhendo entre o mais correto

Vim
VIM Adventures
Aprenda VIM enquanto joga!
---
Cover Photo by Boukaih on Unsplash