Note: This is not a sponsored article. All views are from my personal experience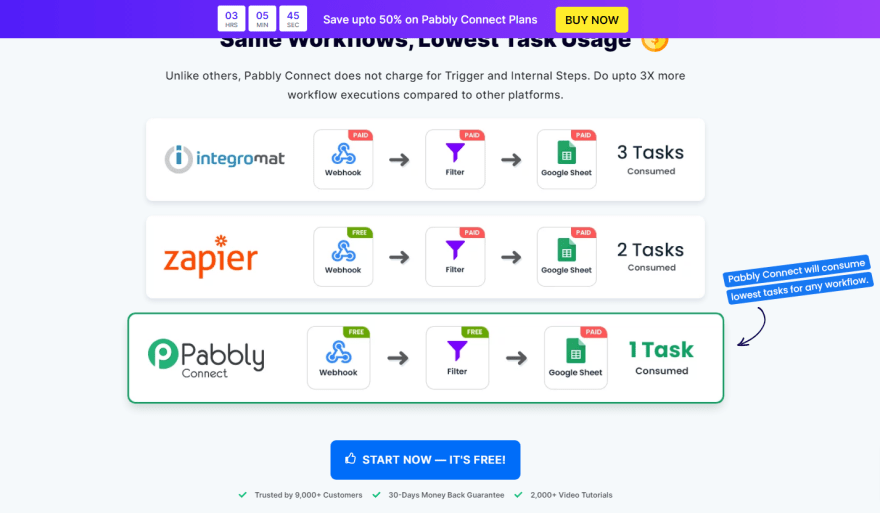 As a digital marketer and web developer, i have used many tools for many software automation.
For automation i have used the following tools
Zapier
Integromat
Integrately (used in last year)
Automate.io
IFTTT
But every platform gives some type of restriction at some point of time be it price wise or feature wise.
I have stopped using Zapier for about 3 year and they switched to other provider.
One week back I was searching for some alternatives to Integrately as integrately changing it's pricing model.
I came across one FB ad regarding task automation. It was from Pabbly Connect.
After visiting their website I found out that they are charging nothing as compared to Zapier.
I have found that they do not charge for internal task which other providers charge as one credit. Which saves a lot of credit utilization.
Their team has published a ton of tutorial videos about how to create different automation with step by step guides for all non-techy person.
I have joined their FB group and noticed that they are quite aggressive towards adding new integration. They are taking user consideration and adding every requested integration platform in a responsive manner.
Best thing is that any small business can use it as apart from recurring pricing that also provide one time plan.
Coming to the pricing, So far Pabbly connect provides best pricing as compared to industry peers. And i hope they will continue to provide that unlike others.
Apart from pabbly connect they do have other products but I have not used them. I will post my views once I have used those tools.
You Can use This Link To Signup or just check out the features
Disclaimer: This article might have affiliate link which will enable me to get some extra income without affecting your purchase price.