We've all been working from home a lot, and many of us having been wondering how to get the best setup.
I recently acquired a new office in my house (one of my roommates moved out). And I spent six weeks putting it together just the way I wanted. Lots of people have asked about the tech, the setup, what works best, and how to create an environment where you want to go to work.
Also keep in mind my setup was built to be able to live code on Twitch! Go check out my channel if you haven't already.
Six weeks for the ultimate setup
I've been dreaming for years about having the perfect setup. One where I can comfortably work, code, play, and write (yes I still like to use a notebook and pen). And now it's here!
So what do you need for the ultimate setup? There are a few things to keep in mind. Here's some of my must haves when building a new workstation area and a funky office vibe.
Computer and "battle station" setup
When it comes to PCs, I'm very picky. I went for the top spec high intense Alienware Area 51. It's got a 2080 RTX Ti, an i9, and 64GB RAM. It's perfect for all my video editing, rendering, and gaming. But it's not super necessary. The main thing I find necessary is the monitors.
I can't live without my large monitors. I have two ultra-wide screen monitors and one vertical. This combination is great for multitasking and well worth the $$$ spent. One of the things you need to consider though - especially if you're using a laptop/Mac - is having a dock. There's no way you can run everything from the minimal ports on a laptop. I have two; one for the work office, and one for the home office.
My new home office dock is a beast! I picked up the ATEN USB-C Multiport Dock. It's got 13 different ports including USB C, USB 3, 2 HDMI ports and SD card reader. Importantly, it has an ethernet which is super recommended for those of us who are in Australia with patchy internet.
This is a super high-spec top of the range dock and well worth the money if you can afford it. If you can't afford a huge one like this, just make sure you grab a dock at can at least fit two displays and a couple of USB slots.
Peripherals
The icing on the cake is what makes the cake. Same with computer peripherals. Choose ones that suit your needs. My non-negotiables are always keyboard, mouse, headset, and now since I'm streaming; a good webcam and microphone. I really love Razer's Quartz range so most of my gear is this cute pink. If you're interested in reading some of my Razer reviews check out Daily Esports.
As far as extra peripherals go, these aren't necessary. They simply make for a fun vibe. The Corsair iCue lights are really cool. They are edgy, exciting, and programmable.
Michelle Mannering 💎 #Hacktoberfest

00:50 AM - 13 Jul 2020
You can buy additional kits and keep building them out. They work with other Corsair peripherals and you can set up funky profiles so they react to what you're doing.
I also have two Elgato stream decks (and XL and a mini). They are perfect for switching scenes whilst I'm streaming. I even programmed the deck to change the lights in my room. You can check out the live stream where we use Python programming to make this happen.
Lighting
Speaking of more lights, you want to have nice lighting in your office. You've probably seen those images on social media of cool setups with feature lighting. My go to is LIFX. There's heaps of built in functions, settings, and ambient environments. I love the way I can create scenes and even have the lights react to different things I'm doing while streaming or gaming.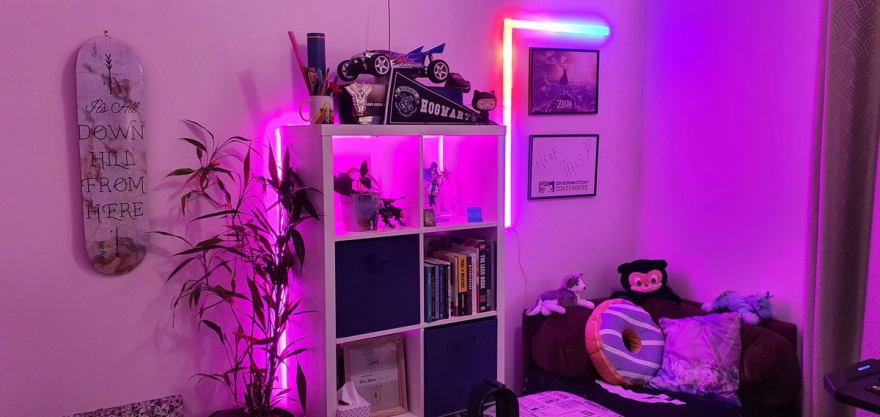 Other types of lighting you might want to consider in your room is ones for live recording or streaming. I have a couple of different types of studio lights. The best ones (although not cheap) are the Elgato lights. I have an Elgato Ring Light as well as Elgato Key Light Air. Both are programmable with the stream deck and accessible through the Elgato Control Center. The lighting is unparalleled! It's perfect for my live stream and requires little to no editing for recorded videos. Highly recommend these if you're looking for the studio-lighting vibe.
Make the space work for you
Put things in your space that work for you. I like gaming (clearly) so I have figurines and pieces of gaming merch around the office. There's obviously a few GitHub octocats, cool pictures on the walls, a skateboard, books, and other things which make the place feel "homey". We have fairly thin walls here so I also opted for some acoustic sound boarding. It makes my audio sound much better as well as keep all the neighbours happy; win-win!
Oh and plants are a must for me. What makes you happy? What makes you motivated? Maybe neon signage or motivational quotes would go well in your office. Whatever your vibe, go for it.
Finally, make sure your desk is the right height for you, and have at least a half decent chair. I love the ZQ Racing chairs. The team is dedicated to providing great quality chairs. My favourite thing about these chairs is the memory foam lumbar cushion. You can even buy it on it's own! Tune into a live stream to see it in action, as well as my custom gaming chair.
Create a space that's welcoming and you want to show off to others. The amount of positive comments I get on my video calls is the reason I wanted to put this post together. I wanted to give you all some inspiration to build your dream setup.
If you have question about the tech, setup, items, anything, let me know in the comments. Happy to help out any way I can. Good luck setting up your ideal battlestation!