A clean, beautiful and responsive portfolio template for Developers!
Make your portfolio using this and also give some stars :
https://github.com/saadpasta/developerFolio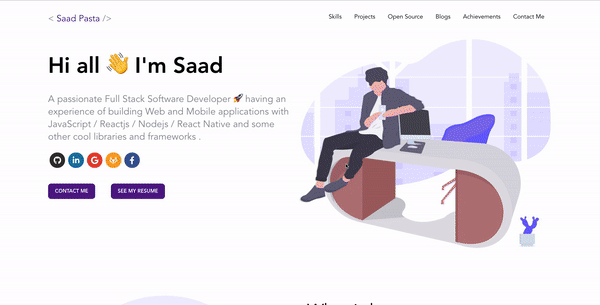 Just change src/porfolio.js to get your personal portfolio . Feel free to use it as-is or customize it as much as you want.
But if you want to contribute and make this much better for other developer have a look at Issues.
If you created something awesome and want to contribute then feel free to open Please don't hesitate to open an pull request.
Sections
✔️ Summary and About me\
✔️ Skills \
✔️ Open Source Projects Connected with Github\
✔️ Big Projects\
✔️ Achievements And Certifications 🏆\
✔️ Blogs\
✔️ Talks\
✔️ Podcast\
✔️ Contact me
To view a live example, click here