Using live chat on your website is necessary for customer retention and increasing revenue.
Why to use a ticketing system for customer support?
Nowadays customers prefer to purchase services or products from companies with support services, in order to resolve tracking issues seamlessly and safely. For this reason, online customer service platforms are designed to connect your customers to your support teams in all possible ways. This is how customers are able to experience quality service, whether it's through call, email, or a live chat session. This is the key to customer satisfaction for keeping them loyal.
Companies are using the ticketing system software in order to make it possible for their customers to get support services in the most convenient ways which can be the live chat system on their website or app, video, or voice call to assist.
Also in terms of management, the ticketing system software is the best way to keep all incoming requests in one place. which means all emails, chats, incoming & outgoing calls, social media messages can be accessible within one platform. This will give the possibility to track company activities, happy and sad customers, team workflow, and clear history for reviews.
A good ticketing system has to make all these factors possible for companies to provide better customer service.
Convenient ways to provide support services
Responsive on all devices
User friendly platform for support agents
Possibility to connect all channels (email, mini chat, social media, etc . . .)
Provide statistic reports on tickets activities
Provide customer reviewing and rating support system
Managing teams & agents possibility
Internal chat system between agents
Providing calling system for better and faster support
How does the YolloChat Ticket System work?
Yalochat is a system created for companies to provide better and more efficient customer support services. A team of professionals is studying and researching companies and customer's behavior to create the best possible tools for the market needs.
The ticketing support system is one of the top features that yollochat is offering to companies. With the yollochat system, you can provide support services to your customers in different ways such as mini chat on your website, providing QR codes to direct connect with your support agents, receiving your emails and answer as a ticket, providing support via calls and last but not least is to connect your social media platforms messages to answer them all in one place.
One of the cool features of our ticketing system is that you can add labels to the tickets to categorize them for future reviews and update the customer information if required.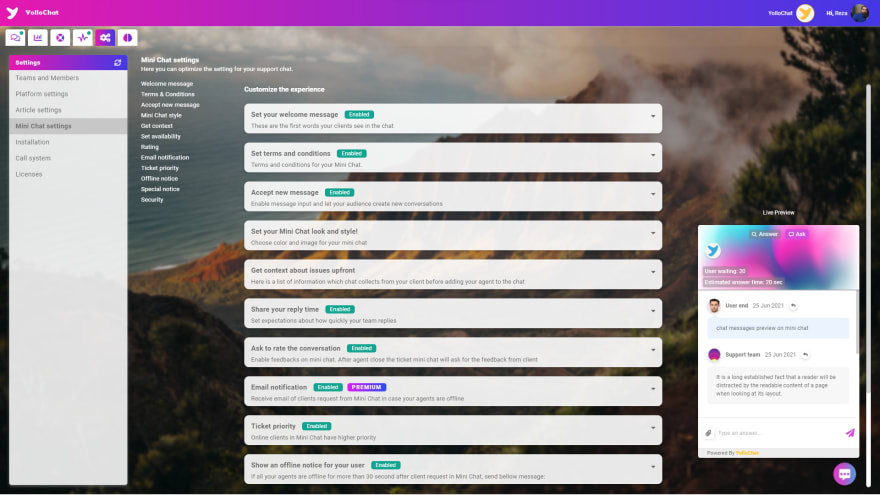 On the other hand, your agent can transfer the tickets to another agent for more technical advice. Our solution to make better workflow is to make it possible by creating two different levels of support agents:
1- General team: responsible to answer all incoming tickets for general support services.
2- Level 2 team: This category can be divided into different departments as teams to provide more technical and professional support services.
Yollochat system has an option to enable asking customers to submit star rate & feedback after the ticket is closed. You will get the full reporting statistics on the reports section which will be providing you with the agent's activities, ticket statuses (open, close, pending), customers feedback rates, ticket histories with details.
With yollochat, you can manage your customer service and your teams with full control over activities. We believe better customer service and management can increase your business revenue and brand image.
Create your free account:
https://yollochat.com/small-business.html
Please share your opinion about this platform in the comment below.