In Today's Article we are going to learn how to fetch Nifty and Bank Nifty Data using Python and it's going to be amazing.
From where we will Fetch Data?
Ofcourse it's Going to be NSE Website from here we will fetch data such as Strike Price, Call and Put Option Data and based on Call and Put option data we will discover at which level more people are interested in Call and Put Option.
Let's Get into Coding
# Libraries


import

 

requests




import

 

json




import

 

math





# Python program to print
# colored text and background


def

 

strRed

(

skk

):

         

return

 

"

\033

[91m {}

\033

[00m"

.

format

(

skk

)




def

 

strGreen

(

skk

):

       

return

 

"

\033

[92m {}

\033

[00m"

.

format

(

skk

)




def

 

strYellow

(

skk

):

      

return

 

"

\033

[93m {}

\033

[00m"

.

format

(

skk

)




def

 

strLightPurple

(

skk

):

 

return

 

"

\033

[94m {}

\033

[00m"

.

format

(

skk

)




def

 

strPurple

(

skk

):

      

return

 

"

\033

[95m {}

\033

[00m"

.

format

(

skk

)




def

 

strCyan

(

skk

):

        

return

 

"

\033

[96m {}

\033

[00m"

.

format

(

skk

)




def

 

strLightGray

(

skk

):

   

return

 

"

\033

[97m {}

\033

[00m"

.

format

(

skk

)




def

 

strBlack

(

skk

):

       

return

 

"

\033

[98m {}

\033

[00m"

.

format

(

skk

)




def

 

strBold

(

skk

):

        

return

 

"

\033

[1m {}

\033

[0m"

.

format

(

skk

)





# Method to get nearest strikes


def

 

round_nearest

(

x

,

num

=

50

):

 

return

 

int

(

math

.

ceil

(

float

(

x

)

/

num

)

*

num

)




def

 

nearest_strike_bnf

(

x

):

 

return

 

round_nearest

(

x

,

100

)




def

 

nearest_strike_nf

(

x

):

 

return

 

round_nearest

(

x

,

50

)





# Urls for fetching Data


url_oc

      

=

 

"https://www.nseindia.com/option-chain"




url_bnf

     

=

 

'https://www.nseindia.com/api/option-chain-indices?symbol=BANKNIFTY'




url_nf

      

=

 

'https://www.nseindia.com/api/option-chain-indices?symbol=NIFTY'




url_indices

 

=

 

"https://www.nseindia.com/api/allIndices"





# Headers


headers

 

=

 

{

'user-agent'

:

 

'Mozilla/5.0 (Windows NT 10.0; Win64; x64) AppleWebKit/537.36 (KHTML, like Gecko) Chrome/80.0.3987.149 Safari/537.36'

,


            

'accept-language'

:

 

'en,gu;q=0.9,hi;q=0.8'

,


            

'accept-encoding'

:

 

'gzip, deflate, br'

}





sess

 

=

 

requests

.

Session

()




cookies

 

=

 

dict

()





# Local methods


def

 

set_cookie

():


    

request

 

=

 

sess

.

get

(

url_oc

,

 

headers

=

headers

,

 

timeout

=

5

)


    

cookies

 

=

 

dict

(

request

.

cookies

)





def

 

get_data

(

url

):


    

set_cookie

()


    

response

 

=

 

sess

.

get

(

url

,

 

headers

=

headers

,

 

timeout

=

5

,

 

cookies

=

cookies

)


    

if

(

response

.

status_code

==

401

):


        

set_cookie

()


        

response

 

=

 

sess

.

get

(

url_nf

,

 

headers

=

headers

,

 

timeout

=

5

,

 

cookies

=

cookies

)


    

if

(

response

.

status_code

==

200

):


        

return

 

response

.

text


    

return

 

""





def

 

set_header

():


    

global

 

bnf_ul


    

global

 

nf_ul


    

global

 

bnf_nearest


    

global

 

nf_nearest


    

response_text

 

=

 

get_data

(

url_indices

)


    

data

 

=

 

json

.

loads

(

response_text

)


    

for

 

index

 

in

 

data

[

"data"

]:


        

if

 

index

[

"index"

]

==

"NIFTY 50"

:


            

nf_ul

 

=

 

index

[

"last"

]


            

print

(

"nifty"

)


        

if

 

index

[

"index"

]

==

"NIFTY BANK"

:


            

bnf_ul

 

=

 

index

[

"last"

]


            

print

(

"banknifty"

)


    

bnf_nearest

=

nearest_strike_bnf

(

bnf_ul

)


    

nf_nearest

=

nearest_strike_nf

(

nf_ul

)





# Showing Header in structured format with Last Price and Nearest Strike





def

 

print_header

(

index

=

""

,

ul

=

0

,

nearest

=

0

):


    

print

(

strPurple

(

 

index

.

ljust

(

12

,

" "

)

 

+

 

" => "

)

+

 

strLightPurple

(

" Last Price: "

)

 

+

 

strBold

(

str

(

ul

))

 

+

 

strLightPurple

(

" Nearest Strike: "

)

 

+

 

strBold

(

str

(

nearest

)))





def

 

print_hr

():


    

print

(

strYellow

(

"|"

.

rjust

(

70

,

"-"

)))





# Fetching CE and PE data based on Nearest Expiry Date


def

 

print_oi

(

num

,

step

,

nearest

,

url

):


    

strike

 

=

 

nearest

 

-

 

(

step

*

num

)


    

start_strike

 

=

 

nearest

 

-

 

(

step

*

num

)


    

response_text

 

=

 

get_data

(

url

)


    

data

 

=

 

json

.

loads

(

response_text

)


    

currExpiryDate

 

=

 

data

[

"records"

][

"expiryDates"

][

0

]


    

for

 

item

 

in

 

data

[

'records'

][

'data'

]:


        

if

 

item

[

"expiryDate"

]

 

==

 

currExpiryDate

:


            

if

 

item

[

"strikePrice"

]

 

==

 

strike

 

and

 

item

[

"strikePrice"

]

 

<

 

start_strike

+

(

step

*

num

*

2

):


                

#print(strCyan(str(item["strikePrice"])) + strGreen(" CE ") + "[ " + strBold(str(item["CE"]["openInterest"]).rjust(10," ")) + " ]" + strRed(" PE ")+"[ " + strBold(str(item["PE"]["openInterest"]).rjust(10," ")) + " ]")


                

print

(

data

[

"records"

][

"expiryDates"

][

0

]

 

+

 

" "

 

+

 

str

(

item

[

"strikePrice"

])

 

+

 

" CE "

 

+

 

"[ "

 

+

 

strBold

(

str

(

item

[

"CE"

][

"openInterest"

]).

rjust

(

10

,

" "

))

 

+

 

" ]"

 

+

 

" PE "

 

+

 

"[ "

 

+

 

strBold

(

str

(

item

[

"PE"

][

"openInterest"

]).

rjust

(

10

,

" "

))

 

+

 

" ]"

)


                

strike

 

=

 

strike

 

+

 

step





# Finding highest Open Interest of People's in CE based on CE data         


def

 

highest_oi_CE

(

num

,

step

,

nearest

,

url

):


    

strike

 

=

 

nearest

 

-

 

(

step

*

num

)


    

start_strike

 

=

 

nearest

 

-

 

(

step

*

num

)


    

response_text

 

=

 

get_data

(

url

)


    

data

 

=

 

json

.

loads

(

response_text

)


    

currExpiryDate

 

=

 

data

[

"records"

][

"expiryDates"

][

0

]


    

max_oi

 

=

 

0


    

max_oi_strike

 

=

 

0


    

for

 

item

 

in

 

data

[

'records'

][

'data'

]:


        

if

 

item

[

"expiryDate"

]

 

==

 

currExpiryDate

:


            

if

 

item

[

"strikePrice"

]

 

==

 

strike

 

and

 

item

[

"strikePrice"

]

 

<

 

start_strike

+

(

step

*

num

*

2

):


                

if

 

item

[

"CE"

][

"openInterest"

]

 

>

 

max_oi

:


                    

max_oi

 

=

 

item

[

"CE"

][

"openInterest"

]


                    

max_oi_strike

 

=

 

item

[

"strikePrice"

]


                

strike

 

=

 

strike

 

+

 

step


    

return

 

max_oi_strike





# Finding highest Open Interest of People's in PE based on PE data 


def

 

highest_oi_PE

(

num

,

step

,

nearest

,

url

):


    

strike

 

=

 

nearest

 

-

 

(

step

*

num

)


    

start_strike

 

=

 

nearest

 

-

 

(

step

*

num

)


    

response_text

 

=

 

get_data

(

url

)


    

data

 

=

 

json

.

loads

(

response_text

)


    

currExpiryDate

 

=

 

data

[

"records"

][

"expiryDates"

][

0

]


    

max_oi

 

=

 

0


    

max_oi_strike

 

=

 

0


    

for

 

item

 

in

 

data

[

'records'

][

'data'

]:


        

if

 

item

[

"expiryDate"

]

 

==

 

currExpiryDate

:


            

if

 

item

[

"strikePrice"

]

 

==

 

strike

 

and

 

item

[

"strikePrice"

]

 

<

 

start_strike

+

(

step

*

num

*

2

):


                

if

 

item

[

"PE"

][

"openInterest"

]

 

>

 

max_oi

:


                    

max_oi

 

=

 

item

[

"PE"

][

"openInterest"

]


                    

max_oi_strike

 

=

 

item

[

"strikePrice"

]


                

strike

 

=

 

strike

 

+

 

step


    

return

 

max_oi_strike





set_header

()




print

(

'

\033

c'

)




print_hr

()




print_header

(

"Nifty"

,

nf_ul

,

nf_nearest

)




print_hr

()




print_oi

(

10

,

50

,

nf_nearest

,

url_nf

)




print_hr

()




print_header

(

"Bank Nifty"

,

bnf_ul

,

bnf_nearest

)




print_hr

()




print_oi

(

10

,

100

,

bnf_nearest

,

url_bnf

)




print_hr

()





# Finding Highest OI in Call Option In Nifty


nf_highestoi_CE

 

=

 

highest_oi_CE

(

10

,

50

,

nf_nearest

,

url_nf

)





# Finding Highet OI in Put Option In Nifty


nf_highestoi_PE

 

=

 

highest_oi_PE

(

10

,

50

,

nf_nearest

,

url_nf

)





# Finding Highest OI in Call Option In Bank Nifty


bnf_highestoi_CE

 

=

 

highest_oi_CE

(

10

,

100

,

bnf_nearest

,

url_bnf

)





# Finding Highest OI in Put Option In Bank Nifty


bnf_highestoi_PE

 

=

 

highest_oi_PE

(

10

,

100

,

bnf_nearest

,

url_bnf

)






print

(

strCyan

(

str

(

"Major Support in Nifty:"

))

 

+

 

str

(

nf_highestoi_CE

))




print

(

strCyan

(

str

(

"Major Resistance in Nifty:"

))

 

+

 

str

(

nf_highestoi_PE

))




print

(

strPurple

(

str

(

"Major Support in Bank Nifty:"

))

 

+

 

str

(

bnf_highestoi_CE

))




print

(

strPurple

(

str

(

"Major Resistance in Bank Nifty:"

))

 

+

 

str

(

bnf_highestoi_PE

))





Output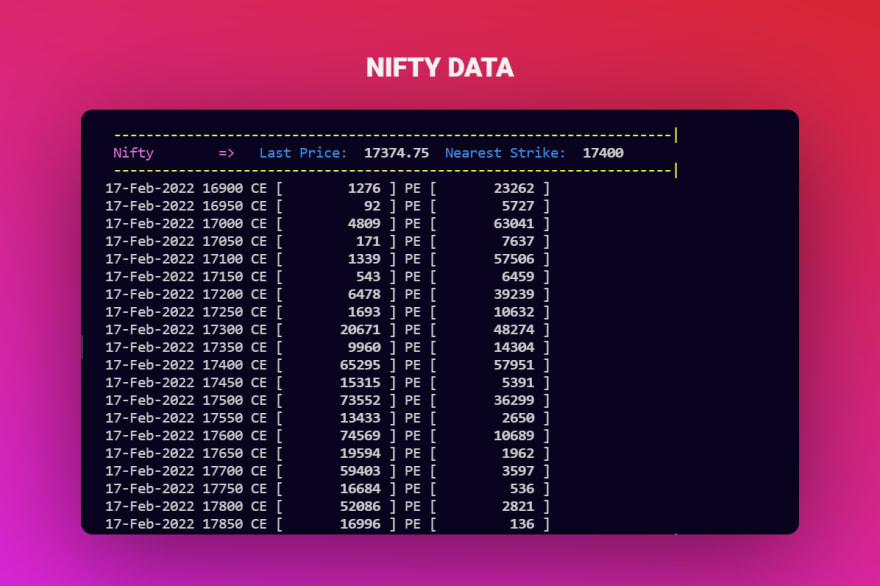 ---
If you guys want me to Fetch Call and Put Option Data for Global Stocks and Indices let me know in Comment Section🙂✌️
GoodBye👋