Organizations must adapt to Kanban Methods in order to keep up with the ever-changing markets today. To deliver essential projects on time as well as on budget, your organization must provide clear strategy, procedure and responsibilities. Kanban methods are what can help you significantly in this kind of process and that is the main reason this methodology is gaining a lot of traction today.
The key principle of Kanban remains to be a simple way to deploy Agile methodology and enhance corporate agility by taking a critical perspective.
There are various kanban project management tools out there, but to make it easier for you I have listed the best tools that can definitely boost your development process. But before that, you must know what exactly a Kanban is.
What is Kanban?
It is a workflow strategy that enables you to effectively manage your projects and activities, therefore you are able to focus on only one task at a time. This method was created by a Japanese industrial engineer Taiichi Ohno, who wanted to enhance the manufacturing process of Toyota.
Today it has been implemented in various industries including the software development industry. You will have more productivity and less time wasted transitioning from one job to another using Kanban.
Tools You Can Use to Improve the Development Process
Here are top Kanban project management tools that can boost the development process:
ProofHub is one of the most popular Kanban-based project management solutions. Whether it is an in-house team, hybrid or remote team, they all can take full advantage of this tool.
Furthermore, it also lets teams self-manage by enabling them to track tasks that progress through the various stages on the Kanban board, thus allowing them to keep track of work that is in progress.
By using ProofHub, users can create task lists as well as delegate assignments to team members. For each level, the user can pick who to subscribe to.
Users can even attach workflows with the list with the help of its inbuilt Kanban board. ProofHub is simple to use as learning all of its capabilities can take you only a few hours.
All and all, it is a great tool for teams that are working on projects requiring visual items. ProofHub has a flat monthly subscription regardless of how many people use it, which is beneficial for small teams that are growing.
Price:
ProofHub offers a 14-day free trial and after the free trial, you can choose its ULTIMATE CONTROL plan costing a flat $89/month billed annually where you get up to 100GB storage for unlimited projects and users or its ESSENTIAL plan which costs a Flat $45/ month billed annually where you get upto 15 GB storage for unlimited users and 40 projects.

Trello is a Kanban project management tool that runs on the web. It's a popular tool that lets you organize your tasks into Kanban boards. It visualizes work items using a basic Kanban board rather than a timeline-based framework. Trello is well-known for its ease of use and suitability for personal use.
Although the basic tool is free, organizations may pay for additional features and security. "To Do," "Doing," and "Done" are the three columns of a standard Trello Kanban board. Teams may use it to keep track of simple operations and shift cards in the column by phase.
The Trello Kanban board's lists and cards, which are the basic components of organizing work, can be used to organize, document, and communicate every aspect of your task amongst teams. By using Trello, task descriptions, due dates, and checklists can all be added by users.
Price:
The basic plan is free, while the enterprise plan costs $17.50 per user each month. Download the Trello app from apkfuel and take full advantage of it.
Monday.com is a simple Kanban work automation solution. It's a table-based work management application with a stunning framework that contains capabilities like showing work items in a list-based view, different views, attaching files, and posting remarks among others.
It comes with a basic Kanban task board that can be customized with additional columns to improve workflow efficiency. You are also able to specify priority, status, and assignment by adding several rows.
It also has a number of other task management capabilities, customization features, slack apps and integrations. For instance, you are able to add questions and answers to a card to make everybody know the reasons why you are working on a specific task.
Price:
Free plan available
$16 /user /month for the Pro plan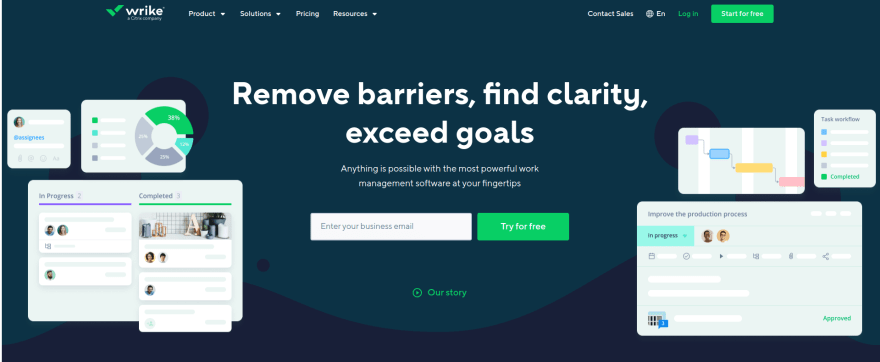 Wrike works as a flexible and powerful platform for optimizing internal project management and enhancing team communication. It's a Kanban-compatible project management solution for businesses.
It is not just utilized as a project management tool, but it can also be used to help other work areas of various departments within a company due to its effectiveness.
Price:
Free plan available
$24.80 /user /month for a business plan
It is a SaaS-based project management and crowdsourcing platform and developers can create, manage, and share projects, tasks, and procedures using Smartsheet. Smartsheet also integrates with Google Apps, VMware Zimbra, and Salesforce CRM, as well as Amazon Mechanical Turk for crowdsourcing.
Project management, marketing, operations, and information exchange, as well as task management and administration, are all possible with Smartsheet.
Smartsheet can be adapted to accommodate a variety of project management techniques, including Kanban. Smartsheet provides a Kanban Sheet template that makes viewing project management tasks on a Kanban-style board a breeze.
Price:
A free plan is available
The Business plan is $25 per user per month.
Conclusion
Managing tasks without sufficient planning puts the productivity of your employees at risk. So, the best thing is to use a Kanban-based project management tool for managing the tasks. Whether you choose a stand-alone Kanban application or one that includes a larger range of project management features such as ProofHub, you can be assured that incorporating the Kanban methodology into your project management approach will improve the software development process.