Hello Coders!
This (short) article presents an open-source Django Dashboard updated to use the latest version of Django, a leading web framework written in Python. The product can be downloaded directly from Github and used for hobby & commercial products bases on the permissive (MIT) License. Codebase comes with a few simple features like authentication, database, intuitive codebase and Docker support for an easier deployment in production.
Thanks for reading! - Content provided by App Generator.
---
---
---
Product Features:
Volt Dashboard is a free and open source Bootstrap 5 Admin Dashboard featuring over 100 components, 11 example pages and 3 plugins with Vanilla JS. There are more than 100 free Bootstrap 5 components included some of them being buttons, alerts, modals, datepickers.
100+ Components: buttons, alerts, modals, datepickers
11 Example Pages: Dashboard, SignIN, SignUO, Transactions page
Vanilla JS - no more jQuery dependency
Django Codebase:

Latest Dependencies (including Django 3.2.6)
Docker over Nginx, Gunicorn production-ready stack
Simple, intuitive codebase
SASS to CSS compilation scripts via gulp
Authentication, Forms validation, SQLite persistence
---
Django Volt - Widgets Page
---
Django Volt - User Profile
---
The easiest way to start using the product is to use the Docker set up. Here are the steps:
Step #1 - Download and UNZIP the product

$ unzip django-dashboard-volt.zip
$ cd django-dashboard-volt

---
Step #2 - Start the product using Docker

$ 

docker-compose pull 

;

 docker-compose build 

;

 docker-compose up

If required, run under sudo the above command for Linux-based systems.
Once the app is running on http://localhost:85 we can register a new user and authenticate (project has no default user, we need to create one).
---
Django Volt Login page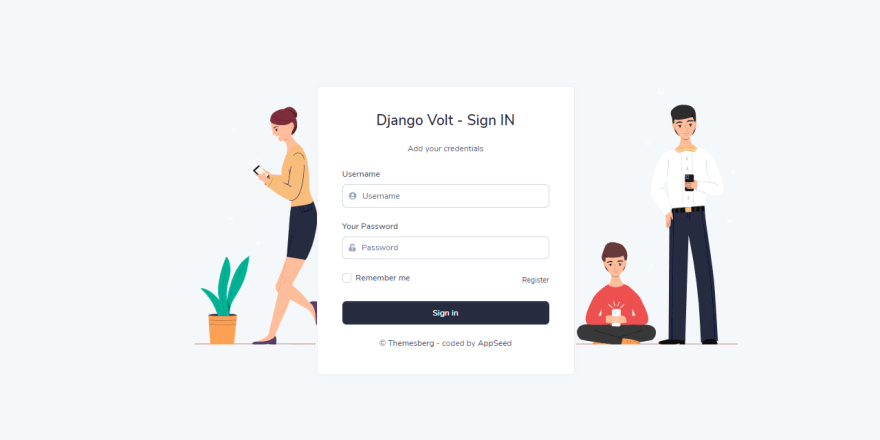 ---
For complete information please access the official docs available on the product page or ask for support in Discord.
---
Thanks for reading! For more resources please access: