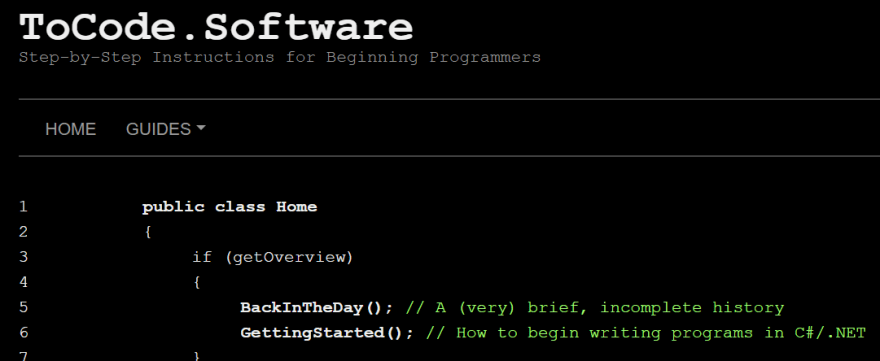 Many self-taught programmers, myself included, become easily overwhelmed by modern app and web development tutorials. My thought is that this is caused by the combination of UI, Database, and logic layers. So I decided to make ToCode.Software as a new type of tutorial.
I am a .Net developer, and I also love cross-platform code. There is a wonderful web tool, DotNetFiddle, that can help anyone from beginner to professional try out some simple C# code. I used DotNetFiddle as an embedded, interactive template for the beginning lessons of ToCode.Software, so users can try out code without ever leaving the site.
As the second step, I introduce Visual Studio Code, .Net Core, and the bash shell, so learners can start making their own simple console apps with file-based, object-oriented classes.
After going over many of the basics of the C# language and coding logic, there are two projects, a simple ChatBot, and a more complicated Go Fish Game. I hope to expand this series to include many of the following concepts:
Adding an app UI with Xamarin.Forms
Adding a web UI with HTML and CSS
Connecting to a SQL database to store and retrieve data
I'd love some feedback on this project. Feel free to comment here, or on the site, and share!