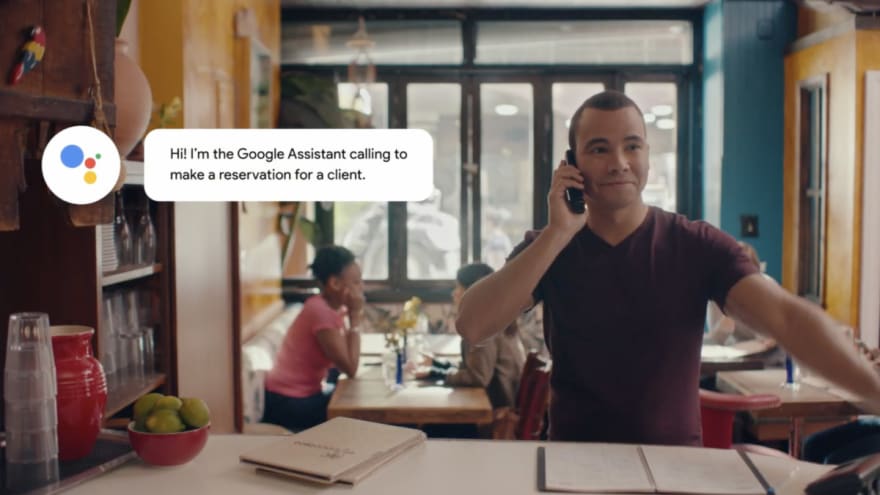 Person 1: Good evening.

Person 2: Hello?

Person 1: Hello.

Person 2: Hi, um, I'd like to reserve a table for Friday the third.

Person 1: OK, hold on one moment.

Person 2: Mm hmm.

Person 1: OK… hold on one second.

Person 2: Mm hmm.

Person 1: So Friday November third. How many people?

Person 2: For… two people.

Person 1: Two people?

Person 2: Yeah.

If you remember this conversation, you sure watched the 2018 Google Annual Developer Conference. Although it looks as it is on text, this is not a person calling a restaurant to reserve a table. It's the Google Assistant, the Google very own AI calling the restaurant "on behalf" of a user to reserve a table. This technology is a result of a project called "Google Duplex".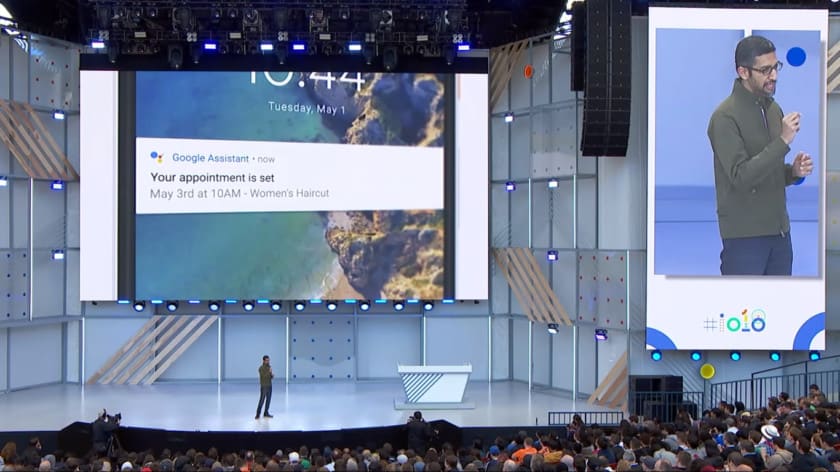 As you know Google Assistant is built on Artificial Intelligence. It saw the light as an assistant feature to Google Allo and Google Home in 2016, and then released as a standalone app in 2017. Of course, it now has many competitors to compete with.
Apple's Siri, Amazon's Alexa and Microsoft's Cortana are the main three competitors of Google Assistant. Hence it requires a major leap in terms of technology to be ahead of the competition. As there's no human-like conversation mode in any of the other mobile assistants, it looks like duplex boosted the game for Google Assistant.


What is Google Duplex?
Google Duplex is a fully automated system. It was designed as a means to help people make business appointments over a phone, but without any interaction from the user. Just think the annoying time you spent on company calls dialling 1, 2 and listening to waiting tunes. All of that burden can be released from your head using Google Duplex. It even says words like "um" and adds pauses to sound like a real human.
Security
This whole process may sound a bit creepy to the privacy-oriented user, but before answering a call, it identifies itself as being from Google. It also tells the receiver of the call that it is being recorded. If the receiver chooses not to be recorded, Google Assistant then transfers the call to a non-recorded line.
In the regions where the service is available, you can use Duplex to make a reservation at a restaurant, purchase movie tickets online or set up a haircut appointment. In the future it will provide you with features like making reservations for your doctor's appointment or set up a time and day to get your haircut.


Hold For Me
A new Google duplex powered feature named Hold for Me is now rolling out to Pixel 5 series smartphones. What it does is that it takes care of hold-instances during calls. Often you might be put on hold during business calls and you are nervous about doing another work as someone on the other end might pick up the hold call. Hold for Me feature allows you to continue your tasks without worrying about the call. When someone finally speaks, it will let you know that it's time to talk again.
Despite the cool features, we need to think long and well about how this AI technology should be used and how it should not. Technologies that support services like Duplex are improving at a higher rate. In time, it will become harder to understand what's automated and what's human. It gets even harder if we don't have a clear understanding what the technology can do.