VSCode is the most popular code editor. The best part of VSCode is how extendable it is. It's actually a JavaScript and Electron-based application.
Today, I'm going to share three top VSCode themes you should try in 2020. This is an opinionated post on what I believe are the top themes in the VSCode marketplace.
1. 🦄 Shades of Purple
If you haven't tried Shades of Purple till now then, believe me, you are in for a treat. The author, Ahmad Awais, has so meticulously designed this theme that it makes you fall in love with your code editor. The documentation itself is a piece of art. Millions of developers are using this theme. Over 100 five-star ratings. ⭐️
2. 🦉 Night Owl
The number 2 on our list is Night Owl developed by Sarah Drasner who is the VP of the Developer Experience at Netlify. As the name suggests, this theme is specially designed for folks who work at night & need a theme that doesn't hurt their eyes. The theme also offers a lighter version for developers who are not into night mode. It has a five-star rating with over 400k+ installs. ⚡️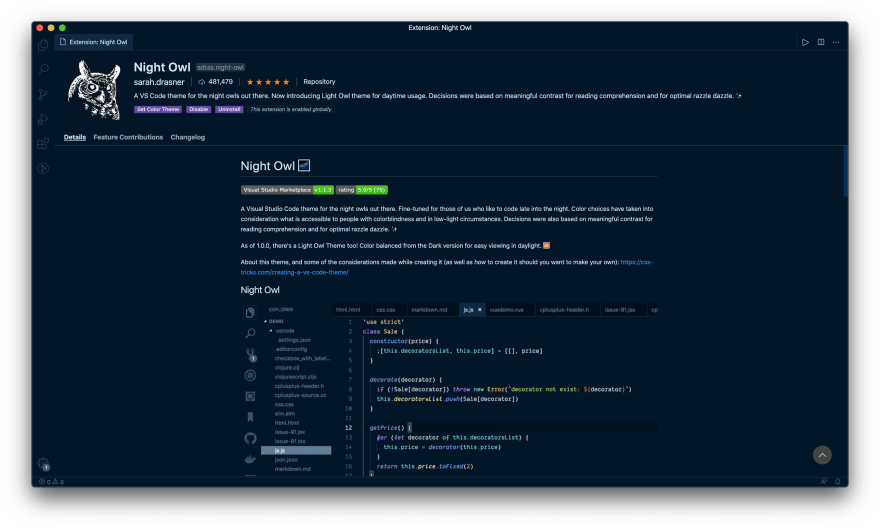 3. 🎛 Material Theme
The last one we got is the amazing Material Theme designed by Mattia Astorino. This theme has over 8M+ downloads & 2M+ installs. It gives you a blend of dark green with light green & makes your code look so elegant. It got a four-star rating and definitely worth a shot.
🙌🏻 So that's all for today. Do let me know what your favorite VSCode theme is in the comment section down below. Also, if you are interested in saving tons of productivity hours on a weekly basis then check the VSCode.pro course. This course will make you a VSCode Power User in no time.