ForLoop Meet-up held at switch.ng
Personally, its been an amazing year for me, major reason why this review was aptly titled " Journey to greatness ". Reminiscing on some of the mind blowing events and memories from this year and I thought it fit to write about it. As this might inspire someone.
Community Involvement
I was more active in the Tech community this year than I have ever been. This has not only inspire me to keep learning but also offered me an opportunity of meeting lot of experienced developers. I literarily attended all kind of meetups and met the likes of Christian Nwamba (who has been a super duper mentor and a good friend till date), Prosper Otemuyiwa, Chuks El-Gran Opia, Chuloo, Elijah Valentine Troy Abako, Neo Ighodaro
Angular Nigeria Meetup
Laravel Nigeria Meetup
Frontstack Meetup
Writing
This is one of the main highlights of the year for me. Inspired by Christian Nwamba, Prosper Otemuyiwa and Chris Sevilleja, I ventured into the world of technical writing.
I applied to become an author on one of the platforms that I have learnt a lot from (i.e scotch.io). I was super excited when my account was approved for author status.
Despite the fact that I worked for a company, before the end of the year, I was able to come up with 3 published article and few others still under review :
To crown it up, I emerged one of the top authors for the month of december
Other Articles
This has really helped mould me into becoming a better software developer, code writer, including my ability to share knowledge and contribute my quota towards the progress of other developers.
Projects and Work
Started working for a different company called Taxaide Technologies this year. Its amazing and a great opportunity to contribute and learn when you work with a company whose vision resonate with yours.
Taxaide Technologies Limited (TaxTech) was conceived to develop and deploy easy to use technology in the management of taxes, whether by the tax payer, the tax collector or the tax professional.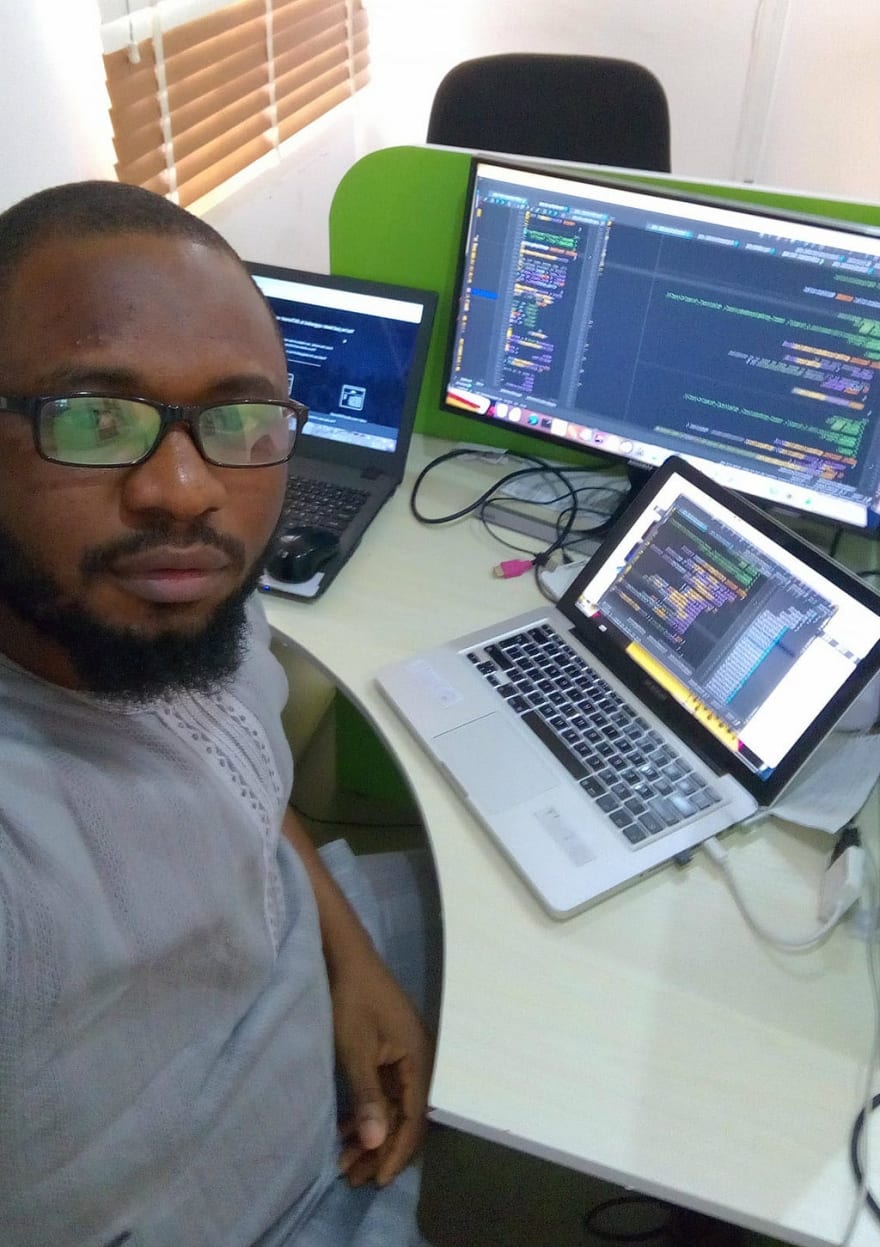 I was appointed a position where I had to maintain few existing web applications and also build new ones. Thank you Taxtech.
Open Source Projects
Contributed to few open source projects this year
Won an Hackathon (Angular Nigeria)
I successfully led a team of programmers and we won the very first Angular Nigeria Hackathon sometimes in May this year.
How My Team Won The First Angular Nigeria Hackathon
Team Hack Brad Green
On Speaking
I was opportuned to visit students of Federal College of Education(Technical) Akoka and got them fired up to explore the world of programming. Despite busy schedules at work, I am excited that I made this happen.
Speaking at FCE Akoka
Life
Read a lot of technical Articles this year.
I met a lot of amazing people this year both techies and non techies 😄. Christian Nwamba such an amazing guy, Fidelia Unifoh, Bidemi Daniel Olumide, oyeyemi oke.
Bought a MacBook Pro this year.
Got a new Avatar this year. Its cool to have some sort of identity right? 😏
And finally, just when it seems nothing serious will come out of this year as regards relationship, I met a young beautiful lady whose passion, dedication and support has been beyond expectation. Lucky to have you in my life Funmilayo 😘.
2018 Resolution
Looking into the new year with great expectations and more territories to conquer. I will like to hold myself accountable by the end of the year
Writing : I want to write more articles in 2018, improve on my writing skills 🔥 🔥 💪
Become one of the top authors on scotch.io
Speak and participate in more events and conferences
Kudos to everyone that made this year amazing for me. Lets do this again in 2018. #SpreadTheFire