Hi I am new to DEV and Hacktoberfest this is my first time in a fest. I learned many new things like we have to write github readme file in markdown.
You don't need to be a programmer to participate in this fest if you are a content created you make documentations of github repos. This year hacktoberfest tries to decrease spams by make selective github repos eligible for this fest The repos with Hacktober tag or the issues with hacktoberfest-eligible tag is eligible for this fest. All the best to all of you.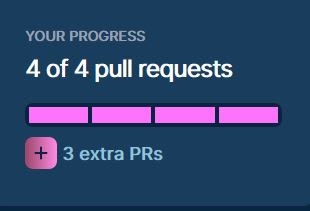 I many more than 4 PRs
requirements.txt of a python project it was easy
readme.md file of a project and I also used some emoji in it
fixed a issue in a minor project
again created a readme.md file this time with images and did some PRs for some minor issues in projects.