The article was originally published on Ascendix Tech Blog
Startup founders, entrepreneurs, and even developers generate tons of product ideas daily, but only a few become real and launched. Why?
There are lots of factors, but one of the most crucial grounds is the lack of a product development roadmap or skills to build it.
What is a product roadmap and why is it important to make products successful? What are the key steps of building a roadmap?
Today, we want to cover this topic briefly to help you understand the importance and realize how to make a product roadmap.
Let's get started.
What is a product roadmap?
Simply put, a product development roadmap is a strategic plan of actions that showcases the vision, initiatives, goals, and milestones that will lead to a successful product launch.
A roadmap helps multiple levels including a leadership, engineering, marketing, and sales departments to formulate a single source of truth yet focusing on their specific tasks.
Generally, there are four types of product development roadmaps depending on the people that need this document:
1. Internal development team roadmap
This document type mostly includes the priorities of value delivered to clients, exact product release dates, and project milestones.
2. Internal product management roadmap
This roadmap type focuses on how product teamwork facilitates achieving high-level business objectives and the company's KPIs.
3. Internal sales team roadmap
This roadmap type is related to new opportunities and a better product value proposition for customers.
4. External product development roadmaps
This roadmap type is a perfect choice to put the wind of customers in future product releases.
How to Build a Product Development Roadmap
1. Identify your product strategy
The first and foremost step of building a product roadmap is to define the strategy of your developing and launching your solution. It means that you should analyze all the components that include:
1) The problem your product will solve
2) Market analysis
3) Target audience identification
4) Product idea pitch to stakeholders (in a well-argued manner).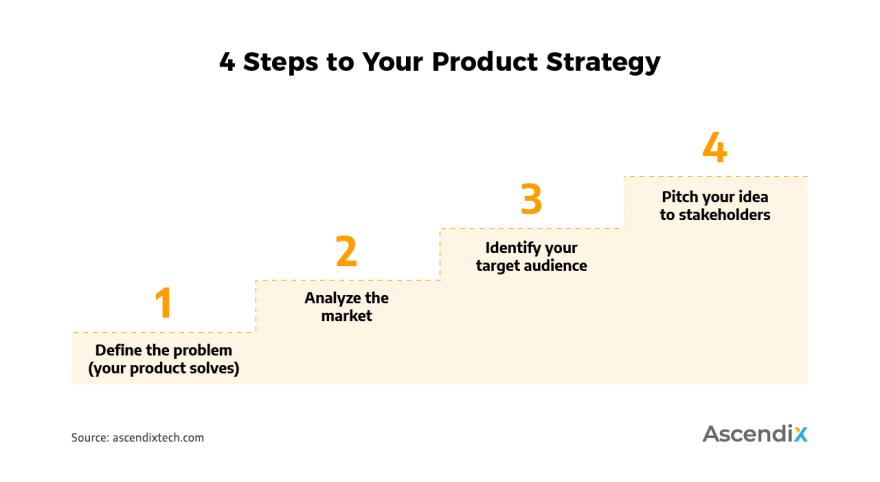 As mentioned above, a product roadmap is a cornerstone for all team members, but you need to complete these steps in order to formulate a single definition and get your roadmap agreed upon the entire product team.
2. Define key goals, metrics, and a strict timeframe
After defining a product idea, conducting a market analysis, discussing and confirming business objectives with the entire team, you should identify key goals, metrics, and a timeframe.
Considering the goals, they can be presented as a product functionality that you want to implement. When you define the goals, you need to prioritize them by importance to focus on the most crucial and launch-oriented tasks first.
Then, you should set specific deadlines for each task to make your product development stages as exact as possible. If you avoid deadlines, then you cannot plan product releases and your goals just become plans.
Ultimately, we recommend choosing and implementing KPIs that will help you track the progress and evaluate each product development stage better.
If you choose Agile software development, check our Scrum metrics we use to keep our teams' productivity on track.
3. Use Roadmapping Software to Build and View
Now it's high time to start building a roadmap and there are several ways to complete this stage:
A pen and a paper
A roadmapping software.
The first option is time-consuming but can help you build a better understanding of your product on many sides.
Minimally, you can start with a draft version and then transform it into a visually-appealing and structured roadmap with the help of existing software.
Let's check the two most popular product roadmap toolkit that can help you create a sophisticated document.
1. Roadmunk
It is one of the top tools for building product roadmaps used by Amazon, Microsoft, Slack, Booking.com, and others.
Roadmunk is a perfect option to make a product roadmap within a short time as it includes multiple ready-made templates depending on the document type you need.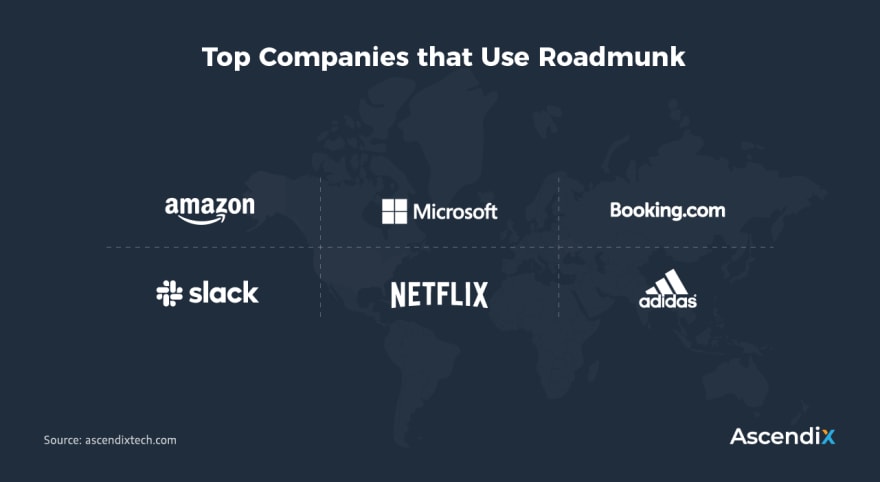 Roadmunk has a 14-day trial and 4 pricing plans:
2. ProductPlan
ProductPlan is also a popular roadmapping toolkit for distributed product development teams used by HubSpot, Coca Cola, Procore, Ralph Lauren, Adobe, and others.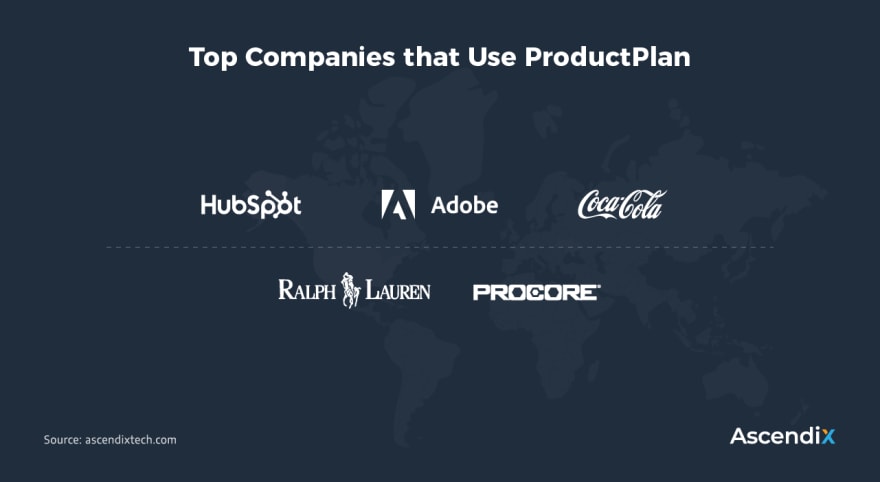 It includes a 14-day free trial period and 3 pricing plans:
4. Share and present your roadmap
The second goal of building a product development roadmap is to share it across your internal teams and stakeholders. This document should give an interest-specific value to each audience you share it with.
Let's now discuss the key aspects you should cover while presenting your roadmap to each product level:
The board members always want to know and realize how your product roadmap will align with the general company vision, high-level business goals, long-term milestones, and core product metrics.
Developers, QA engineers, UI/UX designers, DevOps specialists and other tech-savvy people need exact answers to 'why', 'what', and 'when' in terms of product needs, features, releases, and so forth.
If you have marketers on board, it's important to describe what benefits can the product functionality and releases bring to end-users in order to build effective marketing campaigns.
In addition to the insights you share with marketers, you need to answer the questions of sales managers so that they formulate a precise understanding of why customers should care about new product releases and features.
4 Product Roadmap Templates
Now we want to share several product roadmap templates which can greatly help you launch a product successfully in 2021.
1. Software Roadmap
A Software Roadmap Template is a perfect choice for your company if you start developing a solution from scratch. The initiatives are divided into two categories: engineering and marketing/sales.
Here is a sample Software Product Roadmap by ProductPlan.
2. Multiple Product Roadmap
This roadmap template is a great option if you are planning to launch several products and need a real-time overview of the progress for each direction. You may think it adds much complexity, but it also allows you to manage and coordinate efficiently.
Below you can see a Multiple Product Strategy Roadmap by ProductPlan.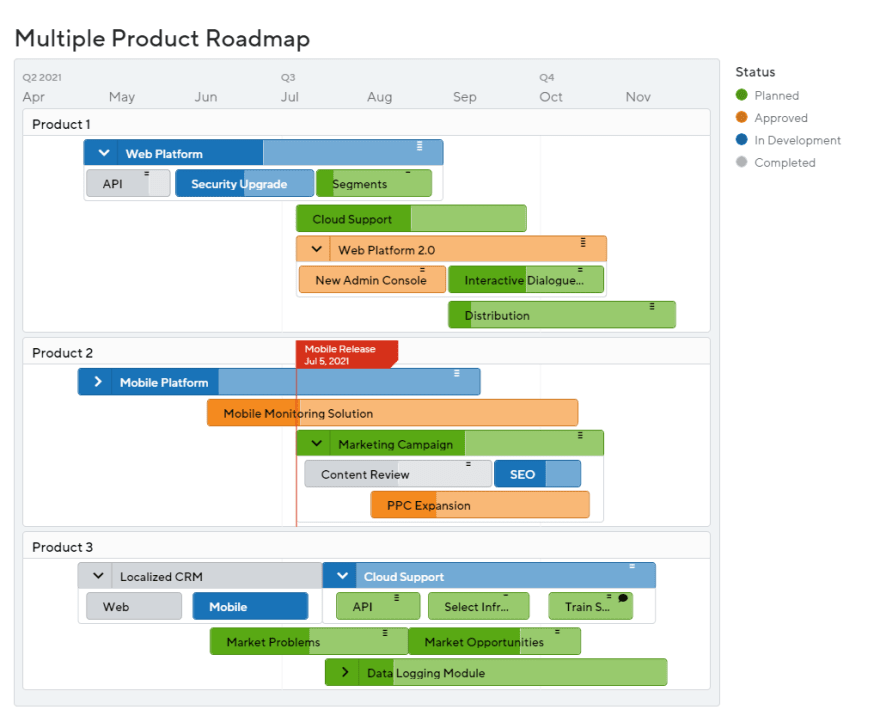 3. Objectives & Key Results (OKRs) Roadmap
Objectives and Key Results (OKR) is a framework designed by Andy Grove, the former CEO of Intel Corporation, which suggests setting ambitious goals, track progress, improve, and scale.
Here is an OKRs Roadmap by ProductPlan.
Final Thoughts
We hope our brief guide about how to build a roadmap will help you get a better understanding of the concept, its benefits, and the ways you can implement it within your specific product.
If you want to learn more details, check our full blog article How to Build a Product Development Roadmap from A to Z and share your thoughts in the comments.