Consider a product development without monolithic manufacturers. Today's software innovation process is bringing that concept closer to reality. Open source software projects have resulted in community- powered innovation, development, and consumption. Manufacturer-centered development strategies, which have long been the foundation, have a significant disadvantage in such communities. Each user, whether a single user or an organization, can produce exactly what they want without requiring a manufacturer to act as their representative.
The open source software phenomena has recently evolved into a more mainstream and commercially viable form, which we might call the new era of OSS. This transition can be demonstrated using a foundation of process and product factors. The street market analogy, which was previously associated with the open source development process, has shifted to become a metaphor better suited to the new OSS product delivery and support process era.
The Evolution, Growth and Legacy of Open Source
Overall, the current phase of the OSS phenomenon differs dramatically from its free software predecessor. Its rise highlights the colossal transformation in the software landscape's basic ground rules, signaling the end of the proprietary-driven model that has existed for the past decades. Thus, a detailed understanding of the characteristics of the emerging new era of OSS phenomena is essential to solve some critical issues.
It would have appeared absurd just a few years ago to imply that the proprietary software industry's dominance might be challenged by the primarily volunteer of open source software movement. However, the software industry's fundamental nature has massively evolved due to this shift. On the supply side, the development process, reward mechanisms, development and testing phase distribution, and business models that determine how profit might be achieved have all seen significant changes. On the demand side, open source software has augmented the traditional software acquisition options offered to businesses.
Indeed, a Moore's Law effect appears to be at action, with the amount of open source software available doubling every day/month and year or so.
Several challenges and hurdles develop due to the changing nature of software maintenance, the requirement for new software total cost of ownership models, and concerns of infringement risk. The open source phenomenon has progressed from its free software roots to a more mainstream, financially viable form. The growing new era of OSS phenomenon will continue to thrive as a dominant force in the future software landscape. Indeed, it signals the end of the existing supremacy of proprietary, closed-source software architecture.
The term open source was coined in 1998 to put the movement on a more business-friendly footing than that associated with ambiguous or proprietary software. As a result of this, it contributed to the widespread misconception that free and open software could not be used to generate revenue and is not beneficial. However, the open source program has recently been a significant success, and the emerging new era of the OSS has a strong business focus.
In brief, open source software development allows for the power of distributed review and complete openness throughout the process. Open source guarantees superior quality, more reliability, more freedom, lower costs, and the end of the use of proprietary software.
The Future An Open Source Community Holds
Open source community is becoming more diverse and energetic day by day. You may be certain that no matter what your hobbies are or what sector you work in, you will be able to locate someone who can assist you. Open source software and other collaborative projects benefit from, and are made possible by, community, whether it's for development or advocacy.This is how and where the Aviyel fits in.
Our efforts are focused on fostering and amplifying the network, which allows the community to jointly and cooperatively develop open source software and services. So we're doing that by building a platform that allows people to develop frequent community interactions, knowledge sharing , incentivization, and a whole lot more feature.
Our massive efforts generate resources for collaborative organizations, assist in knowledge creation/exchange within open source communities while cultivating a transparent philosophy to foster collaboration and community engagements.
Aviyel is invested in the success of your open source software and the community that supports it. Raising awareness and adoption of your open source project is critical to its success. Communities can pick Aviyel to keep the conversation going with information, questions, and challenges, organizing online events for communities, and extending value of open source software.
We intend to lay the groundwork for the open source software community. We are now working on Thirteen projects ranging from development tools, security frameworks, content management systems, and a whole lot more.
Here are a few of the projects we've added to our platform:
Slicknode:Slicknode is an all-in-one GraphQL backend, gateway and Headless CMS for creating custom backends and digital products with content management.
---
Tooljet: ToolJet is an open-source low-code framework to build and deploy internal tools quickly without much effort from the engineering teams.
---
Tolgee: Tolgee is the only tool you need to translate your web-based project to any language you wish.
---
Novu: Novu's goal is to simplify notifications and provide developers the tools to create meaningful communication between the system and it's users.
---
Fonoster: Fonoster Inc researches an innovative Programmable Telecommunications Stack that will allow for an entirely cloud-based utility for businesses to connect telephony services with the Internet.
---
DevLake: DevLake brings your DevOps data into one practical, customized, extensible view.
---
BoxyHQ: BoxyHQ helps startups enable enterprise features in any SaaS app with just a few lines of code.
---
Medusa: Medusa is an completely open-source headless commerce platform.
---
Docz: Docz makes it easy to write and publish beautiful interactive documentation for your code.
---
Typesense: Typesense is a fast, typo-tolerant search engine for building delightful search experiences.
---
MobSF: Mobile Security Framework (MobSF) is an automated, all-in-one mobile application (Android/iOS/Windows) pen-testing, malware analysis and security assessment framework capable of performing static and dynamic analysis.
---
Chatwoot: Chatwoot is an open-source omnichannel customer support software.
---
Hoppscotch: Hoppscotch is an completely open source API development ecosystem.
---
---
Aviyel's Vision Towards Scaling Open Source Communities
At Aviyel, we want to help create a environment where everyone can benefit from open source software's freedoms and opportunities. Our platform encourages organizations and individuals to collaborate to develop communities of practice in which the open source ecosystem may thrive.
Mission of Aviyel
Aviyel is on a mission to enlighten people about the importance of using open source software and to develop relationships between diverse groups in the open source community.
Announcement📣: Aviyel Rewards platform
The open source market is currently in a delicate and fragile state. Most developers work for free, and there is no incentive structure in place. However, we want to break down that barrier by creating a showcase platform where contributors and maintainers can display their badges in order to inspire and motivate others to contribute to their project.
Aviyel assists in the development of long-lasting sustainable communities. Rewarding and incentivizing your contributors is a fantastic way to say support them and encourage them to work on their favorite open source project.
Configuring and setting up the Badges
The awards and badge feature is incredibly simple to set up; its really very easy to setup and configure your badge. We are keeping it simple because we want to give the contributors and maintainers of the projects the best possible user experience.
To configure your Aviyel badge, follow the steps outlined below.
Step 1 : First, choose the activities and contributions you want to include in the profile or program, keeping in mind that you can always add more to it later on.
Step 2 : Each and every point which the user earned can be configured for their individual activity, and we refer to these points as a seed, so each contribution can be rewarded with seeds, and remember that a collection of seeds unlocks badges and rewards, thus rooting and growing the reputation, so keep in mind that more contributions equals more seeds, which equals more Badges and rewards.
Step 3 : Use Seeds to unlock levels, and each level has a badge linked with it, so you can simply choose one of the themes to represent or track your contributors in this step. You have a lot of alternatives and plethora of theme options available to choose from, so you can go with whichever theme you desire.
Step 4 : The seed distribution will get plotted on a graph in this phase, which will help to figure out how many seeds we'll need to unlock each level.
Step 5 : kudos for your contributions, it's finally time to claim your badge. Claim your badge and proudly display and showcase it to others.
Showcase Your Open Source Contribution With Aviyel Today!
Contributor can proudly display their work and encourage others to join the open source revolution once they contribute to open source projects. Aviyel takes the contributors' badges extremely seriously since contributors will entirely own them as a token of ownership. Contributors can claim their seeds and badges by simply logging in with their GitHub account and proving their identity, following which they will have full access to the dashboard.
Once the GitHub account has been fully authorized, user will get prompted to describe and add some information about themselves.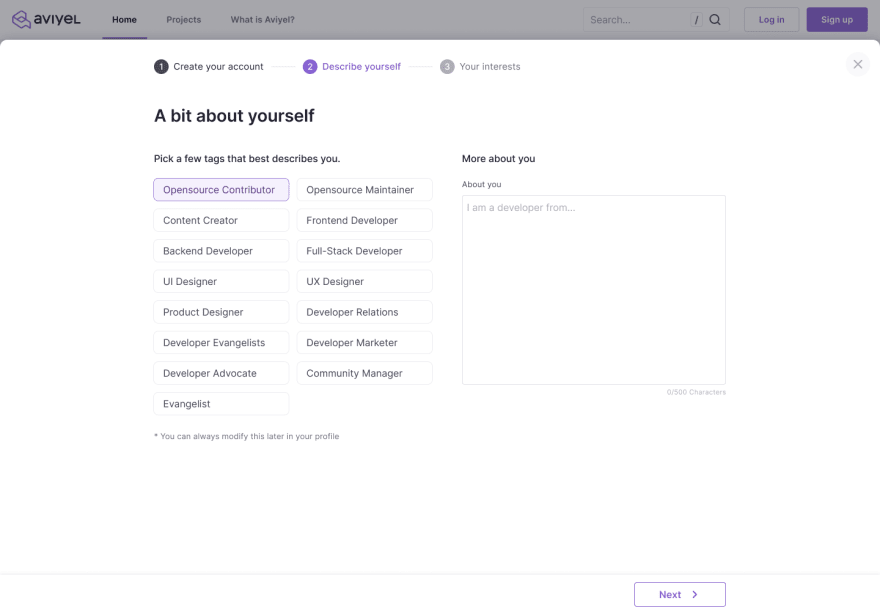 User will have three options to choose from:
early adopter
open source contributor
open source maintainer
Dashboard and Badges
Contributors are freely allowed to share their project awards and badges on their own Slack channels, Twitter, Discord, and various other social media platforms.
These badges can be minted as non-transferrable NFTs and placed in any wallet. This procedure will be simple to implement and will forever remain free.
Aviyel also offers a variety of other services, including:
Event Platform: The Aviyel Event platform, which is absolutely free to use, allows any user or anyone to arrange an event, a meetup, or an AMA for their community.
Content Platform: The Aviyel Content platform, which is also absolutely free to use, allows users and anyone to produce and share articles, content, AMAs, FAQs, and much more for their communities.
Community Dashboard: The Aviyel Community Dashboard allows users or anyone else to keep track of their community activities across multiple platforms.
---
BIG ANNOUNCEMENT📢: We are Launching our Rewards Platform on Product Hunt on June 1st!
One of our most eagerly anticipated features: Rewards Platform, is scheduled for a launch on product hunt on June 1st! It would mean the world if you could support us and give us some feedback. We will be there responding to your queries, and feedback.
Hopefully, we'll see you there! Also, you can make this launch a success by sharing our Product Hunt stories on various social media platforms.