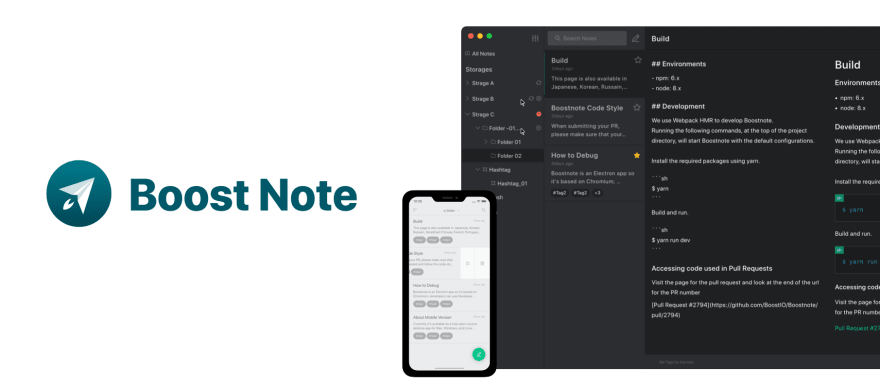 Main topics
The name has been changed from "Boostnote" to "Boost Note"!
We released the beta version of this web application (Windows, Linux and macOS)
We will release the mobile version (iOS and Android) around the end of the year
By utilizing cloud, we can synchronize across all devices
We started a crowdfunding campaign
A team version will be released next April
Why did you renew it now?
Hi! I 'm KZ from the Boost Note development team.
Today, the beta version of the renewed version of Boost Note, a markdown editor for developers, has been launched!
Boost Note has been used by 600k+ developers since its release and has grown with the help of the open-source community.
We received so much feedback via GitHub issues and Twitter. There was always doubt in our minds, and a question always kept popping up: "How much company resources should be devoted to Boost Note".
We also operated IssueHunt, an open-source developer support service. For this reason, Boost Note was updated by the community.
We deeply thank the people who enthusiastically submitted contributions and feature requests as well as those who helped us update Boost Note.
We have been worried for a long time. We have decided to start a Boost Note renewal project to deliver the services users really need.
I'm really happy to announce the beta release today. We will continue to develop and improve in the future.
The renewal version is also available as open-source, so I hope that everyone continue to contribute and make it into the tool that you hope for!
https://github.com/BoostIO/BoostNote.next
The official version will be released around mid-January, 2020.
In addition, the service name has been changed from "Boostnote" to "Boost Note" with the update.
This is because we anticipate releasing products of Boost series.
In addition to Boost Note's team version(We will name this Boost Wiki), we will release products to help developers. Look forward to it!
---
Main features
Cloud (CouchDB is used, so it can be used offline. Use of the cloud function is not required and local storage can still be used)
Multiple directories (it is possible to create an infinite number of child folders)
Multi-device (Web, desktop app and mobile app)
For this release, technical specifications are summarized in this GitHub issue.
Future releases
Plug-in store / Everyone can post and use their own plug-ins by converting uncommon features into plug-ins.)
Boost Wiki / It is a collaborative Boost Note for team. Click here for advance application. https://boostnote.io/wiki/
---
How to migrate data from old-Boostnote
First of all, thank you to all the users who have used Boost Note for a long time! Thank you for waiting.
You will need to manually transfer data from the old-Boostnote to the new-Boost Note (Just a few seconds!).
Please take the following steps.
From your PC, open the folder containing the old Boostnote data
Select .cson files
Open Preferences → Import at new Boost Note and upload files by drag and drop (complete!)
---
Announcement
Running a Kickstarter campaign
We have been using Kickstarter and we are crowdfunding until the end of this month.
This is a chance to get this CF limited goods, so please check it out!
https://www.kickstarter.com/projects/kazz-boostio/new-boost-note
Team version will be released next April
The team version of Boost Note is under development with the keyword "Sonar for your information".
Pre-application has started, and we plan to start distributing it to those who have applied in advance, so if you are interested, please apply here!
Thank you for your new Boost Note! Enjoy 😽