We studied 105 bootcamps and 133,392 bootcamp students using publicly available LinkedIn alumni data over the last decade and here are the results.
---
The Analysis
Our State of the Bootcamp Market Report analyzed data from over 130,000 coding bootcamp graduates who attended one of 105 US-based coding bootcamps. This data included information on graduate skills, top companies that hire bootcamp graduates, the locations of bootcamp graduates, and the number of people who have attended coding bootcamp.
For the purposes of this report, our definition of a coding bootcamp was: "An immersive, employment-focused educational program of typically 3-12 months' duration designed to help adults develop industry-oriented skills relevant to pursuing careers in tech."
In addition, we also analyzed the bootcamp market more broadly to find out more about where the market has been in the last decade, and where bootcamps could go if they reach their full potential in the next decade.
Market Size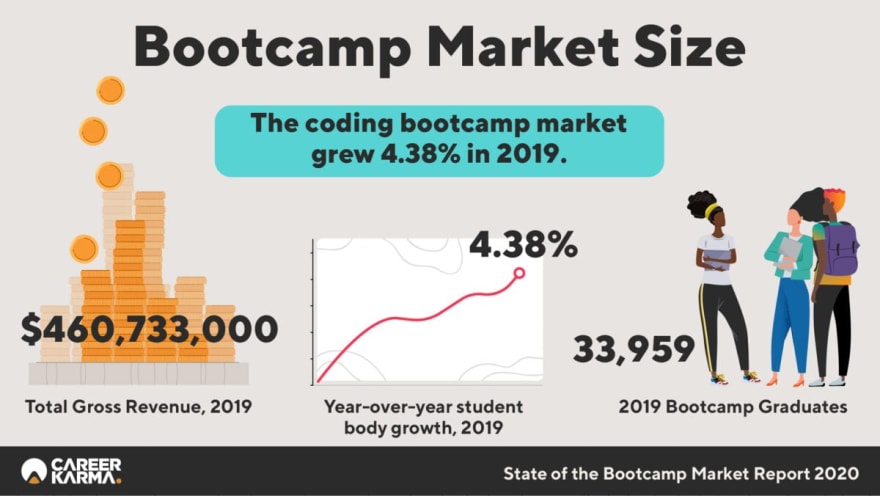 In 2019, 33,959 students attended one of the 105 coding bootcamps studied in this market analysis, representing a 4.38% growth since 2018. In addition, the number of students who attended coding bootcamp in 2019 reached an all-time high.
Historical Alumni Statistics, 2012-2019
The following chart shows the number of students graduating from bootcamps in the United States each year between the years 2012 and 2019. This data is not cumulative, and represents the number of graduating students in each year. In 2020, we expect the bootcamp sector to grow to an estimated 35,446 students.
In 2019, 6,995 students graduated from an online coding bootcamp, a 31.44% increase since 2018. The average tuition for these courses was $14,623.
Tuition revenue in 2019 was approximately $460,733,000, a 4.81% increase from $439,581,000 in 2018.
Bootcamp Costs and Financing
The average in-person bootcamp cost $13,293 in the US in 2019. The most expensive full-time programs charged over $20,000 in tuition. The most expensive full-time programs charged over $20,000 in tuition. The most common financing options offered by bootcamps were: upfront payment, installments, student loans, and Income Share Agreements.
We noticed a trend emerging with Income Share Agreements. In 2019, 27 US bootcamps offered ISAs to their students. The average terms were a 38 month term (length), $42,476 minimum income threshold, 13.8% income-share percentage, and a $32,754 payment cap.
Bootcamp Graduate Locations
Coding bootcamp graduates can be found all across the US. The top five metropolitan areas in 2019 in terms of how many bootcamp grads are employed in each city were New York City (46 bootcamps), San Francisco (33 bootcamps), Los Angeles (21 bootcamps), Seattle (18 bootcamps), and Washington, D.C. (16 bootcamps).
Top Employers
Companies of all shapes and sizes have hired coding bootcamps in the past. The five top companies who have hired the most bootcamp graduates as of 2019 were Google, Microsoft, Amazon, Facebook, and JPMorgan Chase & Co.
Largest Bootcamps
Coding bootcamps have been around for around a decade, and so there are a couple of bootcamps who are ahead of the rest in terms of student enrollments.
We identified the largest bootcamps by the total size of their student and graduate body. See the table below for the top ten bootcamps by the total number of students and graduates each school has served since being founded, as of December 21, 2019.
| School Name | Students (as of December 21, 2019) |
| --- | --- |
| General Assembly | 44,800 |
| Hack Reactor / Galvanize | 6,300 |
| Flatiron School | 5,600 |
| Ironhack | 4,500 |
| Bloc | 3,200 |
| Lambda School | 3,100 |
| App Academy | 3,000 |
| Springboard | 3,000 |
| Thinkful | 2,900 |
| Fullstack Academy | 2,700 |
The ten largest bootcamps in terms of the total size of their student body in 2019 were General Assembly, Hack Reactor / Galvanize, Flatiron School, Ironhack, Bloc, Lambda School, App Academy, Springboard, Thinkful, and Fullstack Academy.
Largest Acquisitions
Over the last few years, a number of acquisitions have taken place in the coding bootcamp space. Acquirers range from traditional education technology companies looking to expand to coding bootcamps who want to grow their businesses.
The top three acquisitions in the bootcamp sector in 2019 were 2U's acquisition of Trilogy Education Services ($750 million), Chegg's acquisition of Thinkful ($80 million+), and Bridgepoint Education's acquisition of Fullstack Academy ($17.5 million + 2.5 million shares).
The Future of Coding Bootcamps
Based on the information we gathered from our study, we believe that coding bootcamps have a promising future. We identified that coding bootcamps are filling a real market demand, offering people who are underserved by traditional educational options the ability to acquire the skills they need to pursue a career in tech.
In the next decade, we expect that a few trends will emerge. Firstly, coding bootcamps will become more focused on new subjects such as cloud computing and big data. This trend is expected to grow as demands in the technology sector change, and bootcamps look for new ways to convince people to learn at their schools. Secondly, coding bootcamps will focus more heavily on making their offerings unique, perhaps exploring living stipends, new career offerings, "earn and learn" arrangements, and new learning approaches. These will all help bootcamps attract new students, which will allow schools to compete in a growing market.
In addition, we believe that there will be a strong focus on offering new payment options to students. As we discussed earlier, ISAs became more common in 2019, and we believe that because they offer more favorable terms for people who are debt averse in many cases. But one financing option cannot work for everyone, and so bootcamps in the future will likely try to offer as many different options as possible, whether those be upfront payment, ISAs, installments, loans, scholarships, or G.I. Bill financing.
Finally, we expect that coding bootcamps will start to explore the "bootcamp agency" model more closely. This is where students work on real-life projects while studying. These agency models can help students develop a greater sense of what it means to work on a professional software development project, and provides useful experience in preparation for the job search.
Bootcamps have their limitations, of course. For people who are looking to pursue a computer science education, a university may be a better option, for example. And bootcamps are also more focused on specific technical areas rather than the broader "computer science" field. But with that said, coding bootcamps are helping enable access to a technical education for many people who are not served well by the traditional system. For people who want to break into a career in technology quickly, bootcamps have established themselves as a good option.
Coding bootcamps are still relatively new in relation to other training options such as computer science degrees and online courses, and so there is still a lot to be seen. However, given the massive growth realized over the last few years in the industry, we can expect that bootcamps will play an important role in the future of training people for jobs in tech.
Conflict of Interest Disclosure
Career Karma matches career switchers to bootcamps and job training programs. Career Karma is paid by bootcamps to help prospective students prepare for and get accepted into a training program based on their needs. In writing this paper, the author acknowledged this conflict of interest and took appropriate action to ensure the paper's findings were not influenced by any relationships with Career Karma partners, affiliates, or external stakeholders.
James Gallagher, the Career Karma main researcher assigned to this project, was given autonomy over the direction of this market study and the final authority on decisions pertinent to the content of this paper.
---
If you would like to use any infographics or statistics in the report, feel free to do so—just cite the original report https://careerkarma.com/blog/bootcamp-market-report-2020/
---
👋 If you found this study interesting, please ❤️
✍️ If you are a bootcamp grad or someone who has worked with bootcamp graduates on your dev team, please comment about your experience below.
🔮 If you're not in tech yet, what are your thoughts about the next 10 years for bootcamps? 🚀 or 💣