On 1 October 2020, Collabora Online moved to its new home on GitHub, and started settling in the new infrastructure, expanding its fantastic community, and continuing the work to deliver the latest and greatest developments in productivity and collaboration together. Check our new community website for all the details! ;)
Collabora developers also keep fixing and improving our lovely mother project LibreOffice. As all the good work requires some appreciation, let's take a look at what the seasoned developers of the Collabora team and the volunteer contributors from our community have been doing during the last two months.
Month in Numbers
On the Collabora Online code repository in the last month, 27 authors have pushed 269 commits to master and 538 commits to all branches. On master, 340 files have changed and there have been 13,568 additions and 6,539 deletions.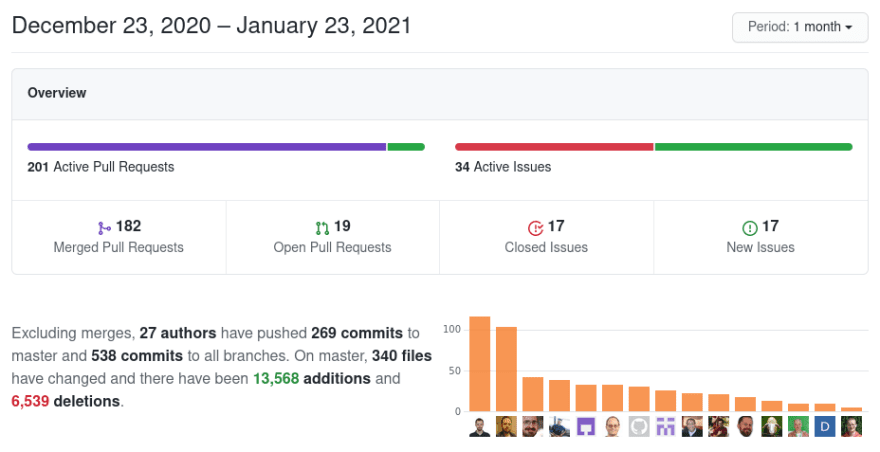 Development Activity on Collabora Online GitHub Repository from December 23, 2020 to January 23, 2021
New Contributors
Congratulations to Bayram Çiçek, Umut Bayramoğlu, Gabriel Masei, Shubham Goyal, and Martin Hoffmann for their first pull requests, and congratulations to Fly, kt-solutions, kevdogg, sseide, kratzersmz, Willem-Jan de Hoog, erikfdev, baffclan, duggalsu, Pascal R. sebastiaanveld, Roland Meier, Timmy183-ui, TijZwa, Christian Raue, pieter-groeneweg, RegisPerdreau, Tobias Kaminsky nabilys, shock, Furkan Ünlütürk, Parrenin Frédéric, mrslavutich, Bond Keevil, yaohao0814, Dan Smolik, Sven, dossantg, William Reed for reporting their first issues and improvement requests on our GitHub repository!
Thanks to Bayram Çiçek for contributing to one of our easy hacks, by porting some usages of unique pointers to leverage the Util::make_unique() function, and thus helping us make COOL future-proof by preventing certain potential memory leaks.
Thanks to Umut Bayramoğlu for helping us make COOL look even cooler by contributing a new top bar comment icon.
Thanks to Gabriel Masei for making it possible for users to have their own settings for UI mode (tabbed or classical toolbar) separate from the default configuration of the installation on the server, thus helping COOL to be even more customizable.
Thanks to Shubham Goyal for removing now unneeded Poco::Timestamp functions, thus making the Collabora Online code-base a bit cleaner and more lightweight.
Thanks to Martin Hoffmann for fixing our Docker build script for the from-the-source option, thus ensuring it doesn't cause issues with certain configuration options like –with-lo-path later.
Thanks to Fly for letting us know about an issue which caused some certain docker containers being restarted repeatedly. And the issue has already been fixed by Andras Timar.
Thanks to kt-solutions for reporting a DOM exception specific to the Chrome browser.
Thanks to kevdogg for reporting a permisson issue which was causing COOL 6.4.2.2 docker container failing to start. And the issue is again already fixed by Andras Timar. :)
Thanks to sseide for reporting multiple docker image issues related to time zones, and access permissions.
Thanks to kratzersmz for reporting outdated libpoco causing issues with elliptic curve configuration, which has been now fixed by Andras Timar.
Thanks to Willem-Jan de Hoog for letting us know about the COOL start script overriding the classic/tabbed menu preference set in loolwsd.xml, thus giving us the opportunity to improve the installation and configuration experience.
Thanks to erikfdev for providing valuable feedback on their specific installation, having an unexpectedly large systemplate, caused by the need for fonts in systemplate. Ashod Nakashian is already working on fixing that, which will potentially make specific large COOL installations much thinner.
Thanks to baffclan for taking the time to report a potential problem on mobile, and then also clarifying that it was in fact a bug on another product but not COOL.
Thanks to duggalsu for reporting a potential CSV open issue (yet to be confirmed) encountered on Collabora Office mobile version installed from F-Droid.
The search results for Collabora Office on F-Droid when our third party repo has been defined.
Thank you all, and welcome aboard! :)
Join the fun!
You can also join the fun, and be part of our next list of new contributors! :)
Just go to our GitHub repo, fork it, build it (on Linux or on any platform), grab one of our newcomer-friendly easy hacks, and send your first pull request. And if you get stuck at any point, just drop by one of our communication channels. ;)
Highlights
Collabora Online Weekly Meeting #11
COOL Weekly Meeting #11 has taken place on Thursday, February 04, 2021 at 11:00:00 am (UTC) with participants both from the community contributors and the Collabora team. We have got a quick update on what's going on and discussed matters raised by the contributors, as well as having the chance to say hi to fellow members of the community. Topics discussed in the meeting include:
During the quick update part by Muhammet Kara, it's been reported that COOL has got more than 60 new contributors (24+ code contributors) since the move to GitHub. It has also been mentioned that there are multiple talks by Collabora Online developers in the LibreOffice devroom of the upcoming FOSDEM in the weekend.
Pedro Silva has reported that the pull request for the CSV handling work has been tested and is ready to be merged, which will allow users to download Calc documents directly as CSV files, which also has a new icon contributed by Rizal Muttaqin. He has also shared an update on setup and workflow issues some design contributors have been experiencing, which turned out to be solvable by using our Gitpod (cloud IDE) integration and the daily built LibreOffice core archives which came as a nice side effect of it, to lift the burden of building LibreOffice core from scratch on the contributors.
It is possible to start hacking COOL in 10 minutes, independent of your operating system!
Nicolas Christener has shared an update on the status of the LibreOffice Template Contest, run by Adfinis, stating that they have got some good-looking submissions and they are considering extending the submission deadline.
Regarding the "JSON Toolbar / Notebookbar changes" topic, Jan Holesovsky has reported that they are currently working on improving style previews by converting the styles list into a scrollable, responsive list. He has also shared the latest status of the Async Saving effort, which would result in a much smoother experience when saves happen during a collaborative editing session, such as a lot of code refactoring on master and splitting of states into different classes.
Gökay Şatır has shared the latest developments on the CanvasTileLayer bits, which would let us have a much crisper look, especially on different zoom levels for all document types. It looks like the latest changes have been related to the columns and headers on Calc documents, along with some bits being moved to typescript, and a custom scrollbar is the next in line.
Michael Meeks has been working on load testing with an emphasis on Calc performance and bogus full-page invalidations which cause unnecessary performance penalties.
It has also been discussed that new CODE releases are being planned for the upcoming week, consisting of new improvements such as FontWork, incremental dialog / JSON update work, and async save.
Availability of COOL on Plasma phone has been brought up by Andreas Kainz, with a conclusion that some funding would be needed to port Collabora Online to Pine64. He has also reported that latest CSS changes for better alignment caused some scrolling issues, along with an issue on the Notebookbar container, which will be looked into by Pedro Silva and Szymon Kłos.
Padia Rashesh asked for some elaboration on an easy-hack related to invalidation debugging, and Michael Meeks explained the topic with a live demonstration. Padia has contributed through multiple easy-hacks so far, and it seems like he is just getting started. Pedro Silva is also providing some guidance via comments on pull requests.
Muhammet Kara has brought up that master and the 6.4 branch having different ESLint versions has been reported to be causing issues while backporting patches to 6.4. It has been concluded that many safe patches can be backported next week and tested on new CODE releases.
Check out the meeting minutes for the details of the meeting, and join us on Thursday, February 11, 2021, at 11:00 am (UTC) to stay in touch with the rest of the community. You may also make your own suggestions for the next meeting by following the link shared in the COOL Telegram group before the next meeting. We're looking forward to hearing from you live. ;)
Collabora Online (COOL)
Collabora Online Macro Selector Dialog
Cypress is a JavaScript end to end testing framework for any project running in a browser.
Collabora Office on Android & iOS
Thanks to Tor Lillqvist for various fixes and improvements on the iOS app such as fixing a crash that could happen in certain scenarios, and removing unused functions and constants.
Thanks to Mert Tümer for fixing a focus issue on text input of Calc documents on the Android app.
Collabora Online Integrations
Honorable Mentions
Thanks to Cor Nouws for leading the marketing team, and not stopping there but continuing with testing & reporting bugs, attending to community events, and keeping us all informed about what's going on. He also attends LibreOffice Design meetings from time to time to help COOL's mother project LibreOffice have a better UI & UX.
Thanks to Eloy Crespo for his efforts to help the project well-funded as always.
Thanks to Marc Rodrigues for continuing to keep us updated on various news around Collabora Online and related FOSS projects, and creating a lot of yummy content to read!
Thanks to Pedro Silva for improving various points around the COOL Community Page, and also for helping other contributors by providing instructions on their pull requests as well as reviewing them.
Thanks to Andras Timar for keeping us organized, maintaining our translation project on Weblate, and delivering hot new releases of our software!
Thanks to Yunusemre Şentürk for various tasks towards keeping our CI chains healthy.
Thanks to Jan Holesovsky for doing a lot of research on different topics, and providing mentoring/patch-reviewing/hand-holding/wisdom within the team, in our communication channels, and also on various channels of our lovely mother project LibreOffice.
Your friendly community mentor, Muhammet Kara, is also creating & improving easy hacks, running workshops, helping new contributors solving their setup & build issues and reviewing their pull requests, working on easing the build procedure, improving our GitHub presence bit by bit based on its community guidelines, compiling/composing these community updates…
Translators
Last but not least, we can't thank enough to our translators who constantly help COOL and its friends talk many languages on this earth. Collabora Online speaks many languages, thanks to all of our translators in our translation project, and all of those who previously contributed and keeps contributing to our mother project, LibreOffice.
We're continuing to work to find good ways to credit translators' hard work in the product. Please see a list of those involved, and please get in touch if you're not listed. Many thanks to all those who have worked on translating Online, you rock!
If you would like to help COOL speak your language, you can just go to our translation project on weblate, and start contributing! ;)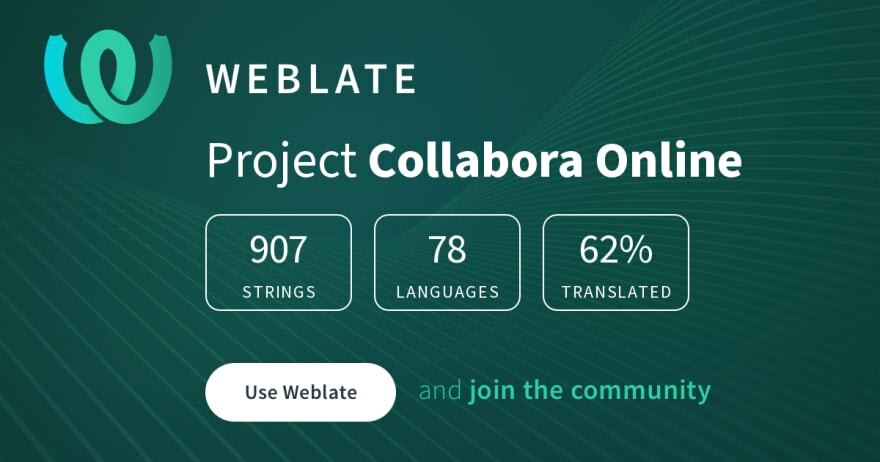 Collabora Online translation project on Weblate
Collabora loves LibreOffice!
We're still contributing to LibreOffice and encourage you too to do so because LibreOffice rocks. ;)
Thanks to Miklos Vajna for his work towards better PDF signature verification in Draw, thus potentially improving the user experience of LibreOffice for related scenarios. Check out his blog post for the whole story!
Thanks to Miklos Vajna for improving support for shadows of table shapes for PPTX files, thus ensuring better interoperability with other office suites and non-native file formats. Check out his blog post for details!
Before: Old render result in Impress
After: New render result in Impress
Thanks to Tomaž Vajngerl for his work towards developing a built-in Xray-like UNO object inspector. Check out his blog post to see what has been done so far and what is planned next. This effort has been funded by The Document Foundation, so also thanks a lot to the TDF Board of Directors, and the TDF donors who made the work on this tool possible!
Development Tool in the menu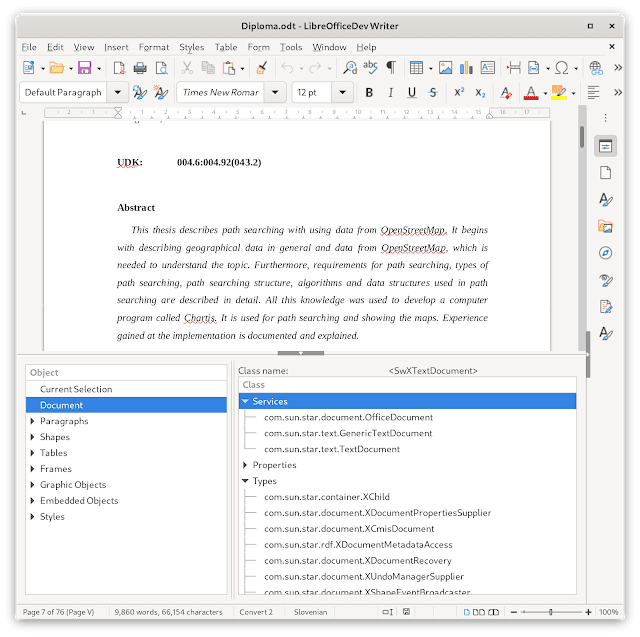 Development tool dockable window
Thanks to Gülşah Köse for fixing a bug that was causing certain images on a PPTX file to be shown as mirrored when opened with LibreOffice, and also for fixing a bug that was causing certain images on PPTX files being rendered with unusual aspect ratios, thus improving interoperability with other office suites.
Thanks to Noel Grandin for doing various code-quality improvements and modernization all around the LibreOffice code-base.
Thanks to Tor Lillqvist for a lot of fixes and improvements especially towards better support on macOS.