The Problem
I've been active on Twitter lately
👉 Follow me:
Supper active like non stop scrolling down my feed 😂
And I saw a tweet
Mc Art Neil Gamutin

@mcartneil

@WellPaidGeek

That's true, but without L.A.P.T.O.P - the more we struggle to understand the code just like me. Maybe I should just watch on youtube with searching fundamentals.

14:01 PM - 01 Jul 2020
"what about those who doesn't have access to a laptop/computer"
This is my classmate, and I know him as one of the most passionate developers I meet.
And he had the opportunity during his internship to get hold of a laptop/computer.
Sadly due to the COVID-19 our internship were set to a hold.
---
It hit me hard as I always complained how my laptop doesn't have a graphic card, needs constant electricity, heavier than a math textbook.
While I had a friend who was struggling doing the things he is passionate about because he doesn't have a laptop.
---
So I thought through, made some research and made this
How to become a laptopless developer
One way to learn as a developer, or in anything actually. You need to apply on the things you've learned
And how are we going to do that?
Well lucky for you, I made this list on awesome tools you can use with just your phone
These are chosen base on searching the word code in Google Play Store-
This may vary on OS
---
The Review
🎆Features:
Syntax highlighting
10,000+ lines support
Small size 2.2mb
Multi tab editing
🔑 My comment:
Fair perspective this is just an editor Not really and IDE but just so you can edit
✅ Pro:
Works offline
And small storage
❌ Con:
Doesn't have a debugger, you can't tell whether you're writing your code correctly or not
🎆 Features:
Rich Text Editor with Syntax highlighting.(Code Editor)
Line number, Auto indent, Autocomplete Parenthesis.
Undo Redo.
File Open/Save.
Custom Suggestion View.
Multiple Language Support.
User input for languages like C, C++, Java, Php, JavaScript, Node.js and others.
Active debug view for faster access to Output.
Thoroughly designed Algorithm problems to improve coding Skills and make programmers industry ready.
Leader Board: To know where you stand amongst the vast Dcoder community.
Custom Menu Drawer, Custom Code Editor Themes, Editable font Size for Editor and much more!!
🔑 My Comment*:*
✅ Pro:
Have terminal
Social network
❌ Con:
Limited due to cloud base storage
online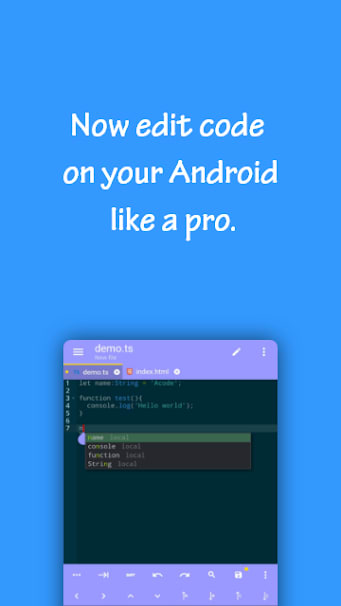 🎆 Features:
NOTE: You cannot run programs other than HTML, MarkDown and JavaScript, means you cannot run Python, PHP, Java, C/C++, etc, but you can use Termux along side Acode to run these programs
No ads
Edit any file from your device.
GitHub support
FTP support (No SFTP yet, plans to add it later)
Supports syntax highlighting for 100+ programming languages
Dozens of themes
User friendly
In-app HTML/Mark Down preview
Interactive JavaScript console
In app file browser
Open source
Supports 50,000+ lines
Fast work flow
Open more than one file
Customizable
Keyboard shortcuts
🎆Features:
Clone public or private (requires app password/token) repositories
Quick snippets keyboard for faster code edits
Git client integration (checkout/pull/push/commit/log)
Diff viewer for git-enabled projects
Preview web pages on your device
Project or file code searching
Code syntax analysis and smart auto-completer
Code completion and context provider (signature/definition lookup)
Auto code-indentation (using js-beautify)
Light/dark themes available
Integrated JavaScript console
Preview markdown
Export/import project/files to zip file
Works offline (fixed)
CSS Color selector
Cool JavaScript labs to play with
🔑 My comment:
✅ Pro:
Good for Web Development -
⚠️ Has dev tools for web
❌ Con:
Can't run programs that are not HTML, CSS and JS.
🔑 Conclusion
Eventually if you want to practice on a particular language other than JS

⚠️ But I found out you can actually run your own terminal using Termux

and can even install python

Which will be another topic for another day

👉Follow me to get update of that blog!

Web Development

I'll go with SPCK Editor

✅ Its just like vscode in your phone
✅ Also has Emmet!
✅ Plus to add works offline!
✅ Has web tools!

Simple Editor

Acode is your man

✅ Just have better features
✅ Like the extra toolbar for common movements
✅ Intellisence
Tell me more if I missed any!