Project management software plays a huge role in the majority of companies' work process, and while project management products are many, Jira remains among the most popular ones.
Jira was originally designed in 2002 as an issue tracking tool for software developers. However, it has drastically evolved over the years and turned into a platform that easily meets a varying set of management needs in highly diverse teams and professional spheres.
Today's Jira comprises functionality for:
Project planning,
Progress monitoring,
Performance analysis,
And team collaboration.
Besides, it allows for the integration with a plethora of other useful apps and Chrome extensions, including smart automatic time trackers like actiTIME.
Since Jira's native time tracking feature supports only manual entry, such integration has multiple advantages. Automatic time trackers let users record hours spent on various tasks more accurately and provide a more realistic insight into the team's time management behaviors. With their assistance, you can enhance your project management experience and boost team productivity in the long term.
In this article, we will discuss different ways to track time in Jira, the benefits of the practice and how to perform it. But first, let's talk a little about Jira itself, the main functionality of the tool and some perks it offers.
What Is Jira?
As a project management platform, Jira comes in two primary versions:
Jira Software – Like the original Jira 1.0, this product is created primarily for the use of software development teams (and especially agile ones) but includes an extended list of valuable features for running projects across their life cycle: planning, tracking, release management and reporting.
Jira Core – This tool serves the very same project management purposes like Jira Software but is intended for teams across diverse spheres of performance: marketing, HR, finance and many more. Jira Core incorporates features for workflow planning, task management, progress monitoring and performance analysis – everything required for successful project completion.
Jira Templates
To commence task management and team collaboration in any of the above products, you first need to design a project with one of the in-built Jira templates:
Scrum (Jira Software) – With this template for agile project management, you can plan sprints, create backlogs, visualize task progress on the Scrum board and communicate on to-dos through comments. If your team adheres to the Scrum methodology and undertakes a highly flexible, collaborative approach to work, then this template will be a perfect fit for you.
Kanban (Jira Software) – Another Jira template for agile teams provides a straightforward visual overview of all the planned project activities and progress in their completion on the Kanban board. It allows for more efficient workload management, task prioritization and performance monitoring.
Classic Business Project (Jira Core) – Jira has a series of templates for varied management processes (e.g., document approval and task tracking), as well as different organizational units and their activities (e.g., content management, recruitment, procurement, etc.). These templates are designed considering the unique needs and characteristics of diverse teams and the areas of their performance. Therefore, you won't have to customize templates and design workflows from scratch. This will let you integrate Jira into daily work much quicker.
Time Tracking in Jira
Time tracking has a long history and was used even by ancient communities to accrue workers' wages. Today, the practice serves the very same purpose, but, in addition, it plays a pivotal role in contemporary project management by helping managers to:
Keep track of current team progress,
Monitor project costs and revenues based on labor expenses and billable hours,
Obtain historical data for better planning and estimation of future projects.
In other words, time tracking allows managers to stay aware of almost every aspect of project performance and, hence, enables them to improve outcomes significantly.
There are three ways to track time in Jira:
1. Jira's native time tracker
The primary purposes of Jira's in-built time tracking feature are to show how many hours are spent on tasks and to ensure compliance with original time estimates.
To see it in practice:
Open Jira's task settings by clicking on an item in the Board interface,
Indicate a time estimate for a task in hours or days (1d = 8h by default),
And make a time entry once you've stopped working on it.
After these three simple steps are completed, the time spent on the task and the time remaining will become available for review.
2. Time tracking through app integrations
As we have already mentioned, Jira supports integrations with plenty of other apps. To find one for yourself, simply click on the + Add apps button in the task settings interface and search through a list of instruments showcased at the Atlassian Marketplace.

You'll see hundreds of free and fee-based apps for almost any need there. Some automatic time trackers and work logging tools are on display as well, and you have a chance to try them out at no cost during a trial period.
3. Time tracking with Chrome extensions
Another great way to track work hours in Jira is through a Chrome extension, and actiTIME is one of the best options available out there.
With actiTIME, you can track time spent on Jira issues and tasks automatically. Just click on the Start button and stop the counter whenever you've finished the work – all the data will be safely synced with your actiTIME account.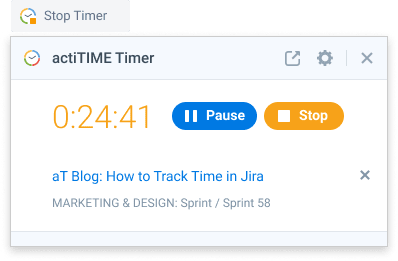 In this way, actiTIME will:
Rid you of all the troubles of manual time entry,
Enable you to track time without distractions from the main work process,
Increase the accuracy of time tracking in Jira multifold,
Deepen your insight into time management behaviors of your team with comprehensive statistics and reports.
By combining Jira and actiTIME, you can control your projects better, see how much time different tasks consume, educate yourself to make better workload distribution decisions, and more.