React!
In less than a decade of existence, React has indeed grown in leaps and bounds. It has become the preferred choice of developers. Quite a level of achievement for a technology to achieve in such a short time.
Here's a list of free React templates you can use for your next project!


Here we go!
React Blur admin can be used to build admin dashboards on your React applications. This template has tables, forms, maps, charts, UI features, color schemes, pages, and more Download it here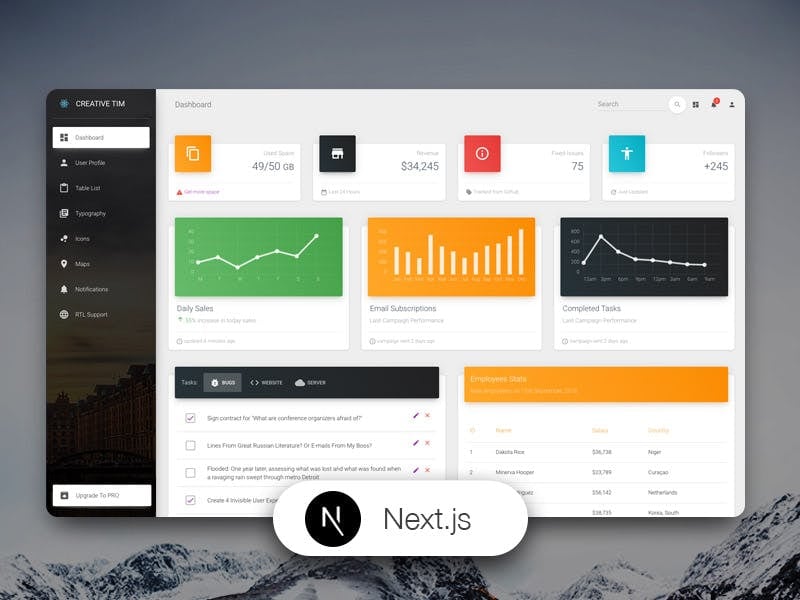 NextJS Material Dashboard is a free Material-UI, NextJS, and React Admin with a fresh, new design inspired by Google's Material Design. It is fully coded, with plugins, elements, SASS files, and more. See it's Live Demo


WrapKit React Lite is a free React website template that allows you to create stunning websites, landing pages, homepages, and more. It comes with ready-to-use UI Blocks & Elements to help level up the design and aesthetics of your project. See it's Live Demo
React JS Landing is a one-page view landing template for startups, companies, and digital agencies. It has amazing icons, galleries, customized forms, and more. See it's Live Demo

Blueprint is a React-based UI toolkit for the web. It is optimized for building complex, data-dense web interfaces for desktop applications. See it's Live Demo


Light Bootstrap Dashboard React is an admin dashboard template designed to be beautiful and simple. It is built on top of Light Bootstrap Dashboard and React JS and it is completely responsive. It comes with a big collection of elements that will offer you multiple possibilities to create the app that best fits your needs. It can be used to create admin panels, project management systems, web applications backend, CMS or CRM. See it's Live Demo


TRebass is a primitive UI component built with styled-system. It is known to be one of the best React component libs out there. It is responsive, supports styled-components, flexbox, and more. See it's Live Demo


React Reduction is a free and Open Source admin template built with React and Bootstrap 4. It comprises charts, widgets, pages, cards, components, typography, and more. See it's Live Demo


Open is a landing page template designed to showcase open source projects, SaaS products, online services, and more. It is very responsive, robust, and has interesting animations. See it's Live Demo


Shards Dashboard Lite is a free React admin dashboard template pack featuring a modern design system and many custom templates and components. It is fully responsive, performant, and follows all the best practices. See it's Live Demo


Argon Design System is built with over 100+ individual components, giving you the freedom of choosing and combining. It comes with prebuilt examples which will help to ensure the development process is seamless. Interestingly, all components can take variations in color. See it's Live Demo


This is another amazing React dashboard template made using React, Redux, and Bootstrap 4. Here are some of its features: Code splitting, suspense, lazyload, different color styles, etc. See it's Live Demo


MatX is a full-featured React Material Design admin dashboard template built with React, Redux & Material UI.
It has various features needed to kickstart a new project; Material UI components, Form elements, JWT authentication, Sign-in pages, Code splitting, and more. See it's Live Demo


Notus React is a free and Open Source template. It is an extension of TailwinCSS but does not change or add any CSS to the already one from Tailwind CSS.
It features multiple HTML elements, and it comes with dynamic components for ReactJS, Vue, and Angular. See it's Live Demo


Now UI Kit React is a free Bootstrap 4, React, React Hooks, and Reactstrap UI Kit provided for free by Invision and Creative Tim.
Released about a year ago with over 11,756 downloads so far, the features of the Now UI Kit React are second to none. You should definitely check it out. See it's Live Demo




Suggested by user Malek Tarboush from comments, Core UI's React admin dashboard is truly a steal.


React Resources
Suggested by user Jakub Michnowicz from comments, Ant Design is a React UI library that has a plethora of easy-to-use components that are useful for building elegant user interfaces. Created by Chinese conglomerate Alibaba, Ant Design is used by several big names: Alibaba (of course), Tencent, Baidu, and more.




Suggested by user Fernanda Shinoda from comments, Material UI is a component library for React teeming with powerful components that you should be using in your projects. If you're just looking to create a good looking app, Material UI can provide you with solid pre-styled components that will get the job done.


🍁 That's it for now. Do you have any other resources related to ReactJS? Let me know in the comments!
PS: You might want to check out my other posts:

Adios!
👋