(a number of updates to this post got lost in digital nirvana - please come back in a few days for the enhanced version of this article...)
Recently, several AI (artificial intelligence) based image generation systems became popular.
This article gives a glimpse of what is currently (October 2022) possible with three major players in this league. In addition, you can learn a bit about different styles of art.
If you want to try for yourself, the first three systems require a (free) registration and will allow a few images to be generated free of charge.
Craiyon can be used without registration.
Beware: Playing around with these image generators can become an addiction - so you might want to set a timer before you start (at least I spend hours and hours ...)
Our subject
Yoda (/ˈjoʊdə/) is a fictional character in the Star Wars universe. He is a small, green humanoid alien, powerful with the Force and a leading member of the Jedi Order.
quoted from Wikipedia
Ok, you already knew this, I suppose.
All rights to the original Yoda character belong to Disney Inc. and George Lucas.
A short introduction to Yoda
DALL.E created this with the query "photo realistic image of yoda".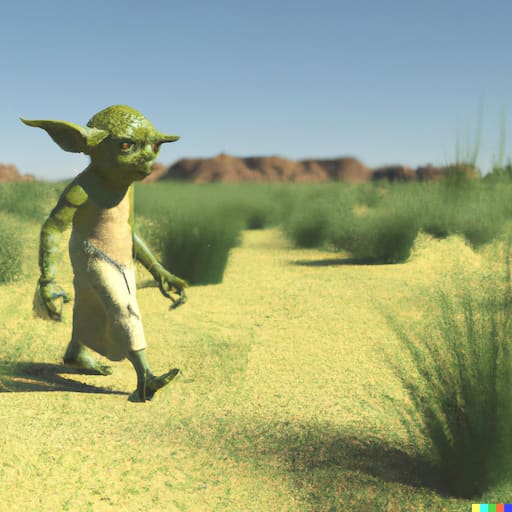 This image has also been generated by DALL.E, with the command "Yoda walking in desert".
"Yoda on the beach" was the phrase that made DreamStudio create the previous one.
Yoda as drawn by real artists
And now let the AI systems re-create the styles of various famous artists, starting a few hundred years back.
Yoda in style of Giovanni Bellini
Giovanni Bellini (born approx. 1430) was an Italian Renaissance painter, from the Venetian school.
Yoda in style of Hieronymus Bosch
Hieronymus Bosch (born approx 1450) was a Dutch painter, a representative of the famous Netherlandish painting school.
No, it's not guy from the current detective and crime series you saw on your favorite streaming channel...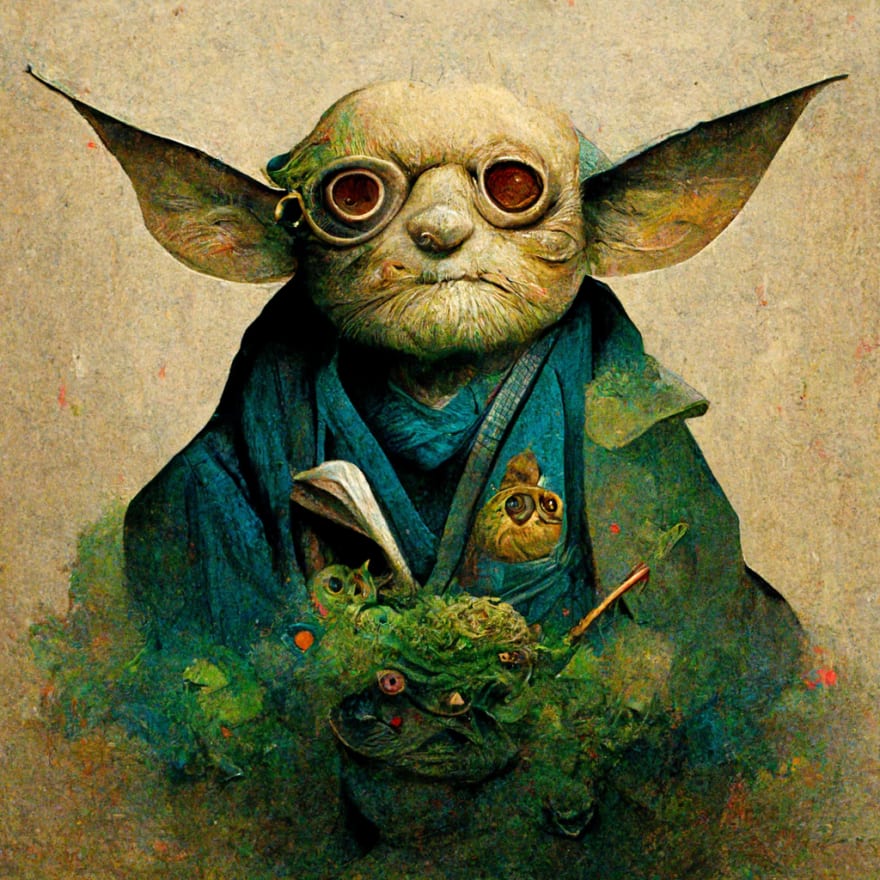 Yoda in style of Leonardo da Vinci
Leonardo da Vinci (born 1452) was an Italian multi-talent, who was active as a painter, engineer, scientist, architect and other disciplines.
Yoda in style of Albrecht Duerer
Albrecht Dürer (born 1471) was a German painter of the Renaissance, especially famous for woodcut prints.
Yoda in style of Giuseppe Arcimboldo
Giuseppe Arcimboldo (born about 1527) was an Italian painter best known for creating portrait heads made entirely of objects.
Yoda in style of Rembrandt
Rembrandt (born 1606) was a Dutch Golden Age painter and is considered one of the greatest visual artists and the most important in Dutch art history.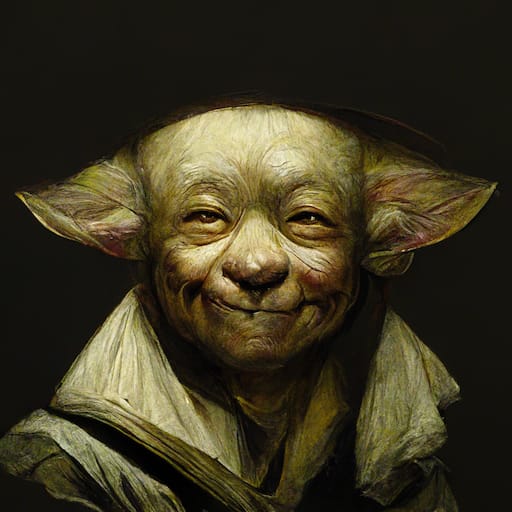 Yoda in style of Francisco Goya
Francisco José de Goya y Lucientes (born 1746) was a Spanish romantic painter, considered the most important Spanish artist of the late 18th and early 19th centuries.
Yoda in style of Carl Spitzweg
Carl Spitzweg (born 1808) was a German romanticist painter of the Biedermeier era.
Yoda in style of Edgar Degas
Edgar Degas (born 1834) was a French Impressionist artist, known for his pastel and oil drawings.
Yoda in style of Thomas Moran
Thomas Moran (born 1837) was an American painter in New York whose work often showed the Rocky Mountains.
Yoda in style of Paul Cézanne
Paul Cézanne (born 1839) was a French artist and Post-Impressionist painter whose work lead the 19th-century style of painting to the radically different painting of the 20th century.
Yoda in style of van Gogh pointilism
Vincent van Gogh (born 1853) was a Dutch Post-Impressionist painter who became one of the most famous individuals in Western art.
Yoda in style of Gustav Klimt
Gustav Klimt (born 1862) was an Austrian symbolist painter.
Yoda in style of Edvard Munch
Edvard Munch (born 1863) was a Norwegian painter. His best known work, The Scream (1893), has become incredibly famous.
Yoda in style of Alfred Stieglitz
Alfred Stieglitz (born 1864) was an American photographer who made photography an accepted art form.
Yoda in style of Kandinski
Wassily Kandinsky (born 1866) was a Russian painter and art theorist. Kandinsky is generally credited as one of the pioneers of abstraction in western art.
Yoda in style of Emil Nolde
Emil Nolde (born 1867) was a German-Danish painter, one of the first Expressionists, a member of Die Brücke, known for exploring color.
Yoda in style of Paul Klee
Paul Klee (born 1879) was a Swiss-born German artist with an individual style influenced by expressionism, cubism, and surrealism.
Yoda in style of Pablo Picasso
Pablo Picasso (born 1881) was a highly influential Spanish painter, who co-founded the Cubist movement.
Yoda in style of Joan Miró
Joan Miró i Ferrà (born 1893) was a Catalan painter, known for Surrealistic paintings.
Yoda in style of Norman Rockwell
Norman Rockwell (born 1894) was an American illustrator, known for reflecting the country's culture in his images.
Yoda in style of Salvador Dali
Salvador Dali (born 1904) was a Spanish surrealist artist known for his technical skill, and bizarre images in his paintings.
Yoda in style of pointilism
Yoda in style of Roy Lichtenstein
Roy Lichtenstein (born 1923) was an American pop artist. Along with Andy Warhol and others he lead the new art movement.
Yoda in style of Robert Rauschenberg
Milton Ernest "Robert" Rauschenberg (born 1925) was an American painter whos works anticipated the Pop art movement.
Yoda in style of Bernard Buffet
Bernard Buffet (born 1928) was a French painter, known for his extensive body of primarily figurative work.
Yoda in style of Andy Warhol
Andy Warhol (born 1928) was an American visual and film artist who was a leading figure in pop art style.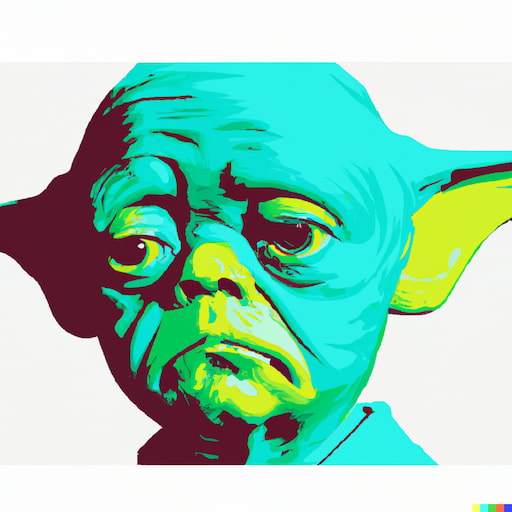 Yoda in style of Walasse Ting
Walasse Ting (born 1929) was a Chinese-American visual artist, known for his colorful paintings.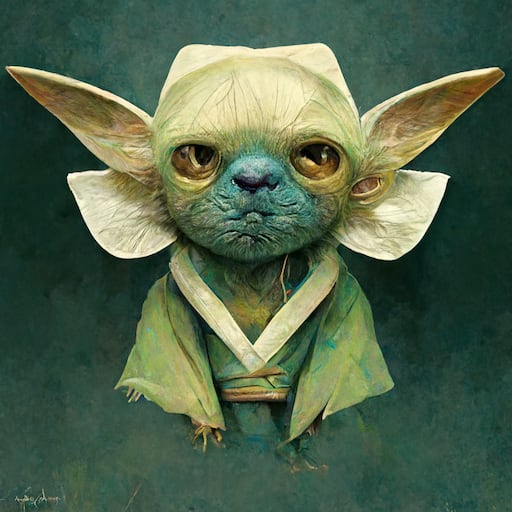 Yoda in style of Solomon LeWitt
Solomon "Sol" LeWitt (born 1928) was an American known for various styles, including conceptual art and minimalism.
Yoda in style of Fernando Botero
Fernando Botero Angulo (born 1932) is a Colombian figurative artist and sculptor, who often depicts people and figures in exaggerated volume, which may represent political criticism or humor.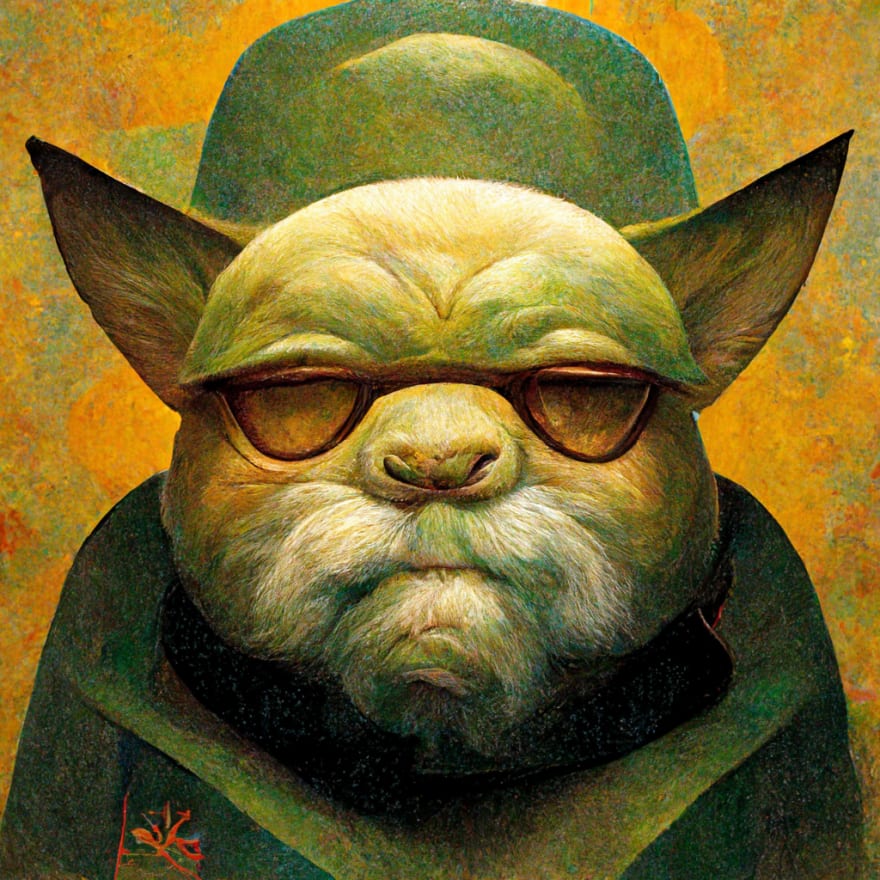 Yoda in style of Gerhard Richter
Gerhard Richter (born 1932) is a German visual artist, known for his abstract and photorealistic paintings. He is one of the most important contemporary German artists.
Yoda in style of Yoko Ono
Yoko Ono (born 1933) is a Japanese multimedia artist, singer, songwriter, and peace activist, formerly married to John Lennon.
Yoda in style of Keith Haring
Keith Haring (born 1958) was an American artist, whose style emerged from the New York City graffiti pop art of the 1980s.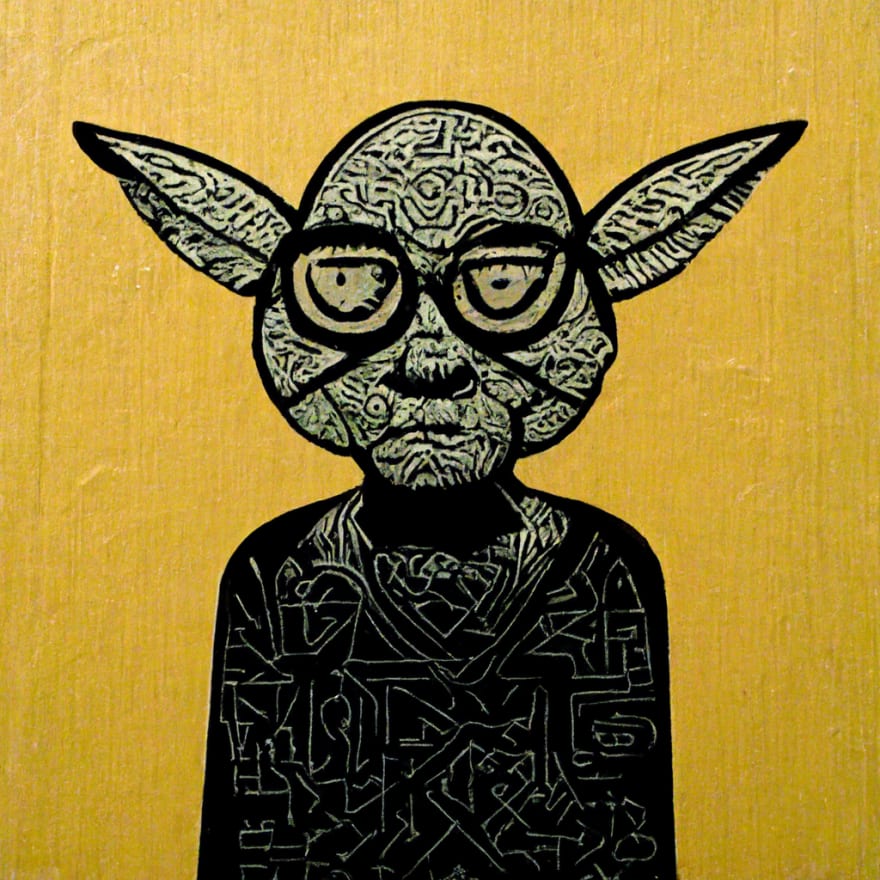 Yoda in style of Kehinde Wiley
Kehinde Wiley (born 1977) is an African-American portrait painter based in New York City, known for naturalistic paintings.
Yoda in style of Yasutomo Oka
Yasutomo Oka (born 1983) is a Japanese painter, known for his photo-realistic paintings.
Yoda in style of Banksy
Banksy is a pseudonymous England-based street artist whose real name and identity remain unconfirmed.
Yoda in various art styles
Please see the following article for a detailed introduction to art styles in general.
Yoda in modern African style
| Craiyon | DALL.E |
| --- | --- |
| | |
Appendix
Copyrights on these images
The platforms used to generate these images handle copyright in slightly different manner.
Please let me make the following explicit: I did never upload, modify or otherwise use any official image of YODA, as these might or will be copyrighted and trademarked by Disney Inc. and George Lucas as the inventor and creator of the YODA character.
Concerning DALL.E copyrights
See their terms of service
You may provide input to the Services ("Input"), and receive output generated and returned by the Services based on the Input ("Output"). Input and Output are collectively "Content." As between the parties and to the extent permitted by applicable law, you own all Input, and subject to your compliance with these Terms, OpenAI hereby assigns to you all its right, title and interest in and to Output.
Concerning Midjourney copyrights
See their terms of service:
Subject to the above license, you own all Assets you create with the Services. This does not apply if you fall under the exceptions below.
These exceptions are unpaid members and large coorperations.
More information
Acknowledgements
Thanx to Lisa Moritz and Peter Hruschka for additional suggestions.