Hey devs, my first post here! :) Excited to announce my project, Mindspace! I quit my job three months ago and since then I've been developing this. It's now available for everyone.
What is it about?
Mindspace is a simple platform, or ... 😇 a mind space ... for everyone to create and learn various topics in the form of crash courses. For free. Forever.
Compared to other MOOCs, Mindspace is very simple by design. There are no quizzes, signup requirements, or barriers to learning the topics you love.
Regular courseware on MOOC platforms and universities do help students and professionals by providing them with academically disciplined knowledge, but for a casual self-learner, it's unnecessarily complicated. They're lengthy, video-centric, and mostly paywalled with irrelevant hoops to just understand a topic they love to.
I believe crash courses are simple, efficient, and above all easy to consume for casual learners.
---
Here are the highlights of Mindspace with some pretty images! (I love playing with shapes and Inkscape gradients! 😋)
Each Mindspace lesson and the associated discussion space has an intentional character limit of 3000. This restriction forces the creator to simplify and untangle his knowledge to its elements so the lessons stay true to the definition of a crash course.
And to retain the authorship of the creators and preserve their selfless communal interests at the same time, all creations at Mindspace will be licensed under CC BY-NC-SA 4.0 International Licence. This makes all crash courses (and the discussions that follow) reusable for all non-commercial initiatives everywhere.
---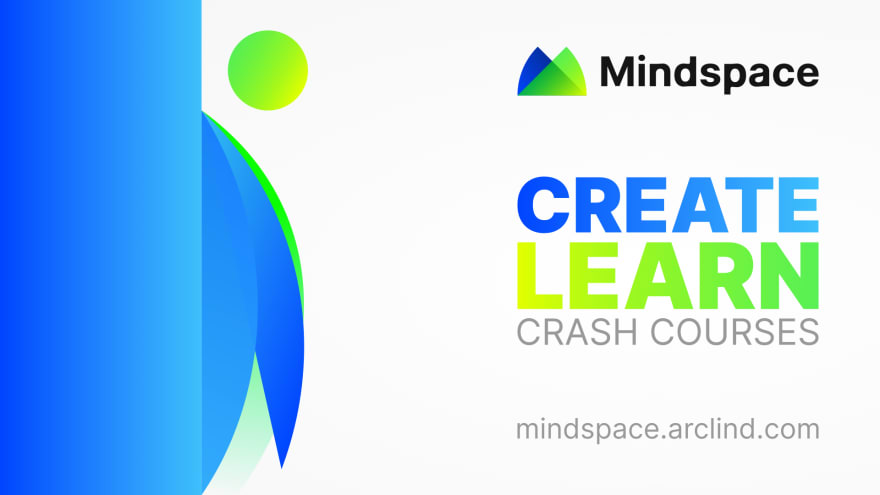 Creating a crash course is easy. Mindspace supports markdown. There's also a private mode if you'd like to publish courses for yourself ... say when you are trying to re-learn a topic yourself.
The community is new and small. If you are a creator or an educator, you can signup at https://mindspace.arclind.com/accounts/signup and contribute your knowledge. As an early contributor, your contributions will be recognized as the Mindspace creative community grows.
---
I'd love to hear your thoughts on this. ⚡
Thanks for reading this. Good day everyone! 😇
---
Update: The new version of Mindspace now has another cool feature - Sparks. You can now share instant sparks of knowledge.