This post is a place where I will share my experience, and everything I write will be about my journey and my opinions about the platform and especially what I learn during this journey.
I will update this post regularly after each new important step.
I suggest you come back here from time to time to read this post if you want updates.
---
Table of Contents
What is LinkedIn Learning?
Let's start with the basics. Maybe you all just know LinkedIn Learning but if the name is new to anyone, I will now tell you more about what it is.

LinkedIn Learning is a learning platform with three content main categories: Business, Creative, Technology.
Of course, there a lot of subcategories inside each main category.
There is a lot of free content but with you can access to everything buying a subscription.
If you have Microsoft Viva Learning at work, you can also access to the LinkedIn Learning content from the application.
You can find the list of the free courses available on Microsoft Viva Learning: https://docs.microsoft.com/en-us/viva/learning/linkedin-learning-free-courses
How to join LinkedIn Learning as an instructor
There are several ways to join LinkedIn Learning as an instructor.
At this link https://learning.linkedin.com/en-us/instructors you can find an application form to apply as a teacher on the platform.
If you are not confident with your English, there a lot of content in other languages and also in the application form you can select your preferred language to create content.
I think there is a long waiting list, but you can try it.
Another way to join the LinkedIn family is to be referred by an existing LinkedIn Learning instructor.
Check if someone in your friends circle is inside the platform and asking 🙂
In my case, a content manager reached out to me after seeing my GitHub Star nomination and asked if I would be interested in creating a course with LinkedIn.
This is the first email from the LinkedIn Content Manager 🙂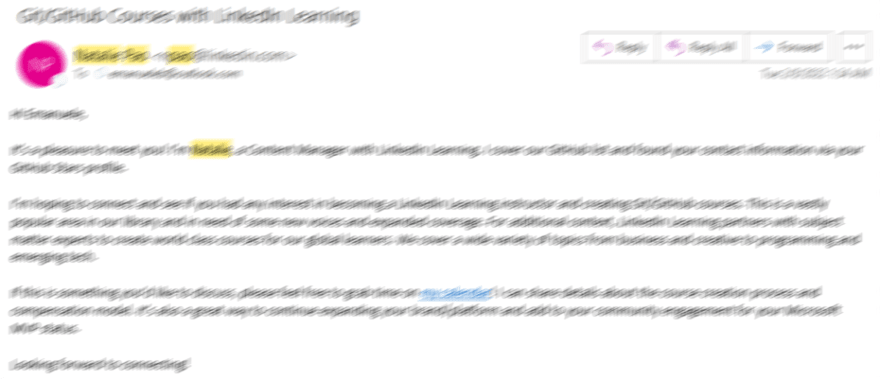 But it's not easy as you can imagine, take a look at the next chapter 💪
A sample video lesson
To discover if you are a good instructor, there is no other way to check it in the real field.
The content manager asked me to record a short video (3-5 minutes) about something I would like to teach to someone.
At that time, I chose GitFlow because I did a few weeks before a lot of lessons about it and it's one of my favorite topics in the last 3-4 years.
For recording the video, I used Camtasia and all my stuff that I used to live streaming on Twitch.
If you want to know more about my setup, you can go here.
The first attempt was a failure because I was so nervous and the result was really bad, honestly.
After few days the content manager came back to me with a "No, please try to do it again and try to write down a short script before recording".
And BOOOOM!
The result was more fluent and not so very bad like the first one.
They accepted my sample video at the second shot.
If you want to try, it's not easy and recording video needs to be patient and trying again and again.
Two times is not so much.
The Table of Contents
In my case the topic was chosen by my content manager, but I had the opportunity to choose a specific topic from many and I had chosen "Git and GitHub".
After this hard choice, I started to create the real "Table of Contents"
This is new kind of activity for me because I never did a real table of contents for my blog posts or for my articles.
It's really hard but I found inspiration from other courses and articles on internet.
I tried to insert something new and something old concepts.
What I found really hard during this activity is to find a flow through all the chapters.
For each chapter, you have to write a title and a summary keeping in mind that the results should be a video with 4-5 minutes duration.
It seems easy but it's not.
Scripting
When the Table of Contents are ready and approved by the Content Manager, LinkedIn chooses for you a producer.
A producer is an awesome person who will assist you during all the phases starting from this one.
They help you to writing and reviewing the scripts and also assist you during the recording phases.
They are coaches, not there to control you.
Generally, you have to write 400 to 500 words because is the average of words for a video with 4-5 duration.
Of course, this is not a written rule, and it depends on the chapter topic.
For instance, an intro video should be shorter than the others.
I have tried some methods to write a good track without doing much rework.
I have tried to write down a chapter from scratch, with Word.
It worked for me, but I was really slow, and I did a lot of rephrasing to have a good speech flow.
But the method that I like the most is to use the "Dictate" mode of Microsoft Word Online.
This feature is present only in the online version, but you can use it for free.
My method to write a good speech is trying to speak as in a normal speech with people. It's more my comfort zone and it's easier for me to write more words instead of 100-200 words for a chapter.
I have to stop after a while, or I write too much.
I received also a recommendation from my producer in one of our conversations.
The producer told me to write down at least the topics that I would like to talk about within the current video.
So, I open a notepad before every new chapter, and I try to find the key topics.
One row for each topic and when I speak to Word, I try to go through the points.
Swags
Geek gadgets are always a good idea and a perfect motivator 🙂
Before I signed the contract, I asked to my Content Manager if they can send me something related to LinkedIn Learning like t-shirts, stickers and much more.
After a few weeks I received in my mailbox a package with these stuff inside!
I love them!
As you can see in my picture below, I use the sticker on my private laptop.
Reviewing the scripts
After the writing phase, it's time for the reviews!
This phase is very important and it's the real value of the course.
In this phase I worked a lot with my producer. I have a weekly meeting with him where he provided to me feedbacks and something to change in the scripts.
In addition, we talked about blockers, issues or something that went wrong during the week before.
I really liked this phase, and it was the longest one.
Remote Recording
During the review phase I received the bag in the photos below.
Inside the bag there are a professional headphone with a good microphone and an USBPre 2 audio interface.
The LinkedIn Learning technical team provided to me a folder with all the instructions to install the devices and how to wear the headphone and positioning the microphone in the best position for recording.
After the setup, I recorded a one-minute test movie to check if everything is ok.
Of course, I didn't check by myself the video, but I uploaded the movie on a special folder shared on box.com to me from LinkedIn team.
The production team check your video, if something is wrong or need to be adjusted, they will send the instructions to adjust the settings on the audio interface.
Emanuele Bartolesi | GitHub Star ⭐

Recording videos for LinkedIn Learning 🙂

13:25 PM - 30 Sep 2022
Bandicam
If the audio is ok, you can setup your video recording software. LinkedIn has chosen to use Bandicam as screen recorder software.
I didn't know it before, but it seems a good software.
It's very easy to record the videos in high quality and I think it's totally compatible with the audio interface.
If I have understood correctly, Camtasia doens't support the audio interface.
Feedbacks from the Editors
When I finished the recordings I shared everything in a shared folder on box.com provided by LinkedIn Learning.
I never used box.com but it works very well. It's fast and it's very easy to use directly with the browser.
After a while my editor and coach came back to me with two or three questions about some steps and a request for recording again two or three sentences because during the recording I touched the keyboard or the desk and it made some noise.
Finally the course is out
After a few weeks of LinkedIn Learning editors activities, my content manager dropped an email to me with the "official" date of the course release.
They told me that the result was excellent but I didn't see any preview or something like that.
And actually that day I got a nice surprise in the portal because my course came out.
At the same time I received an email with the same news.
In the image below you can see the banner that they created for the course.
This is the description of the course:
GitHub is the industry-standard tool for collaborating on and sharing code. It's popular among software developers, project managers, designers, and students for its flexibility and control. This course introduces GitHub and Git, the version control system that GitHub is built upon. Instructor Emanuele Bartolesi shows how GitHub can create collaborative workflows for you and your team. Explore how version control enables you and your team to track the changes in your files, maintain a history of them, and get some advice to work better with open-source projects. Emanuele gives you the knowledge you need to be able to select appropriate projects to be pushed to GitHub, successfully initialize Git on an existing project, navigate the GitHub UI to perform common tasks like branching, commits, and pull requests, and more.
This is the link of the course: https://www.linkedin.com/learning/learning-github-18719601
At the moment I have this reviews on the course page:
The main chapters of the course are the following:
Introduction
Getting started with GitHub
The Basics
Git from Command Line
Working with GitHub Desktop
Working with GitHub Command-Line Interface
GitHub Copilot
Deploying Websites with Git and GitHub
Deploy to the Cloud
Working with Codespaces
Conclusion
The course is not only for developers but it's an overview for the main services on GitHub and everyone can follow the course from the beginning to the end.
I received a lot of private messages from HR people or Recruiters because they watched the course and they are happy because they understood the main topics for the course.
I am really happy about that.
The Instructor Portal
After the course has been announced I had the access to the Instructor Portal where I can see the status of my course(s).
From here I can have a quick overview about how many people watched the course, shares and likes.
If I want to see a more detailed view, I can click on the details button and I can have more information about the course trends and statitistics.
It's very useful because you can see the engagement and also the background of the learners.
You can use this information to target the right people on social strategy or stuff like that.
---
This post is a place where I will share my experience, and everything I write will be about my journey and my opinions about the platform and especially what I learn during this journey.
I will update this post regularly after each new important step.
I suggest you come back here from time to time to read this post if you want updates.
---
Thanks for reading this post, I hope you found it interesting!
Feel free to follow me to get notified when new articles are out 🙂