Well, first of all, What a weekend! I'm still overwhelmed with the success of the recent JAMstack meetup held in Lagos. This was the second edition though we held the first in May. I decided to write a quick recap of the entire event, This is just to see how well the event is growing over time and also for people that couldn't attend to get a glimpse of the awesomeness we shared.
Liquid error: internal
Planning the event was great as I and my co-organizer William made all the arrangements beforehand. The event held 14th September at the IBM Innovation Center here in Lagos. We had an open call for speakers and got several proposals that were amazing which means people are excited about the JAMstack which makes me so happy. We only had slots for two speakers so we had to make a choice. We had Jemima Abu and Bolaji Ayodeji as our speakers for this edition more on their talks soon.
Event Recap With Pictures
We had over 90 attendees RSVP for this meetup but around 35 attendees showed up which is still great! I already planned out an agenda so it the entire event went pretty smooth. Kicked off the event at about 11:50 AM as opposed to the start time for 11:00 AM due to some technical issues which were later fixed. But you know what instead of waiting why not allow the attendees' network awesome yeah? We had these sessions for networking because the point of attending meetups like this is to learn as well as meet new people.
Jemima started as our first speaker of the day. Her talk was about Breaking Down Best Practices for JAMstack. She shared best practices to take into consideration when developing with JAMstack. Some of my favorites were Cache Invalidation and Automated Builds. She pretty much killed the talk and also went ahead to give a live demo to further explain to us these practices.
Next, We had Bolaji who gave a talk on Harnessing the Power of JAMstack with Headless CMS.. Bolaji hands-on gave us a lecture about Content Management Systems. Deeply explained the history of CMS and went on to tell us the differences between traditional CMS and Headless CMS also outlined features of both and gave us examples as well. I loved his talk.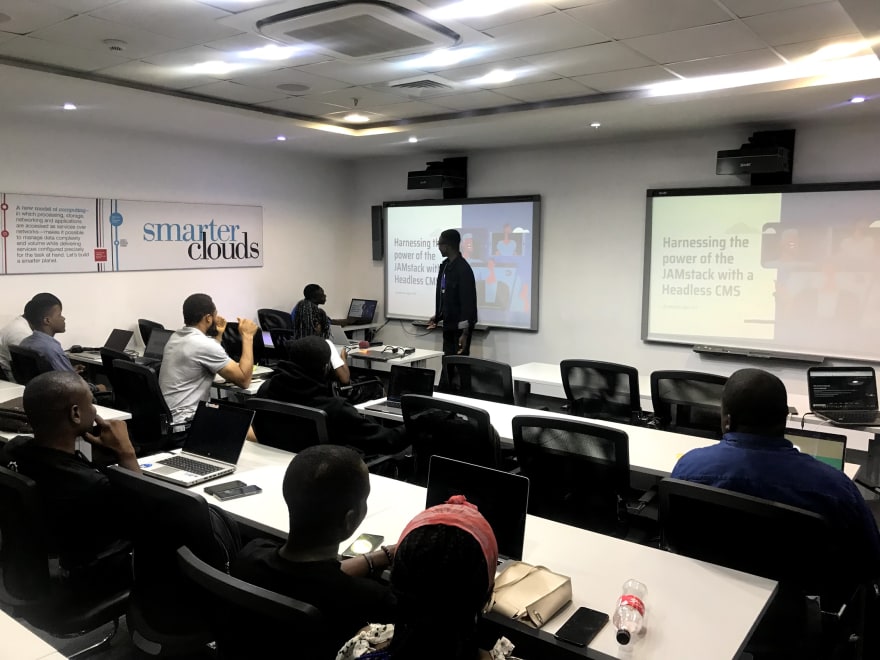 And just when the audience thought they've had enough awesome content, we had a surprise speaker Tosin Amuda, a developer at IBM. He spoke about how to build a JAMstack application with IBM cloud functions. My mind was blown away with my discovery about what IBM could do. I can't wait to give all the goodness I learned from his talk a try.
After having these talks, I decided to add a twist to the meetup by introducing Pitch talks. This is an avenue for attendees to share what they have been hacking on (side projects, job opportunities, etc). Each attendee got 3 minutes to share and we had over 5 attendees step up to show us the great things they are doing.
Lastly, we had lunch at about 3.00PM what a long day right, Time to network and eat. I'll be sharing some group pictures with the attendees and speakers.
This was a success! Amazing content shared, amazing people and lots of fun and knowledge shared. We are excited about how it all turned out. Planning events isn't the easiest thing to do in the world. But eventually seeing this kind of success make us want to do more. We won't be able to do this without our sponsors! Thank you IBM Innovation Center for the venue space and Cloudinary our loyal sponsor. ❤️❤️❤️