❔ About
Recenlty we saw a very nice & interesting Discussion landing on our opt-nc Github Organization :
With a very well explained use case :
"Bonjour, disposer d'un SDK voire d'une API permettant de valider des numéros de téléphone ou encore de détecter si un numéro est un numéro de fixe ou un numéro de mobile."

"Avec ces outils, il serait possible facilement d'améliorer la qualité de bases de données ou encore rendre des formulaires web plus efficaces."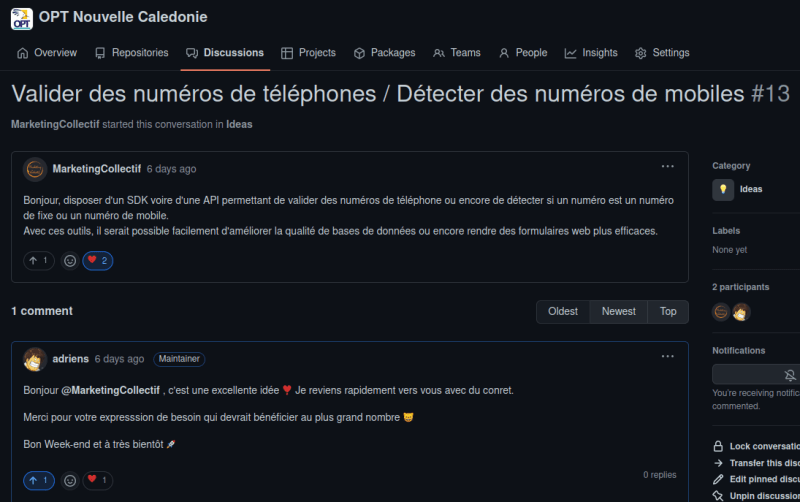 Quite rapidly we discovered that it could help a lot of people enhancing the data quality of Information Systems... and even ours !
This first intro post is dedicated to announce the release of the SDK.
😎 Open source repo
Here is the repo :
SDK java permettant de valider et qualifier un numéro de téléphone calédonien.
❔ phonenumber-validator
SDK Java permettant de valider, qualifier un numéro de téléphone calédonien.
👶 Découvrir
Pour mieux comprendre comment est né ce projet, ce qu'il permet et les réalisations qu'il permet allez sur la série dédiée PhoneNumber Validator sur DEV.to.
⬇️ Import de la dépendance publique
Cette dépendance est disponible publiquement via Jitpack.
🪶 Maven
Ajouter la repo Jitpack :
<

repositories

>
  <

repository

>
    <

id

>jitpack.io</

id

>
    <

url

>https://jitpack.io</

url

>
  </

repository

>
</

repositories

>
Puis la dépendance :
<

dependency

>
  <

groupId

>com.github.opt-nc</

groupId

>
  <

artifactId

>phonenumber-validator</

artifactId

>
  <

version

>Tag</

version

>
</

dependency

>
🐘 Gradle
Ajouter la repo :
allprojects {
  repositories {
    maven { url 'https://jitpack.io' }
  }
}

Puis la dépendance :
dependencies {
  implementation 'com.github.opt-nc:phonenumber-validator:Tag'
}

✍️ Exemples de code
Plusieurs exemples sont disponibles dans la classe Main du projet Pour lancer…
🚀 Get started
Add SDK to your repo, then :

System

.

out

.

println

(

"Type de numéro : "

 

+

 

PhoneNumberValidator

.

getPhoneType

(

"+687514243"

).

name

());




System

.

out

.

println

(

"Mobile ? : "

 

+

 

(

PhoneNumberValidator

.

isMobile

(

"+687514243"

)

 

?

 

"oui"

 

:

 

"non"

));




System

.

out

.

println

(

"Fixe ? : "

 

+

 

(

PhoneNumberValidator

.

isFixe

(

"+687514243"

)

 

?

 

"oui"

 

:

 

"non"

));




System

.

out

.

println

(

"Special ? : "

 

+

 

(

PhoneNumberValidator

.

isSpecial

(

"+687514243"

)

 

?

 

"oui"

 

:

 

"non"

));



🛡️ Security
As dependencies are monitored and code security is enabled, you can safely analyze code and see if any toxic code is embedded in the SDK :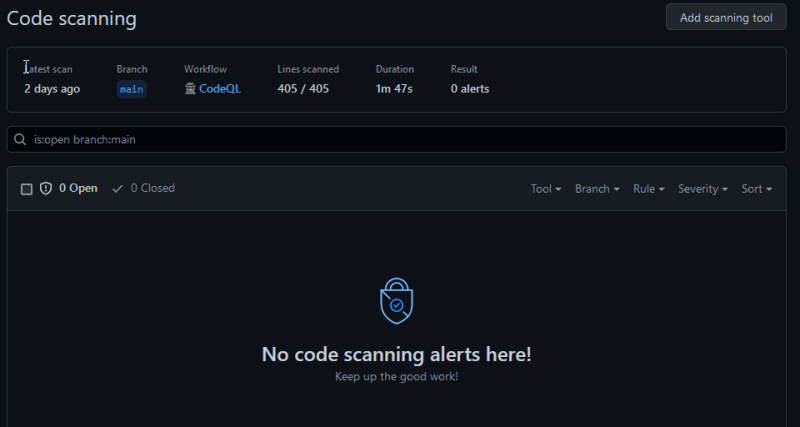 ➰ Feedbacks
Feel free to send feedback by :
🎫 Dropping an issue
🧑‍🤝‍🧑 Opening or participating to a discussion
🎁 SDK delivery for #ProgrammersDay 🤓