What happens if you put two feature-packed project management tools against one another? How do you pick the best app?
Both Asana and Monday are loaded with similar functionalities which makes it hard to differentiate. But just like any project management software, they have their strengths and weaknesses that can be clear to see when you dig deeper.
Let's uncover these differences by comparing Asana vs Monday in detail and find out which tool is the most ideal for your org in 2021. But first, let us quickly overview the two tools.
---
Quick Overview of Asana
Asana was founded in 2008 by former Facebook co-founder Dustin Moskovitz and ex-facebook engineer Justin Rosenstein as an internal tool. And it was released to the public for commercial use only in 2012, after being kept in private beta for 4 years.
Today, Asana has grown into a big name in the PM sector, catering to a wide user base hailing from both development and non-development backgrounds. However, this tool is more popular among non-technical departments such as Marketing, Sales, etc.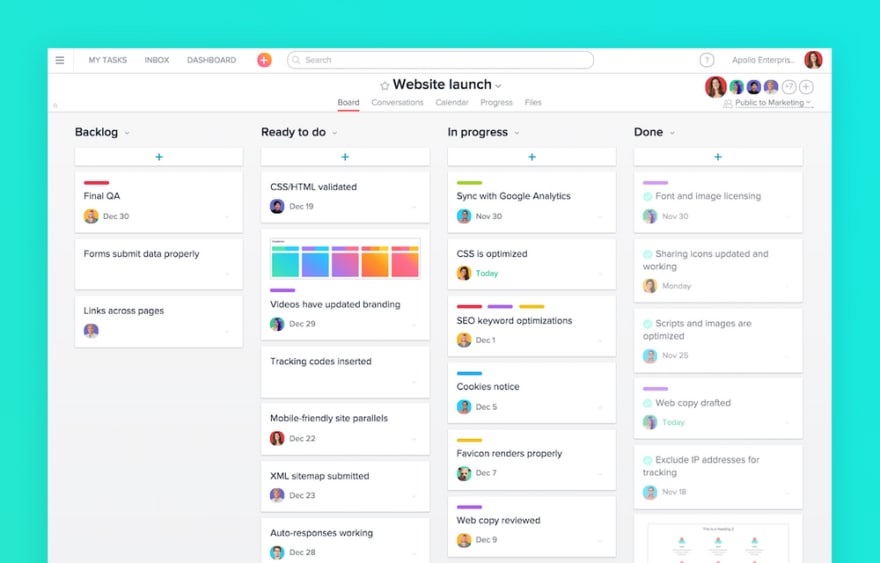 Asana has adopted a task-oriented approach to PM where everything is centered around projects and tasks. This means for each project you create, you can add tasks and subtasks, assign to teammates, include description, tags, comments, and custom fields.
Asana's competitive advantage is its team collaboration and communication capabilities. But what other advantages do you get by choosing this app? And what are the disadvantages?
Let's have a look.
Advantages of choosing Asana
Intuitive UI: The user-interface in Asana is intuitive and makes the whole work experience fun.
Flexibility and customizability: With Asana, you have the flexibility to customize this tool to suit your needs - right from custom templates and custom tags to custom fields.
Multiple views:Asana supports multiple views, namely, list, board, calendar, timeline, progress, and forms to help visualize your projects and monitor progress.
Workload snapshot: The Workload aspect in Asana gives you an overview of what your entire squad is working on. It enables you to view what work is assigned to whom and also the workload of each individual.
Team collaboration: Asana's key highlight is its squad collaboration capability that enables you to keep all your work items and related conversations in one place.
Plethora of integrations: Choosing Asana gives you access to a great deal of crowd favourite third-party apps to help streamline your workflows.
Disadvantages of choosing Asana
Can get overwhelming: Asana is functionality-packed but the downside of this is that it can get overwhelming and distracting, especially for a newbie.
Steep learning curve: Due to Asana's sea of functionalities and complex design, the learning curve is pretty steep, making onboarding a nightmare.
No scope for agile: Having only a simple kanban board, Asana lacks the agile capabilities to implement other popular frameworks such as scrum like Zepel does.
Lacks nestled view: Asana doesn't support viewing tasks and subtasks in a single, nestled view.
Can't add Multiple assignees: Asana doesn't allow you to add multiple assignees to a single task.
Too many dollars for very little benefits: The pricing scheme isn't affordable, to say the least. You can only collaborate on projects with a maximum of 15 members, with functionality restrictions, in the free plan. You won't find such functionality restrictions in Asana alternatives like Zepel, even in its free plan.
---
Quick Overview of monday.com
In 2010, this tool was created to be used internally in an Israeli company called Wix.com, and in 2012, the product became a separate company called daPulse. Later, in 2017, daPulse was rebranded as monday.com.
And now, monday.com has established itself as a visually appealing task management application in the PM tools market.
Monday.com is loaded with functionalities and caters to both technical and non-technical teams. However, it is favoured by non-technical departments pertaining to Marketing, Sales, Customer Success, etc.
What makes monday.com popular, apart from its colourful, attractive, and intuitive UI is its ability to collaborate with multiple departments. But its complex design and far too many functionalities result in a lot of clutter that you don't find in adversaries like Zepel.
Advantages of choosing monday.com
Colorful and attractive UI: Much like Asana, monday.com's user interface is also intuitive, colourful, and attractive on the whole.
Multi-department collaboration: Monday.com provides a wide range of functionalities from managing work items and tracking overall development of projects to CRM that makes multi-department collaboration hassle-free.
Multiple assignees: Similar to Zepel, and unlike Asana, monday.com enables you to assign multiple members to the same work item.
Wide range of 3rd-party integrations: Monday.com enables you to integrate with several third-party applications to perform a range of activities from CRM to bug-tracking, and more.
Disadvantages of choosing monday.com
Overwhelming user experience and onboarding: Monday.com's GUI is convoluted, making the learning curve extremely steep and the user experience overwhelming, especially while onboarding.
Lacks full-fledged agile capabilities: Other than boards for kanban, Monday.com doesn't support full-fledged agile capabilities such as Sprints for scrum that you can find in Zepel.
Confusing task-related functionalities: In monday.com, all the functionalities and aspects related to managing tasks are not present in one place, thus leading to confusion.
Complicated task dependencies aspect: Monday.com enables you to add task dependencies only via a separate column to additionally be kept track of and not in the item card itself.
Missing free plan: The pricing scheme is not pocket-friendly and it doesn't include a free scheme like its competitors. So, if pricing is your priority, check out these free project management software.
---
Full-scale comparison of Asana vs Monday
Asana

Monday

Views & Features

Multiple views namely board, gantt,




calendar, and so on.





Packed with utilities from traditional




task handling to squad collaboration.




But it lacks agile capabilities to




implement agile frameworks other than




simple kanban.

Plenty of built-in views available such




as Kanban Board, Timeline, Calendar,




Workload, and List.





Has far too many functionalities than




needed but lacks agile capabilities.




The functionalities vary based on




cost.

Ease of use & UX

Intuitive UI that makes work fun but




owing to the ton of functionalities, the




learning curve is steep.

Colourful, attractive and intuitive UI




but has an extremely steep learning




curve.

Developer-friendliness

Lacks powerful agile capabilities and




deep integrations with GitHub, GitLab,




and Bitbucket. Also, it doesn't support




`/` commands and markdown for quick




sharing of code snippets among devs.




So, it isn't developer-friendly.

Similar to Asana, it also lacks




powerful agile capabilities and deep




integrations with dev-favourites such




as GitHub, GitLab, and Bitbucket. No




markdown support and `/` commands




for getting work done quickly.





P.S. If you want all of the above




functionalities, try Zepel - one of the




most dev-friendly apps out there.

Collaboration & team




management

Can collaborate with up to 15 users for




free. Onboarding members is hellish




owing to its steep learning curve.





Communication and collaboration




among your squad are made efficient




with the conversations utility that holds




all squad-related conversations in one




place.




Cannot collaborate with users for




free. And similar to Asana,




onboarding is a nightmare due to its




steep learning curve.





Offers basic collaboration-focussed




aspects but they're not in one place.




Dependencies related to tasks can be




added but only as a separate column.




Integrations & add-ons

160+ integrations available with




popular

third-party apps

50+ integrations are available

Pricing

Allows you to collaborate with up to 15




users for free but with functionality




restrictions. The paid scheme starts at




$10.99/person/month

.

Complex payment scheme with 4




paid plans - basic, standard, pro, and




enterprise, starting at

$8/seat/month




billed annually.

User Rating

Capterra -

4.4/5

(9434)




G2 -

4.3/5

(7,021)

Capterra -

4.6/5

(2229)




G2 -

4.6/5

(1443)
---
Asana vs Monday: The decider, which project management software to pick?
Both Asana and monday.com are best suited for non-technical departments, namely, marketing, sales, and so on.
If you're looking for a collaboration and communication tool for your business with good task-handling capabilities, Asana is a great tool. But if you're after a project management software that is visually appealing, intuitive, and fun to use with decent task-handling functionalities, monday.com is apt for you.
However, be prepared to invest a lot of time and money if you're choosing either one of these PM tools. And also if you're a software development org, forget about implementing agile.
---
What users think about the two tools: Reasons to switch to better alternatives
"Some teams use Asana for project management and perhaps it's good for that. For me I feel it isn't very useful for technology teams. We can't paste code, we have no auto integration with build processes like Jenkins and it's incredibly slow to wait 5 seconds to load each asana task. It's not easy to pass around a task #... as Asana creates these long tokens for every task. Several of us have asked for these features on Twitter with the Asana team and we just are told it's not something that they're interested in adding.
Pros: I guess it's an easy interface to make a task
Cons: It really doesn't offer what Jira or other software packages offer... there's no enforced flow for bug / defect tracking, there's no easy way to pull tickets up (i.e. it's not a simple task identifier such as CR4478, instead it's a 20 character random string. When you pull up an individual task it takes nearly 5 seconds to load it, and you get the Asana splash screen while you wait. You can't easily put code into the Asana tasks. Asana doesn't have 3rd party API connecting (like Jira) to automatically link to Jenkins or other products. As a defect tracking system it's entirely lacking. This may not be what you intended it to be used for, but that's how we use it (for everything) and it's incredibly lacking. We have to be creative with Asana to make it sorta work and it's still not very appealing from the QA or Dev side of things."
"Overall experience is good. If you're utilizing this software, you need to make sure that your team's adoption is fast and consistent. Otherwise, you'll find yourself being the only person using it and doing more micro-management.
Pros: Visually, Monday.com is appealing. Its color scheme makes it easy to quickly scan and view a project or task's status. It is also very easy to organize projects and tasks in various boards. Each task has the ability to add comments, files, docs, etc to keep everything in one place.
Cons: There are some key features I always look for in a PM software that this one doesn't have: task dependency, able to quickly build timeline, easily describe who is accountable for which task. Right now, timeline building is very click heavy. It's OK if you are needing to manage few projects with few tasks, but by not having task dependencies or a user flow that makes it easier to get several dozen tasks added, it is very time extensive."
---
A list of feature-packed alternatives to Asana and Monday
1. Zepel
Zepel is the perfect alternative as it is intuitive like Asana and monday.com but also powerful without any clutter. Owing to its uncomplex design without overwhelming functionalities, the learning curve isn't steep and so you can painlessly onboard your squads.
Project managers and engineering squads love Zepel as it comes with powerful agile capabilities that enable you to implement not just kanban but also scrum, and even a combination of both. Apart from this, Zepel's USP is its developer-friendliness. It is one of the most developer-friendly apps in the market today with deep integrations with GitHub, GitLab, Bitbucket, and other similar sources.
That's not all. Zepel also enables you to set up your git workflows to perform automatic status updates on your dev squad's behalf and receive real-time Slack notifications. Some other developer-favourite perks of Zepel are the markdown support and / commands that help get work done in a jiffy.
Some other perks of picking Zepel are the ability to add task dependencies, item ID to track tasks, and so on that you won't get when you opt for Asana and monday.com.
Zepel is complete with a functionality called Streams that brings in customer feedback from various external sources such as Canny, Intercom, Zendesk, etc., in the form of requests. This will help you prioritize, build, and ship customer-focussed functionalities.
Key Highlights:
Powerful, intuitive UI that makes onboarding hassle-free
Agile capabilities for both scrum and kanban such as Sprints, burndown charts, etc
Developer-friendly due to deep integration with GitHub, GitLab, Bitbucket, and a variety of similar sources
Markdown support and / commands for quick work
Workflow automation to perform status updates and receive instant Slack notifications
Brings in and helps prioritize customer feedback from multiple sources like Canny, Intercom, etc.
Value for money pricing!
Check out all the functionalities that Zepel offers.
Pricing:
Zepel's pricing plan consists of a free plan that enables you to add 5 users for free forever without functionality restrictions. From the 6th member onwards, you can opt for either one of the business schemes: the standard annual that starts at $5/user/month or the standard monthly that starts at $7/user/month.
Best For:
Squads of any size that desire to build customer-focussed products the agile way.
2. Basecamp
Basecamp is a solid PM solution that is ideal for managing tasks and a notable alternative to Asana and Monday. Because, akin to these two tools, Basecamp also offers plenty of functionalities and integrations. What makes Basecamp standout is its ability to effectively bring all members of different departments together.
However, Basecamp lacks agile capabilities.
Key Highlights:
Messaging platform with a forum-like view for squad communication
Automatic check-ins for frequent status updates
Controlled client access
Hill charts to track progress
File sharing with a storage of 500GB
Here's everything that Basecamp offers.
Pricing:
Basecamp offers a basic plan with a 30-day free trial. At the end of the trial, you will be charged a flat fee of $99/month for unlimited users.
Best For:
Remote, service-based companies that don't require agile methodologies.
3. ClickUp
ClickUp is another functionality-loaded PM app that tries hard to be an all-in-one productivity tool. You can find any functionality that caters to any business from any industry as an add-on or an integration. The user interface is intuitive and attractive. However, ClickUp lacks the finesse of a full-fledged agile tool when it comes to implementing agile.
Key Highlights:
Provides a wide range of functionalities for any company pertaining to any industry
Supports a number of views, namely, board, list, timeline, workload, box, table, calendar, activity, and mind maps.
Customizable, from custom tags to custom statuses
A massive number of third-party integrations
A huge fan base among solo users
Have a look at all the functionalities ClickUp offers.
You can compare Asana vs ClickUp here.
Pricing:
ClickUp includes a free plan that enables you to add unlimited users but there are some restrictions of functionalities. And to access those functionalities, that vary with cost, you must pick a suitable paid scheme, starting at $5/member.
Best For:
Non-IT businesses of any size belonging to any sector.
4. Jira
Jira is the industry standard that many tools use as a guideline. Most software teams who want to adopt agile to build products have gradually switched to Jira from other tools due to the lack of power.
However, in recent times, superior alternatives to Jira that are more solid there have emerged — less clunky, faster, offer more powerful agile capabilities of full-fledged kanban and scrum tools, and are a value for money.
Key highlights:
Flexibility that enables you to customize your workflows
Issue tracking that lets you capture issues effortlessly
Agile capabilities to implement not just kanban but also scrum
Roadmap functionality to visualize projects
Massive library of integrations with third-party apps
Take a look at the complete list of Jira's functionalities.
Pricing:
Jira's free plan lets you add your first 10 members in for free but with feature restrictions. But if you want to access all its functionalities, you must upgrade to the premium plan that starts at $5/member/month.
Best For:
Service-based organizations and IT companies looking to build software products using agile methodologies.
To help you decide whether Jira is right for you or not, here is a helpful comparison of Asana vs Jira.
5. Trello
Trello is the easiest PM tool to get started with. This kanban board application is incredibly user-friendly and takes only 10 mins to onboard your entire org. But don't expect Trello to be powerful with agile capabilities to implement other frameworks such as scrum. Because you will be disappointed and you will need to look for Trello alternatives.
Key Highlights:
Boards that represent projects and sticky note-like cards representing tasks to implement basic kanban
Flexible and customizable with plenty of templates
Simple user interface that's fast and responsive
Ability to add on any number of functionalities as power-ups
A catalog of integrations with 3rd party apps like Zapier, Hubspot, Dropbox, etc
View all the functionalities that Trello provides.
Pricing:
Trello's pricing is extremely simple. There's a free plan that enables you to collaborate with unlimited users but with functionality restrictions. For complete access to all the utilities, power-ups, and integrations, you must sign up for a basic plan that starts at $12.50/member/month.
Best For:
Small non-IT companies that require simple workflow visualization and task handling.
Compare Asana vs Trello and Asana vs Trello vs Monday and find out which tool suits your org.
---
Why Zepel is the ideal project management tool for modern teams
Zepel is the PM tool meant for your squad and your organization for the following reasons:
Zepel enables you to collaborate with squads of any size painlessly.
You can implement Scrum, Kanban, or both with Zepel, making it a favourite engineering project management software
Zepel is one of the most developer-friendly PM tools as it provides deep integrations with developer-favourite apps like GitHub, GitLab, and Bitbucket, markdown support, git workflow automation, and / commands.
Win your customers over and maintain a low churn rate with Zepel Streams that helps you prioritize and build customer-focussed functionalities.
Zepel's affordable and straightforward pricing enables you to add up to 5 users for free forever without any functionality restrictions. From the 6th member onwards, you will be charged only $5/member.
---
Make your customers and your developers happy, choose Zepel.
4000+ development teams love Zepel and you will too. :)
Sign up and try Zepel for free.