In February, I had the honor to co-present the Microsoft Learn Live session "Automate your Cloud with Carnegie Mellon University and Microsoft Learn" on LearnTV. Didn't get a chance to attend the live event? The session is available on Channel9.
The session
Automating your cloud resource management can increase productivity, sustainability, and the scalability of your services. In this session, we will explain the concept of Infrastructure-as-Code and discuss the advantages that it offers over ordinary scripting. We will then go on to show how to automate cloud resource management with Infrastructure-as-Code tools like Terraform. We will explore Terraform's role as an infrastructure orchestrator and describe how it differs from conventional configuration management practices.
Together, you will walk through the free Microsoft Learn module "Automate cloud resource management".
Click on the following image to access the session recording.
The sketch note
The following sketch note covers the basics of cloud automation in Microsoft Azure.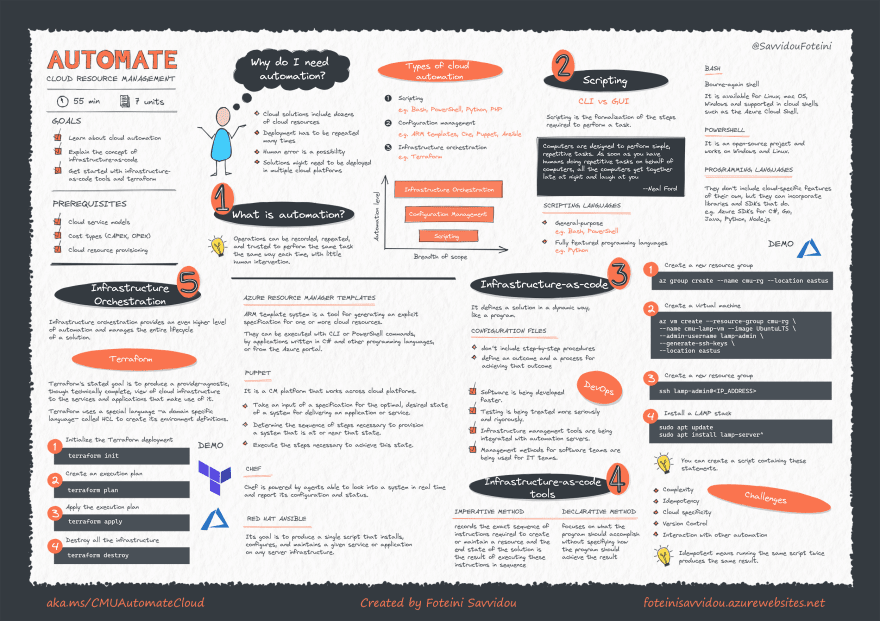 Learning resources
Here are some resources! Happy learning!
---
More articles: www.foteinisavvidou.codes