Rewatch the show by clicking here
"Isn't Beyoncé from Here?"
Brian Ellison and Marlon Hall of "The Black Man Project"
As I hopped off my flight in Houston's Hobby Airport, I overheard a conversation between a young girl and her mother. Now, it isn't uncommon for folks to be talking about Beyoncé-- after all, she's arguably the world's number one superstar. But it always strikes a chord with me when I see folks who aren't Black, discussing our music. Our culture. Hearing these types of conversations has led many of us to the same conclusion: We are the blueprint. "The culture" has had a huge impact on American idolism, and I had just touched down in one of the many places where that culture has been unapologetically thriving.
Slowed-Down Music, Fast Moving City
Something that really stuck with me about my experience in Houston, especially in the historic Third Ward, was that the focal point of a lot of my conversations were about redefining what it meant to be black, what it meant to be a business owner, and even what it meant to be a man. "History in the dirt" some (like Brian from The Black Man Project) would call it. From renaming "Dowling Street" (which was named after a Confederate commander in the Civil War) to "Emancipation Avenue," a sprawling street that leads to Emancipation Park.
This is a great example of taking back what's ours, and changing the lens through which we look at our history. Often times when we talk about what it's like to be Black, the focus is on our trauma-- what we're subjected to and what we lack, rather than who we are at our cores, what we have, and what that enables us to create. Houston is a place that owns their history, whether it's maintaining historic buildings like the El Dorado Ballroom, or opening the door to having important conversations through things like the Breonna Taylor, Ahmaud Arbery and George Floyd mural-- where a QR code can take you on a journey. So, I went looking for the parts of Houston that reminded me that although we may struggle, we can also overcome. We can come together.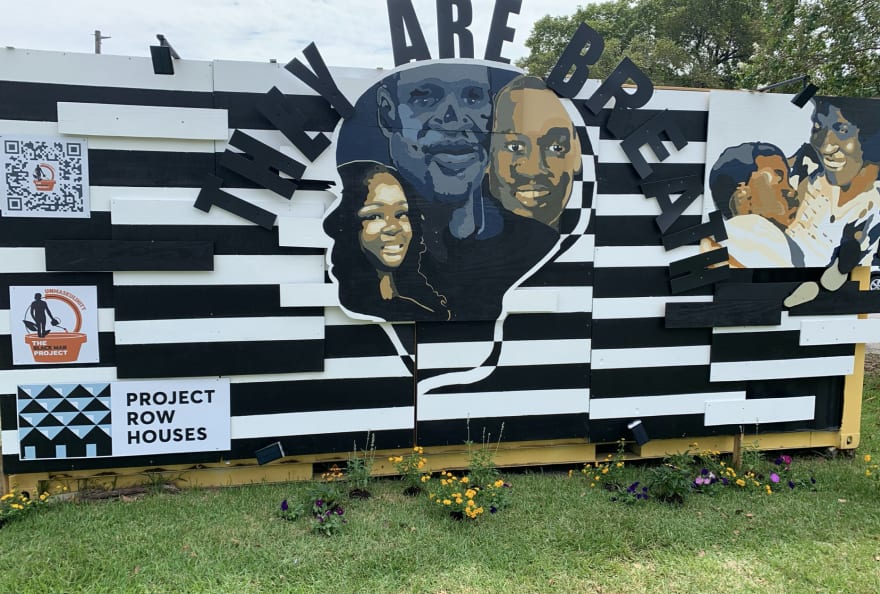 "They Are Breath" created by The Black Man Project in partnership with Project Row Houses.
Timepieces, Turkey Legs, Tequila and Two Story Homes
And temp fades. I got to talk to some amazing business owners and patronize some dope spots in Houston. I went to the infamous OST Liquor store-- who went viral a few times for their to-go, pre-made cocktail bags. I ate at Turkey Leg Hutt, where the meat literally fell off the bone. I spoke with Avery Taylor of #ATSoldIt, who is pioneering "buying back the block" like you've never seen. I found out what "Houston hottie, natural body" is all about at The Body Shop HTX, and I got a haircut from one of the best in the game: Ray Johnson. A man who cuts hair for celebrity clients, does FOREX, and still finds ways to give back and uplift his community. Lonez Scents is probably the only way you can smell heaven while on earth, and the craziest part is this list is by no means exhaustive.
The "Remy Ma" courtesy of OST Liquor Store.
What I experienced and what I encourage you all to experience, was a small piece of the rich, cultural fabric that makes Houston such a special place. Houston is an amazing example of redefining our history, making our ancestors proud, and paving new ways to give the Black people we know and love opportunities. And isn't that what Black businesses, and supporting Black businesses is all about?
Airing Schedule
This is a special 3-part event, with episode 1 airing on September 25 at The Black Is Tech Conference, part 2 on October 2nd and part 3 on October 9th on our YouTube channel at 4:30 PM EDT. Be sure to subscribe to our channel and newsletter to remain informed of all our upcoming episodes and events.
To find out more about these businesses I mentioned, as well as some others that I stopped by during my time in Houston, check out some of the links below:
The Black Man Project: https://bit.ly/3kNWXbU
Man Behind The Mirror: https://bit.ly/3kRp8a9
Taylor Made Group: https://bit.ly/3j42lHs
OST Liquor Store: https://bit.ly/3kPVwJY
Screwed Up Records and Tapes: https://bit.ly/307t0vs
ESG of The Screwed Up Click: https://bit.ly/3i6335I
Houston Trend Magazine: https://bit.ly/368s2mS
The Body Shop HTX: https://bit.ly/3mRKENS
Lonez Scents: https://bit.ly/32Zgro3
Joe Black Barbershop: https://bit.ly/303XoqI
Mikos Adams: https://bit.ly/366LW1x
Continue the conversation in our Discord by going to Join.RebuildBlackBusiness.com
Consider becoming a fan of the show to help us continue our efforts by clicking here
Article drafted and copy-edited by Dania Luc