Você sabe criar arquivos readme para seus repositórios de uma forma atrativa e informativa, ou apenas deixa o readme padrão do React (just a joke) ?
Hey, eu atualizei esta postagem no meu blog pessoal, veja agora!
Nesse post vamos ver alguns exemplos e dicas de como deixar nosso arquivo de readme super legal e organizado, então vamos por a mão na massa.md.
Badges

Badges são super legais para adicionar no nosso arquivo, além de dar um overview super rápido e deixar o projeto bem bonito.
Algumas que eu gosto muito de utilizar são as de tecnologia, dizendo algum framework/lib que utilizei, status da pipeline, stars e licença.
Alguns exemplos legais:


Você pode criar suas próprias badges utilizando o shields.io ou pode encontrar varias prontas, inclusive nesse repositório aqui: https://github.com/Ileriayo/markdown-badges.
Logo
Criar uma logo ou utilizar algo pra representar é algo super legal e que da um toque super bonito pra o repo, é uma dica bem opcional, mas que faz muita diferença.
Aqui também é legal implementar versões de imagem para cada tema (light ou dark) caso seu repositório esteja no Github, você pode fazer isso vendo este post
Uma dica pra quem não tem tanta afinidade com design é utilizar serviços de criação de logo online, como o Launchaco ou encontrar uma logo open source aqui: https://openlogos.org/.

a study project with elixir to make N requests on some url
HttpRequest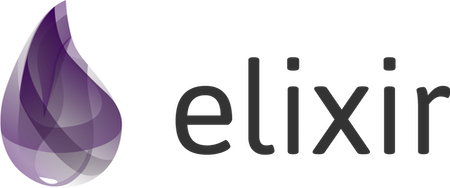 A simple "application" to make requests n times for a url this is a study project with elixir and i used it to do a simple stress test on my server/database
Usage
You can execute the Iex and call the module and the function
iex(1)

>

HttpRequest.execute(5, 

'

https://www.google.com

'

)
This will make five request for 'www.google.com'. You can pass a token too:
iex(1)

>

HttpRequest.execute(5, 

'

https://www.google.com

'

, 

'

Bearer 123123123

'

)
And you can check the doc running:
iex(1)

>

 h(HttpRequest.execute)
Made with ❤ in Bahia, Brasil.
Titulo e descrição

Esse é super importante, lembre sempre de adicionar o titulo e a descrição do seu projeto de forma simples e bem direta.
Você pode criar o titulo e logo abaixo a descrição, ou criar uma sessão para a descrição depois do titulo.
Utilize as tags do markdown para isso:

# Meu projeto


Descrição do meu projeto...

Gif ou imagem demo
É super legal quando a gente entra em um repo e tem logo de cara uma prévia do que esperamos ver, adicionar uma imagem ou um vídeo para isso é uma dica super valida.

Create posts summary from forem platform(like dev.to) easy
Summaryze Forem 📑
About it📖
Inspired on my friend project: Summaryze, Summaryze Forem is a tool write on javascript with NextJS that use web scrap to get all anchor links from a post on forem plataforms(like dev.to), format it and create a markdown summary fast and easy I have this necessity after write this post and being too lazy to do the summary, so i decide to create this tool, hope you like it.
Here you can see the figma prototype.
Frameworks and Libs 🛠
Nextjs
Node Fetch
Cheerio
React Tabs
React Toastify
React Icons
...
How to use it ❓
Check here a quick guide.
Install 🚀
Clone the project:
git clone https://github.com/tuliocll/summaryze-forem.git
Navigate to project folder and install dependencies:
cd

 summaryze-forem
yarn


#

or
npm install
Run the project on dev mode:
Buy me a coffe! ☕
Made with
…
Sessões
Eu gosto de dividir o projeto em varias sessões: sobre, como funciona, como instalar etc...
Sobre
Gosto de criar uma sessão de sobre e detalhar mais sobre o projeto, o que me motivou, como ele foi feito etc.
Como utilizar
É legal uma parte falando como utilizar o projeto (caso seja necessário).
Instalar
Uma sessão mostrando comando a comando como instalar o projeto também é super valido.
Como rodar e como utilizar
Sempre deixo os comandos de como rodar em cada ambiente(caso seja o caso), prontos para serem copiados e colados.

Demo

Caso seja possível, é sempre legal deixar um link de uma demo online, dessa forma, se for um projeto pessoal ou algum estudo que você fez, quem estiver vendo conseguirá ter a experiência de uso sem precisar fazer todo o processo de instalação.
Campos do Github
Preencha campos específicos do github, como: about e as tag.
Ajuda seu repositório ser encontrado facilmente e deixa mais organizado também.

Utilize todo o poder do Markdown

O Markdown nos oferece coisas incríveis, assim como no html conseguimos criar links, tabelas, títulos e varias outras coisas. Eu recomendo duas coisas aqui nesse ponto, a primeira é que você leia essa documentação sobre as tags do markdown e a segunda é um editor em markdown online com varias dessas tags em forma de um editor de texto.
Bonus
Uma ferramenta online super legal e que conheci recentemente (depois de escrever esse post) foi o Readme.so. Você consegue criar readmes de forma mais visual e com uma padronização excelente!
Conclusão
Vou deixar aqui alguns repositórios meus que tem uns readme que eu gosto bastante e caso vocês queiram se inspirar.
Conhece algum repo que tem um readme muito legal ? Comenta pra gente!
Arquivos do tutorial Darkmode para React Native⚛️, confira no YT
Tutorial Darkmode com React Native⚛️ e Styled components💅🏾!
📖Sobre
Este repositorio contem o projeto final e o projeto base para o tutorial do darkmode com styled components, Animação com React Native, Contexto e estado global com React Native e afins, confira na tabela mais abaixo.
🔀Branchs:
| Nome da Branch | Descrição |
| --- | --- |
| Master | Conteúdo inicial do tutorial, projeto base. |
| darkModeComplete | Tutorial do darkmode completo, todos os arquivos configurados e funcionando. |
| darkModeAnimation | Conteúdo tutorial de animação e handle completo, configurado e funcionando. |
| darkModePersist | Contéudo final do tutorial de persistência de dados e estado global, configurado e funcionando. |
👨🏿‍💻Iniciando
Clonar o repositorio:
git clone https://github.com/tuliocll/rn-darkmode.git

Instale as dependencias:
🎦Siga o(s) vídeo(s);
🙅🏿‍♂️End
Um bot que diz diariamente se o sagres está online ou não e posta no twitter.
Sagres Bot - Twitter
Instalando Clonar o repositorio:
git clone https://github.com/tuliocll/sagres-bot.git

Dentro da pasta do projeto, instale as dependencias:
Configure as api keys (você precisa criar uma conta de desenvolvedor no twitter) E por fim, é só rodar
End
Código utilizado para escrever o tutorial "Criando uma extensão para o Google Chrome com React", leia aqui:
Criando uma extensão para o Google Chrome com React
Este projeto foi utilizado como base para o tutorial que escrevi aqui no dev.to, clique para ler.
---
🚀 Rodando o projeto
Para rodar o projeto em modo de desenvolvimento, basta executar:
🔥 Gerando build
Para gerar build e usar a extensão, consulte o post aqui.
🎯 Me siga