What is Toptal?
Toptal is a popular and established freelance network that connects employers with highly-vetted freelance talent. Toptal started out by offering freelance software developers but has since expanded to other verticals to include freelance designers, financial experts, product managers, and project managers.
Toptal's key features are its large community of quality talent and rigorous screening process. Its multi-stage screening process consists of code reviews, portfolio review, real-time testing, and an English language skill test. Toptal claims that this stringent vetting helps it zero down on the 'Top 3%' of freelance talent.
During the screening process, Toptal's recruiters understand freelancers' core competencies, skills, and past work experience. On receiving a client requirement, Toptal understands their requirements in detail and accordingly matches them with the right freelancer from its talent pool.
However, hiring from Toptal doesn't come cheap. That's probably why only well-funded 'top' companies can afford to hire freelancers from the platform.
A background on Toptal
Toptal was founded in 2010 by Taso du Val and Breanden Beneschott. Beneschott exited the company in 2018 amid muddy waters between him and du Val, which involved the company even suing him.
Since Toptal's inception, it has reportedly remained profitable. Interestingly, it has only raised capital once – an early-stage seed round that included investors like Andreesen Horowitz.
Toptal also prides itself on being a full-distributed company - operating a remote workforce with zero physical offices.
How does Toptal work?
Toptal follows a personalised matching process to pair freelancers with relevant projects posted by clients on its website. Here's the step-wise process broken down:
1.Sign up on the site and post a job request:
Clients looking to hire freelancers have to submit their requirements through a form on Toptal's website with relevant details of the job.
2. Get on a call with Toptal's team and share your requirements in detail:
After the client submits the job description, Toptal's internal team reviews it and gets in touch with the client.
Over a conversation, Toptal's team tries to gain an in-depth understanding of the requirements.
3. Get recommendations from Toptal
After gaining an understanding, Toptal gets to work on finding freelancers who would be a good fit for the job at hand.
If there are freelancers available immediately, Toptal will recommend them to the client by sharing their digital resumes (created by the respective freelancers with help from Toptal).
If there's no one available in their 'selected' pool, Toptal will work on finding suitable freelancers and will notify clients after completing their respective screening process.
4. Review and evaluate the recommended freelancers via your own interviews
The client can then choose to interview the recommended freelancers, and evaluate them on their own terms.
5. Select the right freelancer for the job and start work with a trial period
If the client likes the freelancer, they can start working with them immediately after signing the contract agreement.
Toptal also requires an initial deposit of $500 from clients, which will be settled as a credit to their first invoice in the engagement.
6. Choose to continue working, request for a replacement, or part ways with Toptal
Toptal offers a no-risk trial period, for clients to evaluate the performance of the freelancer and confirm a good fit.
If the client decides against moving ahead on the engagement, they are not liable to pay anything – Toptal refunds the $500 deposit in full.
Toptal freelancers usually work remotely, though clients can also make requests to have the freelancer work out of their office. However, the availability of such freelancers is quite low.
7. Review the freelancer's work and approve payments
The platform provides flexible payment solutions. Typically, invoicing takes place every fortnight with payments due within 10 days of invoicing ('Net 10' terms).
Toptal's business model
Toptal's business model can be attributed to the category of 'multi-sided' marketplaces. Hence, it is dependent on network effects to provide enough value to both clients and freelancers.
For example: to fulfill its promise of connecting clients with the right freelancers within 24 hours, Toptal needs to have a lot of freelancers in its talent pool, along with their real-time work status. Similarly, Toptal also needs a large enough client base to guarantee a steady stream of projects for its freelancers.
Toptal's premise for making money is simple. It invoices clients directly for the duration of the freelance project. It receives this payment, holds the commission charge, and pays freelancers a lower, pre-determined rate. Freelancers are given the option to set their hourly rates based on Toptal's recommended rates. These are derived by considering factors like the freelancer's place of residence and expertise level.
Toptal spends a substantial amount of money in marketing, branding, and sales – costs that follow through to make its service quite expensive.
This has raised questions on whether Toptal's high charges are actually justified by the quality of talent offered. Or whether the high price is just a result of high overheads that accompany a large corporation like itself.
Toptal Review: Pros and Cons
To keep things simple, let's look at only one category of Toptal's presence – hiring freelance developers.
Pros
1. Experienced developers:
Toptal focuses on hiring quality talent. This emphasis results in their developers being quite proficient. A certain proportion of them also have experience of previously working for reputable companies.
2. Personalised recommendations:
Toptal's detailed comprehension of both the job requirements as well as the freelancers' skills enables it to make highly-personalised candidate recommendations to clients.
3. Established company:
Toptal is the industry leader in vetted freelance networks and enjoys an established brand name. It boasts of having many large companies as clients.
Cons
1. High cost:
Toptal is prohibitively costly for most startups and cash-strapped companies. This is a result of massive commissions (many times greater than 100%) that it levies on top of freelancer fees.
2. Poor customer support:
Its customer support has been criticised by clients and freelancers on review sites & social media platforms as being slow in response and also high-handed.
3. Rigid structure:
Though it portrays itself as a scalable solution for businesses of all sizes, Toptal has inflexible hiring contracts. Customers have to hire on either 20 or 40 hour weekly contracts with no scope for adapting it to their specific requirements.
Additionally, there is no option for decreased costs in lieu of offering long-term work to freelancers.
4. Not viable for small projects:
For smaller projects that require minimal supervision and input, hiring freelancers via Toptal can be overkill, as the value-for-cost isn't often justified.
How much does Toptal cost?
Toptal's pricing varies for the scope of the project, geographic region, and the experience level of the freelance developers.
According to Toptal's website, the pricing can typically fall into the below ranges (subject to the above factors):
Pricing range (based on developer rates)
Hourly: __________________________ $60-$150+/hour
Part-time hire (20hrs/week): ___ $1,000-$2,400+/week
Full-time hire (40hrs/week): ____ $2,000-$4,800+/week
Toptal reviews from 3rd-party review sites
Here, we've outlined some positive and negative Toptal reviews by clients, published on two of the most-reputed review sites: Trustpilot and G2crowd. Of course, these review sites do their best to ensure that reviews from customers are 100% genuine.
On a broad perspective, Toptal's performance on review sites is good as only 2% of customers have given them a severely negative review.
This particular client seems to sum up perfectly what's great about Toptal and the areas in which it is lacking.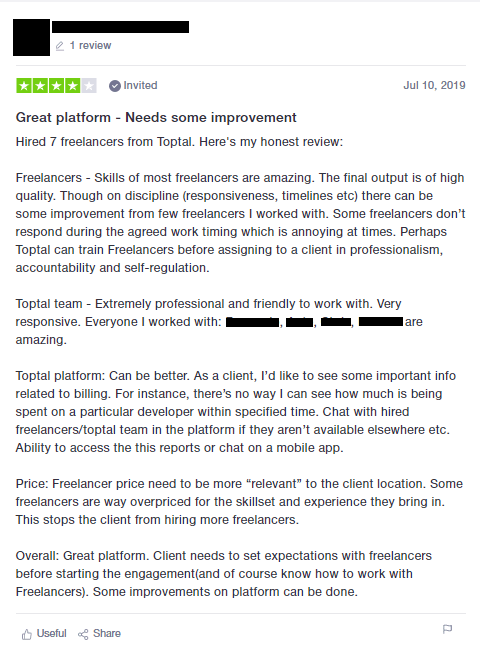 A key point that stands out in this review is the lack of transparency in the billing process. As this customer has pointed out, clients need information on exactly how much is being spent on what, so they can optimise for costs.
Here is another Toptal review, where the customer highlights the company's good quality of talent and their responsiveness but has raised concerns over the high prices.
Among its negative reviews, here is a customer who has criticised its flaws in service delivery and customer support as being "slow", never solving problems, and tough to track down. The client seemed particularly unhappy as they were paying "astronomical" prices to Toptal.
Is Toptal the right fit for you?
Toptal may be a good option for you if hiring the best quality developers is a priority with no concern about overpaying.
Its hiring process gives you a fair chance of finding a quality developer for your requirements within a couple of weeks. However, Toptal's high commissions can be a huge drain on your company's resources.
So if you want to hire quality developers while also being financially smart, solutions like Flexiple might be a better fit.
Toptal alternatives to hire freelancers
Large enterprises might have the financial might to afford Toptal's expensive services. While in most cases, startups and SMBs - which run lean with tight budgets - can't afford to do the same.
Further, startups need partners who mirror their own goals of creating user-friendly, affordable and innovative solutions for the market.
Toptal's high costs and inadequate customer service have led to some good alternatives rising in popularity. They provide the same quality of talent while addressing the issues that Toptal has failed to tackle.
We've written in more detail about the alternatives to Toptal here – Toptal Alternatives and Competitors.
To summarise, these are some viable alternatives to Toptal:
Flexiple
Gun.io
Gigster
Arc.dev
Toptal Glassdoor reviews
Of course, Toptal's excellent service needs a great team for execution. On the employee-employer review site Glassdoor, we can see that most of their employees love the superior work-life balance gained from working at a fully-remote company like Toptal.
From the outside, it does seem like Toptal is a good place to work at.
Below, we've also outlined some Toptal Glassdoor reviews by freelancers who've gotten selected to the platform.
This freelancer highlights how the intense competition for freelance projects in the Toptal community can lead to disproportionate delays in getting that first project.
In the review shown below, the freelancer seems particularly unimpressed with the low reward-for-effort ratio from the platform's vetting process.
Freelancers spend a lot of time and effort to complete Toptal's drawn-out screening process, but can sometimes fail to get any projects soon after they're selected.
Tl; DR: A brief summary of Toptal's review
Ultimately, Toptal has used a good vetting process to be a consistent performer in the premium freelance market over the past decade. This has allowed it to grow significantly. With that said,
Most companies can't afford to hire from Toptal. Even more so in many emerging markets, where Toptal doesn't even provide its services.

This is due to Toptal's huge commissions on top of freelancer fees (many times upwards of 100%).
The market for freelance workers is growing due to the increasing popularity of remote working, distributed teams, and a flexible workforce. This has helped in the emergence of new innovative solutions – from pure bidding marketplaces to powerful vetted talent networks.
So, if you don't fancy Toptal, fret not. There is a freelance talent network out there today that can do the job for you.
You can find a more comprehensive list here to get started.