The VS Code extension I overlooked
Too Many Programming Languages
I've installed over 50 extensions into VS Code in the last year, but I've yet to encounter a scenario where I need TypeScript linting while I'm doing data science in Python. A quick search for a solution revealed this GitHub repo, and the plan seemed pretty genius to me at first. The result was this collection of folders, each with a copy of the extensions I would use:

I was happy … for a while. I didn't like having multiple copies of the same extensions eating up gigabytes of space, and eventually I went back to installing all the plugins into the default directory, disabling them all, and enabling the specific plugins I needed on a per-project basis.
Enter Project Manager Extension
During this process I found an extension, Project Manager, that would allow you to effectively bookmark folders you use on a frequent basis. I didn't find any use for it, because, really, how hard is it to open a folder the old-fashioned way? I wish there was a good segue here, but the truth is that I didn't figure out what worked for me right away, and when I did, it wasn't a major AHA! moment.
My Workflow Now
I just started with a fresh install on a new laptop, and it gave me the opportunity to rethink how I manage all the different types of work I do with VS Code.
Two Ways to Begin
I like to open VS Code without a folder specified when I'm working on the base setup, just in case I have any user settings lying around from previous work.
If you're new to VS Code, maybe you only want to install a few extensions you'll want to use everywhere. For me, this is a very short list:
The second option, for more experienced users, is to install everything you remember using in one go, disable them all, and then enable only the base extensions (like the ones I mentioned above).
Set Up a Few Playgrounds
Sometimes I want to try something out in JavaScript, or more recently, Ruby. I took the previous VSCodeProfiles folder idea and start a playgrounds folder that contains various folders named by their environment. Then I open the folder, enable the appropriate extensions, and save the folder to Project Manager. Edit: You can also configure the appropriate shell for each environment. That way if I want to quickly try something out, I can open code and enter the correct environment for the job right from my sidebar: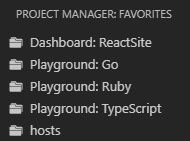 Taking Notes
A quick aside: I've started a new note-taking process. I rarely open notepad, I've used notepad++ and enjoyed it, and I still use Microsoft's Sticky Notes to pin up bits of information that I use all the time—nuclear launch codes, administrator passwords, that kind of thing. No, I'm not serious, Mom.
When I want write something down, whether it's to add to our documentation later, to remember a work-related process, or to remember a gift idea for my little boy, I open Project Manager and click on notes. In this project/directory is a somewhat-organized system of Markdown files and, of course, two extensions that shine when writing Markdown in VS Code:
That is all.
You're one click away
Open source
Free forever
Level up every day
🤯
Classic DEV Post from Jul 30 '19