Every e-commerce website constitutes a fully-fledged business, and there is no good business without a well thought out marketing strategy.
When it comes to marketing strategies in the e-commerce sphere, the first thing that comes to mind is, of course, promotional email newsletters. They are powerful tools in luring subscribers into the website and increasing your revenue. However, they are not the only ones that can turn subscribers into loyal customers. Transactional emails can be invaluable too. Here is a nice review of the best email template builders.
Remember, you try free one of the best Mailchimp template builder. The Mailchimp integration you can find here.
Read: Email Design Trends 2021 and UI Design Trends 2021](https://designmodo.com/web-design-trends-2021/)
Transactional Emails
Transactional emails are newsletters that are mostly generated automatically. They are used to notify users about their actions on the website. A concise list of transactional emails that are essential for e-commerce platforms is presented below:
Email Address Confirmation email
Shopping Cart Abandonment email
Order Confirmation email
Shipping Notifications
Customer
Feedback email
Thank You email
The Purchase Receipt email
Customer Information email
The After Purchase email
Welcome email
The Cross-sell/Upsell email
Lead Nurturing Email
The Customer Feedback email
The Re-Engagement email
I believe everyone has met them once or twice in their life. Generally, we are glad to see them in our inbox. Some of them are even highly anticipated. Have you ever bought an item online and seen that your card has been charged, but the receipt for your payment hasn't arrived? Ah, wonderful moments of waiting (sarcasm is implied).
So, the key takeaway is that transactional emails are keenly anticipated. As research shows, their open rate is incredibly high as well as the click-through rate. So why not to use that to your advantage?
How to benefit from the e-commerce transactional emails
There are many transactional emails, and if you're enthusiastic, then you can probably make all of them work for you. However, if that is not the case, then you should focus on the essential transactional email newsletters. Let's take a look at them.
Welcome Message and Email Address Confirmation email
Both these email newsletters deal with newcomers to your site. While the first one is generated whenever a new customer makes a purchase (it could be a one-time purchase or a start of a long relationship), the second one signals that the user is ready to become your client.
In the case of welcome messages, it is time to make the first impression. And as we know, we will never have a second chance to make it, so we need to go the extra mile here. It should establish a proper atmosphere, show your company's best side and include something that will butter up users. Also, it should have all the contact information and some helpful links for example to your blog, favorite products, or some instructions. Do not forget to make it personal and add some support.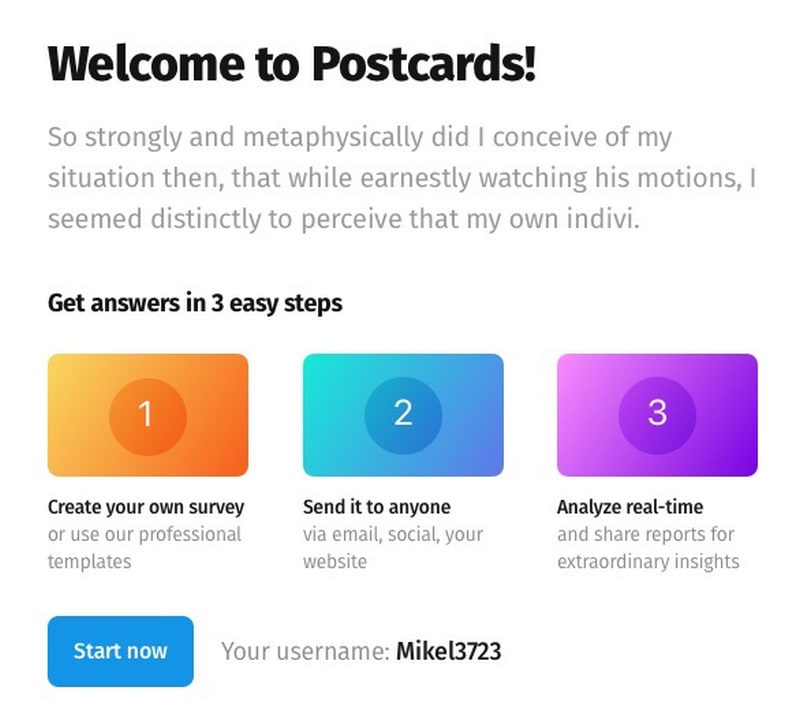 An address confirmation email is where you can try some sales tricks. You can offer a discount coupon, free shipping for a newcomer, etc.
Thank You Email
Thank You email is integral in building a healthy relationship between business and client. They are must-haves, even though you may think that it is trivial. Such tiny details can make people's day, so use them to cement your unique kind of friendship. Here you can write a simple text version of your gratitude, use GIFs to cheer things up or even make a short video using Bonjoro. You can easily adopt one of the fantastic templates available in Postcards to produce a lasting impression.
Order Confirmation Email
This is one hundred percent e-commerce email. While it is self-explanatory, nevertheless, there are some details that you need to bear in mind. First and foremost, it is highly anticipated. People have just paid their money, so they need to know what is going on on the other side. So tell them explicitly. Therefore, it will help to enhance your credibility, reinforce your relationship and reassure them that everything is fine. Here you need to provide all the helpful information, for example when the order will be ready, when the order will be shipped, etc.
What's more, as studies show you have a better chance to sell to an existing customer rather than to regular onlookers, so it is time to apply some marketing tricks. You can try to
suggest related products
familiarize a customer with referral programs
or give away a bonus for their next order
However, do not be pushy. Remember this customer has already bought something in your store so give him or her time to enjoy your product. Always leave them wanting more.
Shipping Notifications
Even though we all have busy lives with lots of stuff going on, nevertheless when it comes to waiting for something that we have already bought it can be difficult to hide an excitement as well as shift your attention. Therefore, shipping notifications are highly appreciated. They can make our fixation less irritating. Use customers' excitement to your advantage. For instance, you can
encourage them to buy a gift for their loved ones
encourage them to share the news via social media
engage in a referral program
provide them with a special offer
suggest products that complement the previous purchase, etc
Also, remember that shipping notifications require some customization. They are not regular alerts; they are newsletters, so they need to be carefully treated. They should include a prominent call-to-action to make your offer more powerful and build your brand identity, a well-formatted message and so on. If you do not use an online email newsletter builder like Postcards where everything can be done in a few minutes just by dragging, dropping and editing, then be ready to bury your nose in coding. This email requires your undivided attention.
Shopping Cart Abandonment Email
Cart abandonment emails are the platforms for practicing sales tricks. These newsletters are used to bring the customers back and encourage them to complete the order. Be ready to come up with something that will help to reignite your customers' interest. So what can you do here?
Make the newsletter visually appealing. Remember, people eat with their eyes. Pale text copy with barely perceptible links won't do the trick. Make the customers feel like they want to click on the «view order» button right now.
Remind the customer about the products they left. Organize them in a list, including images and names. Make them an eye-catcher that lures the customer in with its fantastic appearance. If you use Postcards, then make the most out of hand-crafted templates that were built with customers in mind. Choose the best option and quickly customize it using intuitive interface.
Offer incentives: a discount on an order, free shipping or some bonuses on the next order. However, be careful with overdoing it. You can make an offer but do not turn it into a regular practice. People are smart and will recognise if an "offer" is simply the norm.
Establish a sense of urgency. Do not be pushy - instead, make people believe that they could miss out. For example, notify users that the product is running out of stock, the mid-season sale ends or current discount is time sensitive.
The Re-Engagement Email
Also known as "Come back" or "We miss you" emails, they are great tools to win the clients back and restore your relationships. Marketers use them all the time since they're proven to be effective. Here you can use various sales techniques to engage customers. You can start with something unobtrusive, like sending cross-sell products based on the customers' previous purchase(s)and ending with bonuses and time-sensitive offers.
Other transactional email newsletters
As we have mentioned earlier, there are dozens of e-commerce email newsletters. While we focused on the most popular ones, there are some other valuable tools that can help to improve your online business. For instance,
The Customer Feedback email is an excellent opportunity to enhance your company, product selection, and overall experience.
The After Purchase email lets you unobtrusively remind customers that you still care for them.
The Receipts email show customers that you keep up with the trends and prefer digital proof of purchase instead of paper-based.
Depending on your strategy and things that you want to achieve you may exploit some of them or even all of them.
How to customize e-commerce transactional email newsletter
If you use some kind of CMS - like WordPress - where WooCommerce stands behind every e-store, then everything is done with this tool. You are still able to interact with your emails even though they are created and sent automatically. It requires some coding skills and of course lots of time. If you do not want to waste your precious time or just lack in coding skills then you can address your issue to one of the email newsletter builders like Postcards. It will solve all your problems. The intuitive drag-and-drop interface will help you to build an ideal e-commerce email newsletter in no time.
The last preparations
There are several things you can do to improve your e-commerce email marketing strategy.
Target your audience
First of all, target your audience correctly. There are several categories of customers:
● New customers:
o New subscribers
o Guest buyers
o First-time buyers
● Active customers:
o Steady buyers
o Occasional buyers
● Declining customers (those who have stopped interacting).
Each group should be treated differently. Thus, a group with new customers requires a hand-crafted, personified Welcome email newsletter that will draw them in. After that treat them with a friendly Email Address Confirmation email, as well as a Customer Information email and Lead Nurturing emails.
The group with active customers is the biggest and as a rule sees numerous standard transactional email newsletters including Upsell emails, Delight emails, Reminder emails, Feedback emails and so on.
And last but not least, the group that includes the declining customers requires your proper attention since it is here where you need to figure out how to win the clients back. And that means that you need to seek help from the re-engagement email newsletters in the first place.
Timing
Correct timing is always the key to success. Although it is quite tricky to catch the opportune moment for everyone, since customers vary in their preferences and behavior, nevertheless there are several tips. For example,
Wait for 12-24 hours before sending a Shopping Cart Abandonment email.
Wait for 30 days before sending a Re-engagement email.
Wait for several days before sending Cross-sell emails.
Act immediately when it comes to sending Order Confirmation emails as well as Shipping Notifications.