---
#PowerfulDevs Conference
RSVP HERE BY JULY 15:
https://aka.ms/powerfuldevsconf
The Powerful DEVs Conference is the first virtual conference of its kind. We will showcase how developers can leverage the Power Platform to build applications faster and with far less effort. Connect with industry-recognized ProDev influencers, Microsoft Cloud Advocates, trusted and diverse community leaders, and members of the Power Platform Team.
BOOKMARK THIS FOR RESOURCES AND DISCUSSION WITH SPEAKERS


Revisit this page during the event to engage in live (and post-event) discussions on those topics with both speakers and community. The speakers will be here for a live Q&A for at least 30 minutes immediately after their session concludes. After the event, come back to find additional slides, videos, and resources for this session.
---
About This Session: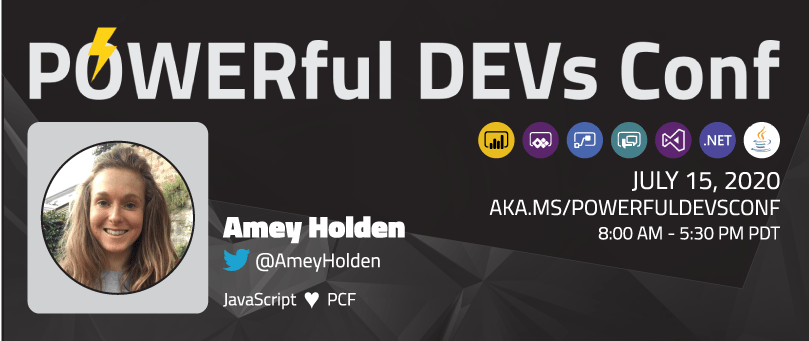 July 15, 2020: 15:30 PDT - 15:55 PDT
Integrating the web platform with Model Driven Apps can seem quite daunting, these platforms can seem so big and complex. Never fear, that's where the PowerPlatform can help. With a few bits of integration, we can take the power of the PowerPlatform, plug it into our web app and surface the data back up to Model Drive Apps like Dynamics!
About the Speakers:
Aaron Powell is a Developer Advocate @ Microsoft with a passion for JavaScript and .NET. Follow @slace on Twitter.
Amey Holden is a Microsoft Business Application MVP and a CX Specialist for DXC technology. Follow @ameyholden on Twitter.
Additional Resources