I want to showdev how I built a serverless IoT (internet-of-things) dashboard for a Tasmota / BME680 air quality sensor.
Preview of the real-time dashboard:

Live Demo / Repository:

The hardware:
Prototype:


(I made the case out of corrugated cardboard I had lying around, and sealed it up with a few more sheets of cardboard glued together. I did leave vents so that it can detect the actual air too)
The architecture: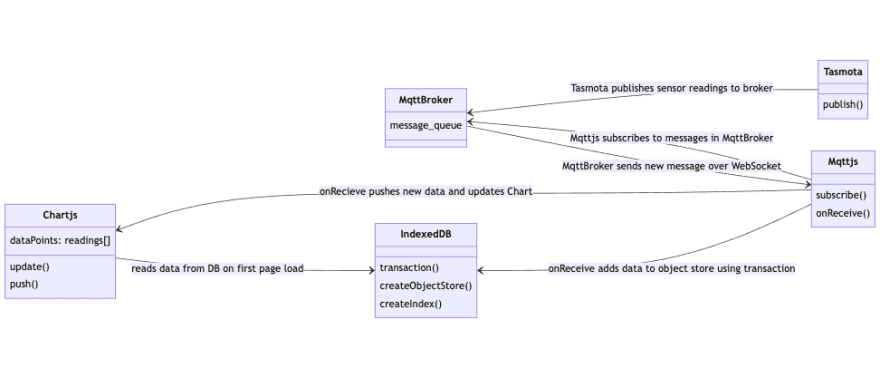 The data is collected using Tasmota on an ESP8266. I soldered a BME680 directly to the ESP8266 pins and mapped the pins accordingly using the web config. I configured Tasmota to send the data to a free public MQTT broker provided by emqx. It would be ok to self host broker, but that wouldn't be as serverless. The Tasmota/ESP8266 is connected to my home wifi, and since it's only sending messages out, no special NAT changes or Port Forwarding was required.
The serverless static site architecture is based on MQTT.js reading from an MQTT broker, and displaying the data using Chart.js with chartjs-plugin-streaming for real-time chart updates.
I decided to use vanilla javascript DOM updates to keep it simple. The static site stores the messages within the browser for historical purposes, and to enable the first load to happen with live data. Static site hosting and CI/CD is done through Github (Pages and Actions).